Tips For Traveling To Cuba
Part of Cuba's allure is its back-in-time vibe. Classic American cars nicknamed "Yank tanks" cruise streets lined with a colorful mix of weathered European colonial, Caribbean and Art Deco buildings. Havana is the place to collect some unforgettable experiences (and photographs), but travelers should note: it's still relatively off the grid. This can impact everything from cell phone and internet access to using credit cards, so we've gathered some important tips to help you prepare.
Before you go, keep in mind that while restrictions for Americans visiting Cuba have been loosened they have not been lifted entirely—there still are a number of rules governing entry to the country and what you do while there. An easy way to get into and around Cuba is with a cruise on Empress of the Seas; Royal Caribbean International takes care of all the paperwork and makes it simple to book shore excursions that fall within regulations.
Getting In
To enter Cuba, American citizens need to meet certain standards for at least one of the 12 categories of travel approved by the U.S. Treasury Department; guests sailing on Empress of the Seas will enter under the license for people-to-people travel. You just need to sign an affidavit certifying participation in one of the ship's excursions or ensure that you qualify for another category.
Royal Caribbean will make sure the required Cuban Tourist Visa is arranged for all U.S. guests, and the nominal $75 fee will be added to your onboard account automatically. Guests must bring their passports (and only passports—no birth certificates or government I.D.s). Note: Make sure your passport is valid for six months past your sailing date.
Cultural Connection
Have you ever wondered why Americans always come back from Cuba with a colorful story about visiting artist studios or jazz clubs? It is because this interaction with the artists, chefs, musicians, dancers and historians who share a bit of their daily life with travelers forms the heart of the people-to-people travel experience.
Royal Caribbean has curated a variety of rich shore excursions that offer this unique cultural exchange (and comply with U.S. guidelines). You can choose anything that interests you, from seeing Havana by classic car to exploring Ernest Hemingway's favorite sites, touring a cigar factory and taking in a cabaret performance at the famous Tropicana.
Staying Healthy
The Cuban government requires all U.S. visitors to have health insurance coverage during their time discovering the island nation. Chances are, your current insurance will not cover you while in Cuba, but no worries: Royal Caribbean also has this covered for you, so there's no extra work needed on your end.
Making Calls
Your U.S.-based cell phone might work in Cuba, but it's safer to bet it won't. Some carriers currently offer roaming service in the country, but like much of the tourism infrastructure, many providers are working on rolling out services to the island.
You'll want to check with your carrier prior to traveling, or consider renting a phone if that's a must-have for you. Alternatively, you could always just go unplugged.
Internet Abroad and Aboard
It may be that your best option to staying connected throughout your cruise is to stick to the WiFi on board the ship (Royal Caribbean offers VOOM, the fastest internet at sea, after all). There is wireless service in Cuba, and while most are easily located in hotels, a growing number of Internet shops and cafés are offering it, and public WiFi hotspots are also available. A heads-up: You'll likely need to buy a ticket to access the network on an hourly basis (approximately $2 to $10 USD).
Cash and Cards
Like U.S.-based mobile phone service, credit card service can be equally limited on the island. Restrictions on U.S. credit cards have been lifted but banks and merchants are still working out what's needed to support them. Your best bet is to carry cash while in Cuba; it's easy to exchange dollars for Cuban Convertible Pesos or CUCs (pronounced "kook") at CADECAs or hotels, though many places do take American dollars.
Shopping Sprees
There are some dynamic shopping adventures to be had in Havana, from the pier-side market to street vendors, artists' workshops to boutiques cropping up around Plaza Vieja, so you'll have some fine chances to find incredibly beautiful and authentic mementos. If you're worried about limits on bringing back Cuban rum and cigars, fear not: the $100 limit is no more, just remember to bring plenty of cash.
All in all, a Royal Caribbean cruise is one of the easiest ways to see this island nation. Your whole trip is pre-arranged to comply with U.S. and Cuban regulations, so you can skip the paperwork and documentation and spend more time sightseeing and experiencing Cuba on our (fully approved) excursions.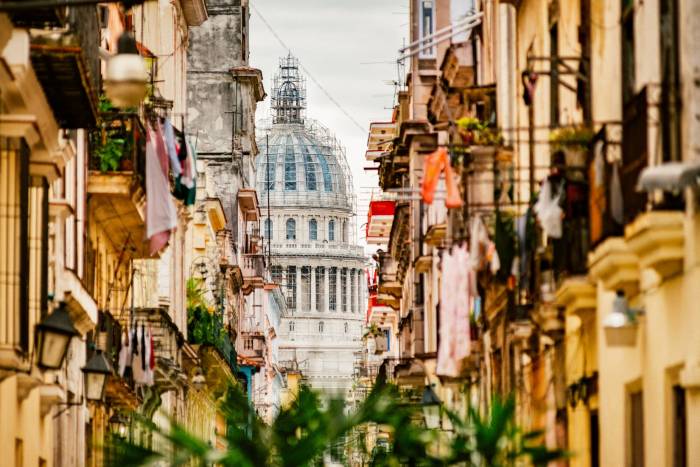 ****************************************************