South Africa Western Cape Region
Where mountains meet the sea
The scenic splendour of the Western Cape has long been a drawcard in South Africa. This is where you'll find the Cape Winelands and a beautiful stretch of coastline. Most visitors list Table Mountain, Robben Island (where the late Nelson Mandela was incarcerated) and a visit to the Cape of Good Hope, at the tip of the Cape Peninsula, as priorities.
Table Mountain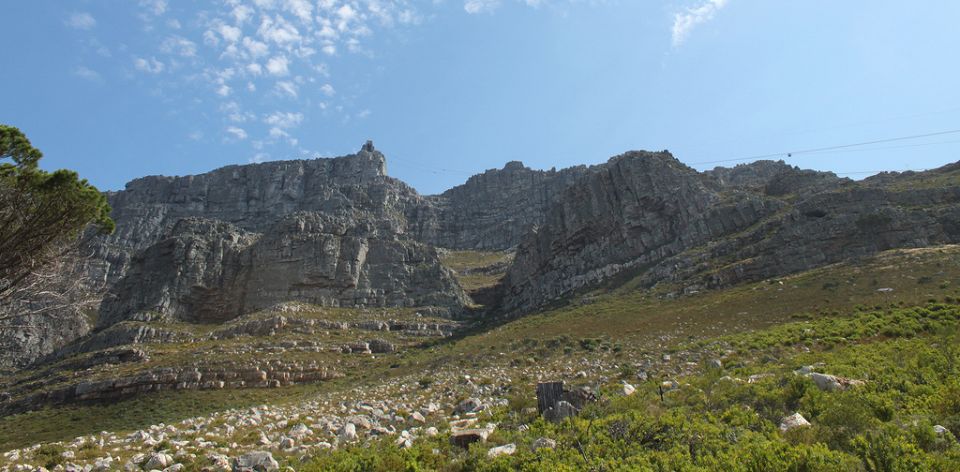 Table Mountain is South Africa's best-known landmark, but what many don't know is that it is also a hiker's paradise with numerous trails, amazing views and plenty of interesting facts to learn. Oh, and it's part of a national park. And all this in the heart of the Mother City.
South Africa's most famous landmark, Table Mountain, is more than just a pile of rock in the bay. A protected national park, it has some remarkable features that make it a great destination for nature-lovers, deserving of more than just a quick cable car ride to see the view from the top.
The mountain forms part of Table Mountain National Park, which is globally recognised for its biodiversity, and contains truly unique fauna and flora. The park encompasses the Table Mountain chain stretching from Signal Hill in the north to Cape Point in the south and the seas and coastline of the peninsula.
It is primarily an open-access park with only a few points where conservation fees are payable including Cape Point, Boulders (where you'll see penguins), the Kirstenbosch National Botanical Garden and Silvermine.
The Table Mountain Aerial Cableway was the solution to the arduous walk and climb to the top. Since its opening in 1929, more than 22 million people have taken the trip to the top of Table Mountain. The new cableway was upgraded and officially reopened on 4 October 1997.
At the upper cable station you will find a restaurant and a curio shop as well as a network of footpaths to explore the table top.
There are plenty of hiking trails from the Camps Bay side of the mountain, as well as from the Kirstenbosch National Botanical Garden, and even from the city centre itself.
You can walk or climb the mountain, or even abseil down it, depending on your expertise and fitness levels, but be warned. Although the mountain may look tame on any given day, each year it claims lives as people set off under-prepared for a sudden change in weather. Always hike in a group and carry water and warm clothing with you. Better still, hire a guide or ask an experienced hiker to take you along.
Boulders Beach Penguins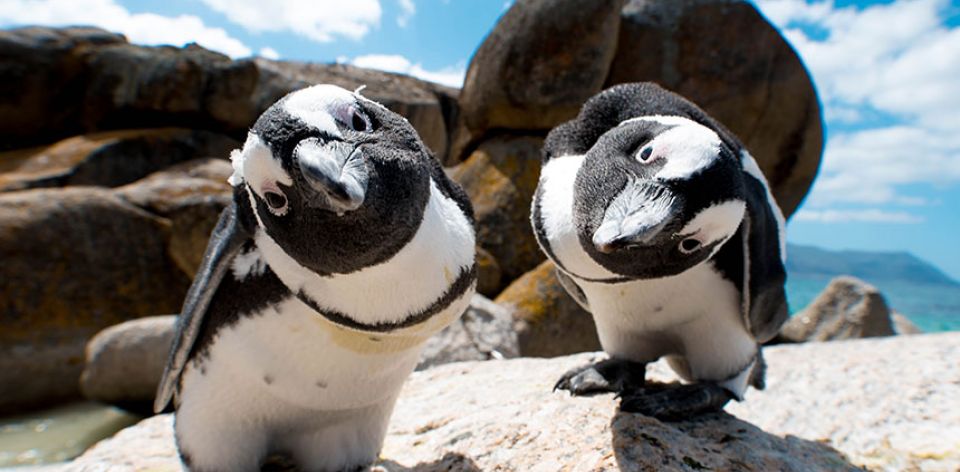 South Africa's penguins are under threat from the loss of habitat, declining fish and their ever-encroaching human neighbours. But not to worry, by making a visit to see these unique locals you are helping them. Every year over 60 000 visitors flock to Simon's Town to photograph and watch the famous Boulders Beach Penguins. This leads to more money to help boost our penguin conservation efforts through South African National Parks (SANParks).
Don't laugh but African Penguins used to be known as Jackass Penguins due to the braying sounds they make. Although they breed in colonies stretching from southern Namibia to Port Elizabeth, the story of how they came to call Boulders Beach home is one of remarkable urban colonisation. The whole species though, both at Boulders Beach and elsewhere, face many threats and these aquatic flightless birds are actually listed as endangered.
Boulders Beach remains the only place in the world where one can get up close to African Penguins. Penguin viewing is made easier by boardwalks that lead vistors across the beaches as well as to an information centre, which is managed by SANParks.
To help stop the loss of chicks, and provide a safe breeding environment, Boulders Coastal Park management has introduced artificial nesting boxes, which you will see when you walk through the area. Thanks to conservation initiatives by the Southern African Foundation for the Conservation of Coastal Birds (SANCCOB), the Dyer Island Conservation Trust, and SANParks, these precious penguins may yet survive to swim, and waddle, another day.
To understand our penguins is to understand their history. The story of this penguin colony in Cape Town started in 1983 when a pair was spotted on Foxy Beach at Boulders. The birds came to False Bay from Dyer Island. At the time, False Bay was closed to commercial fishing. For the newcomers, abundant food and breeding sites meant the African Penguin population at Boulders soared.
However, almost three decades later, Boulders Beach penguins are in trouble. Cars, people and competition for breeding sites has seen the penguins trying to nest in unsafe environments, leaving their nests exposed to both predators and the elements. Climate change has also affected fish stocks and increased severe weather incidences have depleted penguin chick numbers.
But thanks to tourism, there is hope. Every time you visit these little guys at Boulders Beach, you help spark a lifelong commitment to saving their future.  
Cape Winelands
he Cape's 18 official wine routes, and two brandy routes, are among the most scenic in the world, featuring many historic wine estates that date back centuries. Take your time exploring this magnificent part of South Africa's Western Cape province and enjoy sampling its magnificent wines and brandies.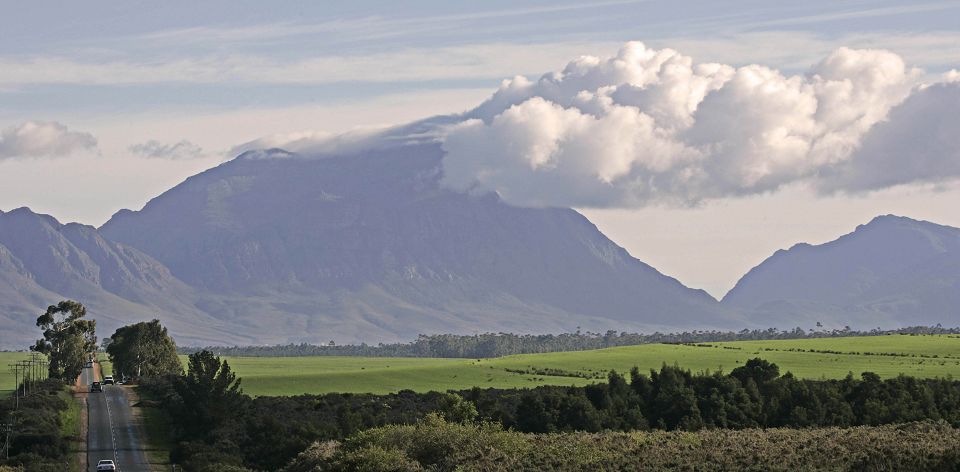 The Cape Winelands, origin of some of the world's most popular wines, is a premier Western Cape visitor attraction.
Wine tasting, winemaking tours, excellent cuisine and magnificent scenery collectively create an irresistible attraction for international and local travellers alike.
South Africa's winelands stretch from the Cape Overberg in the south-western Cape, through the Little Karoo and the West Coast into the adjacent province of the the Northern Cape. There are also wine farms in the Free State, KwaZulu-Natal and even Gauteng. The Cape Winelands are the most well-known, and include the Route 62 wine route, said to be the world's longest wine route.
Most Cape wine estates are characterised by classic Cape Dutch-style buildings and massive vineyards with picturesque mountains as a backdrop. There is also a distinct European influence in number of regions, thanks to the arrival of French Huguenot, Dutch and German settlers during the 18th century.
Spier Wine Estate has one of the Cape's the oldest wine cellars, dating back to 1767. The estate continues to produce world-class wines to this day.
The Stellenbosch Wine Route, South Africa's oldest, was founded in 1971. JC Le Roux, a world-renowned sparkling wine, is produced here.
The town of Robertson, two hours' drive east of Cape Town, is home to the acclaimed Robertson Winery, winner of numerous international awards for its Shiraz, sauvignon blanc and chardonnay varietals.
In addition to its wine, the Wellington region is famous for its brandy. The Schalk Burger & Sons Welbedacht Estate in this area is owned and run by former and current international rugby players, Schalk Burger snr and his son of the same name.
Paarl, the third-oldest town in South Africa, is home to the internationally renowned Nederburg Wine Estate, as well as numerous other premier brands.
Constantia, a 20 minutes' drive from Cape Town, is the closest wine region to the Mother City.
The Franschhoek Wine Valley is also famous for its food and is acknowledged as the 'gourmet capital of South Africa'.
The Whale Route
Imagine looking out across the Atlantic Ocean from the boardwalk and you spot a dark figure gliding through the surf in front of you. As more start to appear, you realise that this is your first sighting of a pod of Southern Right whales that have come into the Cape to give birth. Between June and October this is an everyday spectacle.
The Cape Whale Route is the perfect outdoor family adventure. On this route you'll check into charming towns like Betty's Bay, Kleinmond, Hermanus, Pringle Bay, Stanford and Gansbaai. The route offers some of the best land-based whale watching spots on the planet, but it doesn't stop there.
The road trip from Betty's Bay, along the coast towards the other towns on the Cape Whale Route, is an idyllic experience, with the Atlantic Ocean on the one side and mountainous Fynbos terrain on the other. The Fynbos in this region is the epitome of unique as most species exist noweher else on earth. Travellers will pass through several quaint villages in between the more established towns.
Hermanus is the largest town along the Cape Whale Route, boasting excellent accommodation, restaurants and adventure activities. This beautiful little nook has become particularly famous for its whale watching, so the annual Hermanus Whale Festival is a must do event.
If you want to get up close and personal with these gentle giants of the sea, there are a number tour operators specialising in whale-watching boat tours.
Once you've seen some whales, it's time to step it up a notch with one of the many additional activities on offer, including hiking, sea kayaking, quad biking, parasailing and horse riding.
If golf is more your thing, there are also several golf courses along the Cape Whale Route. Arabella Country Club is famed for its pristine fairways and luxury infrastructure, while the Hermanus Golf Course has become one of the most popular courses in Africa because it offers 27 holes and a variety of challenges for golfers of all levels.
Whatever you're searching for, the Cape Whale Route certainly offers more than just whales. Having said that, the whales are in the name so it's worth making sure you spot some along your way. 
Shark Alley
If you're looking for safari action on the open water, then there's no better place than the famous and fearsome Shark Alley – a hunting ground for sharks off the coast of the Western Cape. However, it's not only sharks you'll find stalking these waters – it's also a hotbed of Cape Fur Seals and sea birds.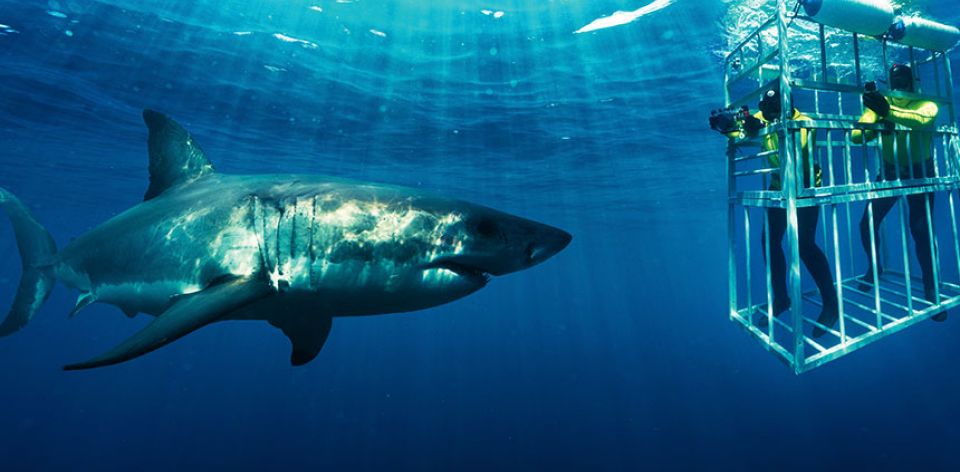 Shark Alley is famous for being one of the top commercial cage-diving destinations in the world. This is not surprising, given that it is home to one of the largest populations of Great White Sharks.
Lying just a few kilometres south of the small fishing village of Gansbaai, Shark Alley is actually a narrow channel of water that runs between Dyer Island and Geyser Rock. It's thanks to the 50 000-odd Cape Fur Seals on Dyer Island that the channel is so named, for these furry mammals are favourite food for great white sharks. As a result, the sharks trawl the alley in numbers looking for their next meal.
Cage-diving is a thrilling activity where you are lowered into the water, in a secure cage, for a face-to-face encounter. Divers don't have to be scuba qualified to cage-dive, as the cage actually floats, with part of it remaining out of the water.
Visitors preferring to watch from the safety of the boat certainly won't miss out on any of the action, as the sharks remain just under the surface of the water and come right up to the boat.
During peak season, between June and September, onboard spectators may also see Great Whites breaching – a fascinating and awe-inspiring display of these sharks' unique hunting habits.
Whale-watching along the Gansbaai coast is also excellent, particularly between May and December, when Southern Right Whales come to mate, calve and nurse their young in this area.
There are also a number of hikes and walking trails around the cliffs of De Kelders at Gansbaai, which feature caves to explore, abundant fynbos, spectacular ocean views and a fascinating history of ancient people settling in this area.
Tsitsikamma
If you're looking for the complete coastal forest experience, Tsitsikamma, in the Eastern Cape has to be on the top of your list. Walk through the ancient forest, chill on the beaches, kayak up rivers and hike some of the most famous trails South Africa has to offer.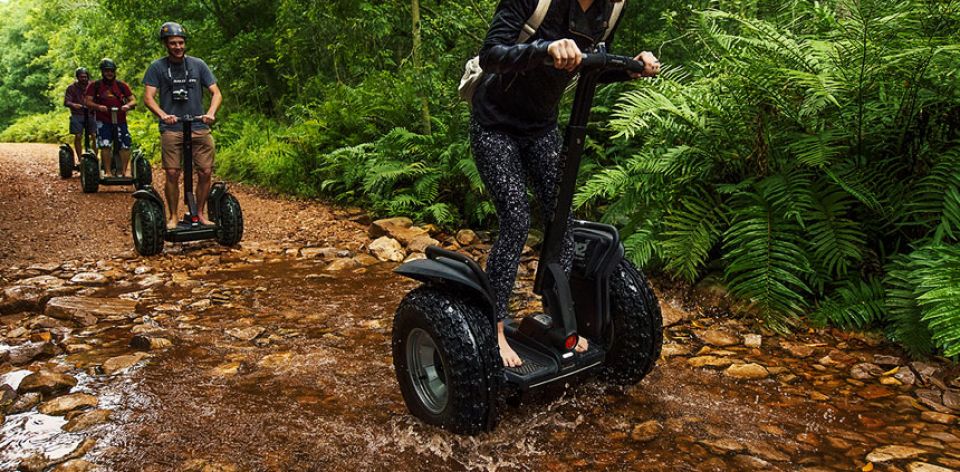 The Tsitsikamma National Park forms part of the greater Garden Route National Park. The area is covered by large areas of forest as well as commercial plantations and fynbos. There are also many rivers in the area that have carved deep gorges into the mountains as they wind their way from the plateau to the sea. With a pleasant climate all year round, this is the perfect place to get your adventure on.
Why not leap off the world's highest commercial bungee jump at Bloukrans Bridge? Or take a idyllic kayak up the Storms River? How about a bird's-eye view of the forest with a canopy tour? Or an breathtaking hike along the Otter Trail or Dolphin Trail? Why not do it all?
If you love nature, the coast and all that goes with it, then you'll love Tsitsikamma. With an abundance of bird and marine life (not to mention the cheeky Cape Otter), you can really get in touch with nature.
The Tsitsikamma region of the Western Cape stretches from the Bloukrans River in the west to Eerste Rivier in the east, and from the Tsitsikamma Mountains in the north to the Indian Ocean in the south.
It's also the largest marine reserve in South Africa and is home to an ancient indigenous rain forest with 116 types of massive trees, including the giant Outeniqua yellowwood tree. There is a great walk that leads to a very special yellowwood called "The Big Tree". This wooden giant is estimated to be over 800-years old, stands 36.6m high and has a circumference of almost nine metres, it's not called "The Big Tree" for nothing.
With activities, shops, accommodation and tour operators all readily available, there's no excuse not to have a go at one of the many, exhilirating and breathtaking adventures on offer.
Explore the Cape with Bikes 'n Wines
The Cape Winelands are ideal for cycling: beautiful scenery, good farm roads and superlative wines to taste. Bikes 'n Wines offers visitors the opportunity to explore the area on two wheels.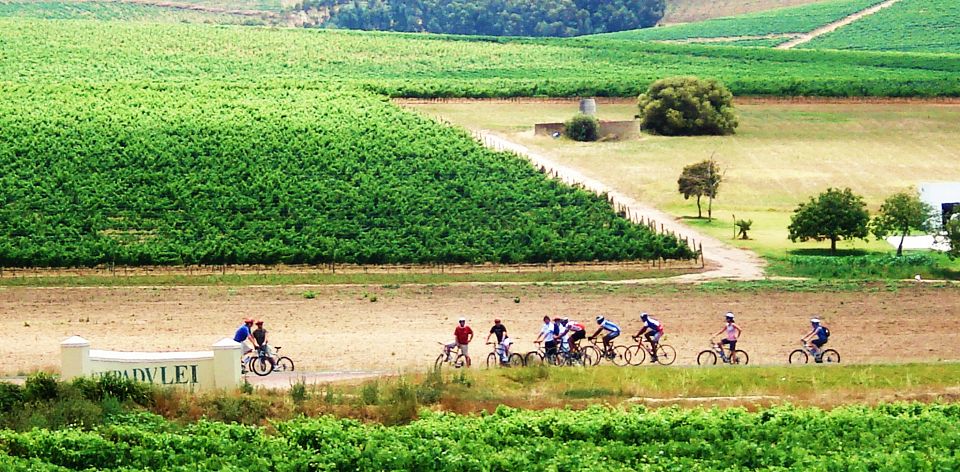 The Cape's wine-growing region is legendary for its scenic beauty, with towering, blue mountains, lush expanses of vineyards and often sunny weather that allows the grapes to ripen on the vine.
And while many tourists choose to explore these areas by car, there is no better way to experience this environment than on the back of a bicycle, which is where local tour company Bikes 'n Wines comes into play.
For the past six years, Bikes 'n Wines has been organising bicycle tours for visitors who want to enjoy the Cape Winelands in a healthy and active way. Its cycle tours take place on private farm roads, through the vineyards and tree-lined avenues typical of this area. Along the way, the groups get to visit some of the best wine farms in the region and to taste the wines (while keeping a clear head, of course, for the cycle back).
All its tours are guided and it offers trips ranging from casual cycling to family tours and more intensive mountain-biking outings.
Because the company is committed to a carbon-neutral policy, it also has a partnership with an organisation called Greenpop that arranges for the planting of trees. For every 10 riders who book a tour with Bikes 'n Wines, a tree is donated.
While you can organise a transfer to your location of choice, Bikes 'n Wines also encourages the use of public transport, such as the train, to the starting point.
An example of a tour would be to meet in Stellenbosch (after a train ride from Cape Town or transfer by road) and then to cycle between 10km and 30km between several wine farms, such as the tiny Lovane Boutique Wine Estate (known for its red wines), Overgaauw (a farm that specialises in Merlot) and Van Ryn's distillery. 
In Franschhoek, guests can enjoy other treats such as a visit to a chocolaterie, while the Wellington area is ideal for mountain bikers. There's also a mountain-bike tour of the magnificent Hemel-en-Aarde area near Hermanus, where some of the country's finest wines are made due to its proximity to the sea.
A new, and increasingly popular, tour is the Peninsula Pedal, which follows part of the route of Cape Town's famous cycle race, the Cape Town Cycle Tour, widely known as 'the Argus'. 
This day out starts in Simonstown with a stop at Boulders, to see the African penguins, and a side trip to Cape Point. From here, there is a road transfer to Noordhoek, where guests can tackle the dramatic Chapman's Peak Pass (also known as Chappies) to Hout Bay. Along the way, guests will enjoy a picnic and wine tasting too.
Bikes 'n Wines has 45 bikes for hire and all tours are guided, so must be pre-booked. They cater for all levels of ability (even complete novices).