LET NATURE DAZZLE YOU!
This exciting winter getaway includes an active 5-day guided northern lights program in Iceland's remote West Fjords region, an ideal place for aurora spotting with its dark skies far from city lights. You'll also enjoy various day tours during the adventure, along with some free time in Reykjavik, a tour of the famous Golden Circle and a relaxing trip to the Blue Lagoon geothermal spa.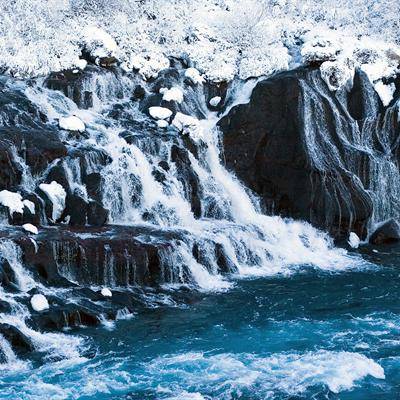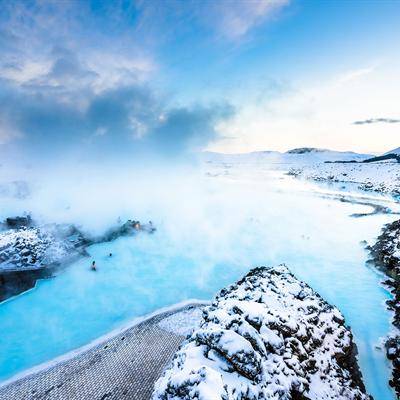 BLUE LAGOON
The Blue Lagoon is probably Iceland's most famous attraction and has become considered a must-see for all visitors to the country. It is located in the Svartsengi lava field of Grindavík, between the Keflavík International Airport and Reykjavík.
The lagoon was first formed in 1976 as a wastewater pool from the neighbouring geothermal power plant, and a couple years later people began bathing in it upon hearing rumours that the mineralrich waters that are the byproduct of geothermal energy are soothing for a range of skin conditions. It was not long before the Blue Lagoon was formally established, and today it offers showers and changing facilities, a spa, exclusive lounge, and café for guests.
The pool's milky blue colour is incredible to see against the stark black lava landscape, and a soak in the waters will leave you utterly relaxed and the silica-rich waters will leave your skin silky smooth.
Advance reservations are required to visit the Blue Lagoon, so please contact your Travel Consultant if you are interested in experiencing the pool for yourself.
GULLFOSS
Gullfoss, or the 'Golden Waterfall', is a breathtaking two-tiered waterfall that drops 32 metres into a narrow canyon 70 metres deep and 2.5 kilometres long. From the car park there's a footpath leading to a viewing platform where you can experience the waterfall in all its glory.
Standing above the falls is a stone memorial to Sigríður Tómasdóttir, who, a number of years ago, threatened to throw herself into the falls in protest against foreign investors who wanted to buy the waterfalls and use them as a power supply. The government eventually intervened, bought the falls and made them the property of the Icelandic nation.
Caution should be exercised at many Icelandic natural attractions. Do not stray from clearly marked paths and respect all warnings and signs.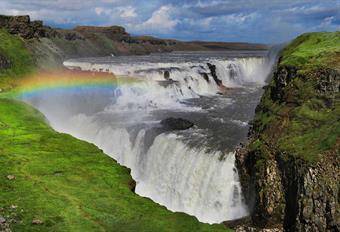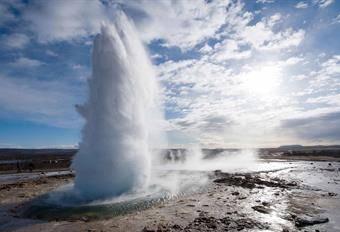 GEYSIR
The famed hot spring Geysir is located in the Haukadalur valley in southwestern Iceland. It was first mentioned in Icelandic literature in 1294 when the valley was hit by a series of strong earthquakes and a devastating eruption of Mount Hekla.
Geysir has been dormant for many years, with exception of renewed activity in 2000 after an eruption at Mount Hekla. Otherwise, its neighbour, the geyser Strokkur, erupts every 10 minutes or so and is the area's main attraction.
HRAUNFOSSAR & BARNAFOSS
A must-see attraction in Reykholt area is the beautiful Hraunfossar waterfall, a fascinating series of waterfalls seemingly originating in a field without a river or lake. The water is actually streaming through rivulets in the Hallmundarhraun lava field. The detour from the Ring Road takes about two to three hours, depending on how long you stop at each place.
Another waterfall beside Hraunfossar is Barnafoss, which is more like a series of rapids caused by the water of Hvitá entering a narrow passage. Barnafoss means "Child Falls" and legend has it that one day two boys were left home while their parents went to church, but they got bored and decide to follow. When taking a shortcut, the two boys tried crossing the falls over a natural stone bridge but fell in and drowned. The mother of the boys cursed the bridge and shortly after it was destroyed by an earthquake.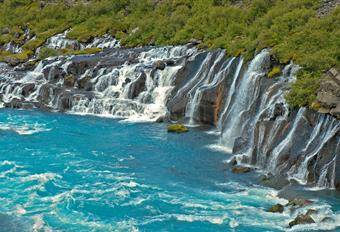 *************************************************************