Rides and Attractions--Studios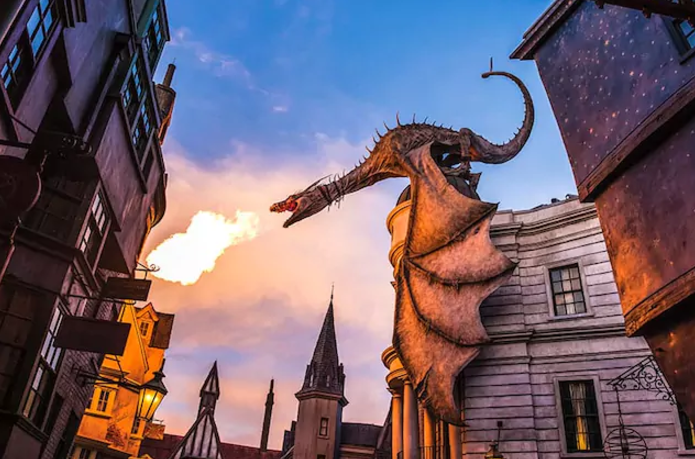 Harry Potter and the Escape from Gringotts
Breaking In Is Impossible. Breaking Out Is A Little Harder.
Enter Gringotts™ bank beneath the massive fire-breathing dragon at the far end of Diagon Alley™. Inside, walk through the bank's grand marble lobby and see goblins hard at work. Then, get ready to take a journey through cavernous passageways that lead deep underground as you climb aboard this mind-blowing, multi-dimensional thrill ride.
You'll face the bank's stringent security measures while navigating perilous subterranean vaults. Along the way you'll encounter Harry, Ron, and Hermione. But you'll have to evade the wrath of malicious villains Voldemort™ and Bellatrix, as well as trolls and other creatures that stand between you and a safe return to Diagon Alley™.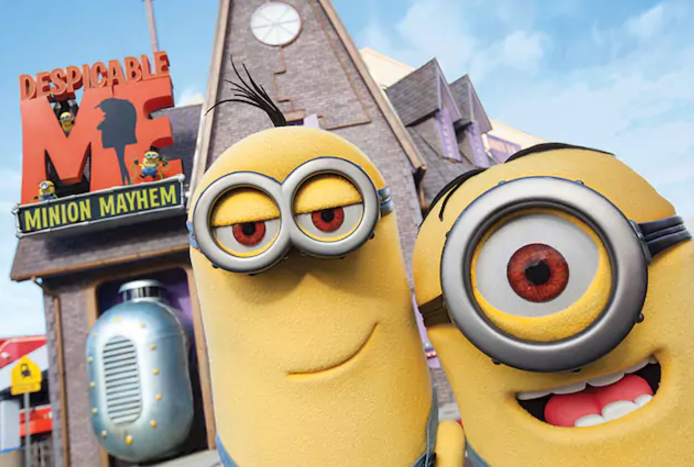 Despicable Me Minion Mayhem
Want To Be A Minion?
Join Gru, his daughters and the mischievous Minions on an unpredictable 3-D ride: Despicable Me Minion Mayhem™. Your journey starts in Gru's home, where you're recruited for his latest scheme—one where you'll become an actual Minion. But when things don't go as planned, you're launched into an unforgettable trip through his super villain laboratory.
Gru, Margo, Edith and Agnes race along with you through every twist and turn. The laughs keep coming after the ride with an interactive, Minion-inspired dance party. Take the floor and show off your best moves—it's heartwarming and humorous family fun for everyone.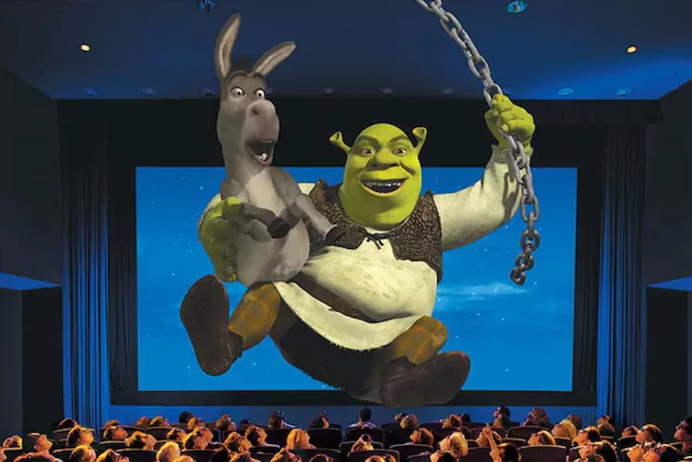 Shrek 4-D
Action That's Ogre-The-Top
Behold the mini movie that takes place after the first Shrekand before the second. Lord Farquaad has returned (in ghostly form) to Far Far Away. He's kidnapped Princess Fiona, and Shrek and Donkey are hot on his trail. You're along for the ride, watching it all unfold from your cozy seat.
But this is no ordinary movie. With your OgreVision glasses (and a few special effects), you'll see, hear and feel what's happening, pulling you into the story like never before. It's a fun, funny, multisensory adventure the whole family will love.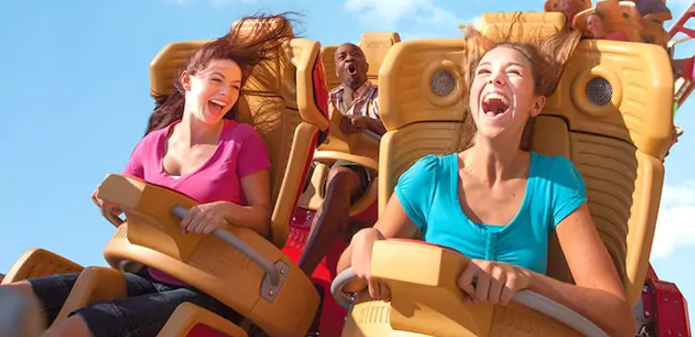 Hollywood Rip Ride Rockit
For Those About To Rock
If you're looking for a rip-roaring rush, this is it. And there's a high-tech twist: As you strap in, you'll pick the song you want to hear above your own ear-shattering shrieks.
Adrenaline pumping and music thumping, you'll climb straight toward the sky at a 90-degree angle. After the first ferocious drop, you'll tear through the track, reaching a blistering 65 mph. Once you're back on solid ground, view your adventure as a photo or music video and purchase a copy to take home. You'll want to relive this adventure again and again.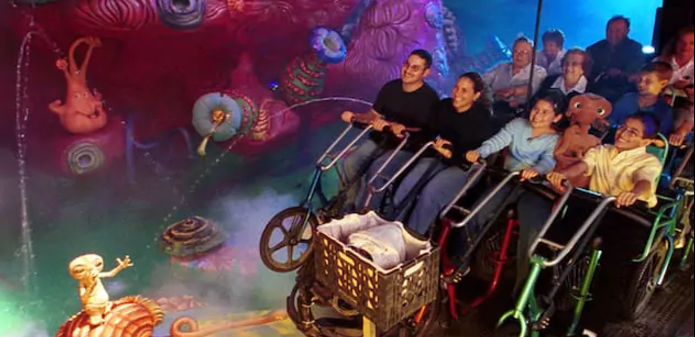 E.T. Adventure
Fly With E.T. To His Home Planet
If you've ever seen the movie E.T. you've probably wished you could ride one of those flying bicycles across the sky. Now's your chance and there's no time to waste because E.T. needs your help. His home planet is dying and only you can help him save it. 
Board your flying bike with E.T. in the front basket and take off on a thrilling (but gentle) ride through the sky. You'll have to dodge bad guys trying to track him down. If you do, you'll soar above the city and into the stars where his magical home awaits, filled with wondrous otherworldly creatures.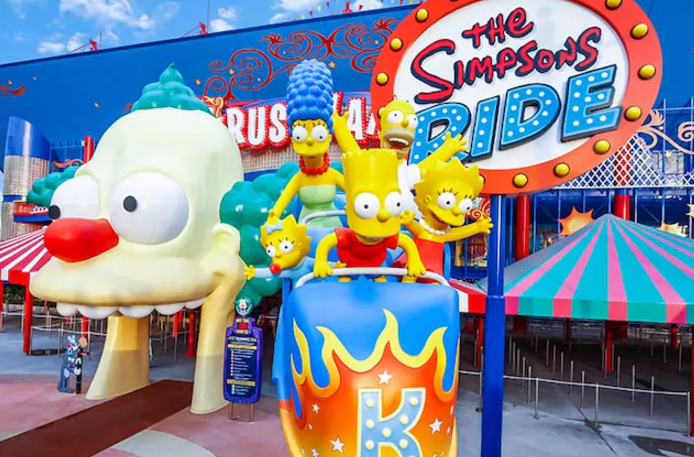 The Simpsons Ride
Crash Through Krustyland
Grab a seat with The Simpsons™ on a virtual reality roller coaster ride. As the journey begins, someone is sabotaging Krustyland, Krusty the Clown's low-budget theme park, and you'll smash and blast through the park with Homer, Marge, Bart, Lisa and Maggie in an over-the-top non-stop adventure. Don't worry. We'll try to get you back in one piece.
The action feels so real on this indoor simulation, you're sure to let out a "woo hoo" or two. And keep an eye out for cameos from countless Simpsons characters as you soar across Springfield and beyond.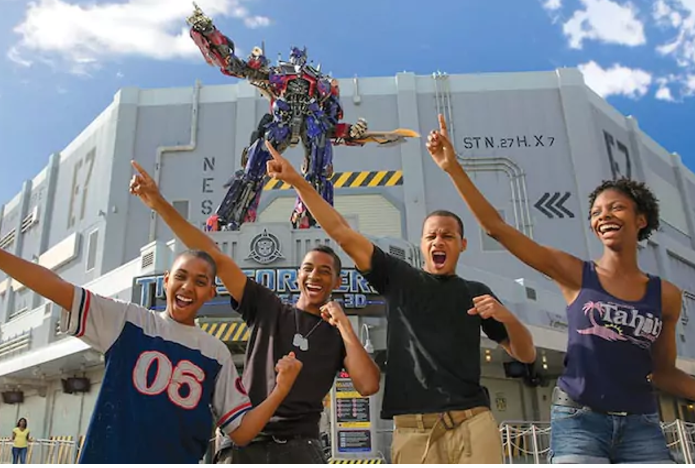 TRANSFORMERS: The Ride-3D
The Greatest Battle You'll Ever Ride
Freedom Fighters, you've been recruited to save Earth from Megatron and his villainous Decepticons. They want to rule the planet and wipe out the human race. To do this, they need the AllSpark, and they're close to capturing it.
Board your N*E*S*T* vehicle and join Optimus Prime and Bumblebee in an ultra-immersive, next generation thrill ride that blurs the line between fiction and reality. You'll fight to keep the AllSpark out of Megatron's hands in an explosive battle between the Autobots and Decepticons.
We're counting on you. Roll out.
Revenge of the Mummy
Plunge High Speed Into Total Darkness
People may tell you "It's not a scary coaster. It's an indoor ride." These people are not your friends. They're tricksters who want to hear you scream.
Digging your nails into the safety rail, you'll hold on tight as you thrash forwards and back on the track, fleeing from the evil Mummy Imhotep. He'll throw everything he's got at you: swarms of insects, warrior mummies and fire so intense you'll definitely feel the heat.
Just as it seems you might've escaped, you'll plunge straight down into a pitch-black abyss with no end in sight. Will you ever see daylight again? Or will you remain sealed inside this tomb forever?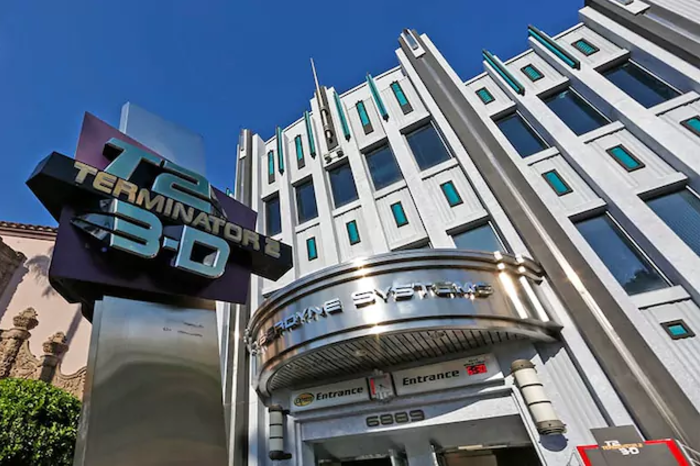 Terminator 2®: 3-D
The Future Is In Your Face
Sit back for a fascinating presentation by Cyberdyne Systems, creators of Skynet artificial intelligence. But don't get too comfy. The cyborgs on display have planned a surprise attack and they're coming after YOU. 
As you join forces with the Terminator to battle rogue cyborgs, you'll be thrown into a mix of live action stunts, special effects, and amazing 3-D filmmaking. Dodge plasma blasts. Feel objects whooshing past you. And become completely immersed in the 360-degree action of this thrilling apocalyptic adventure. Mark our words, you'll be back.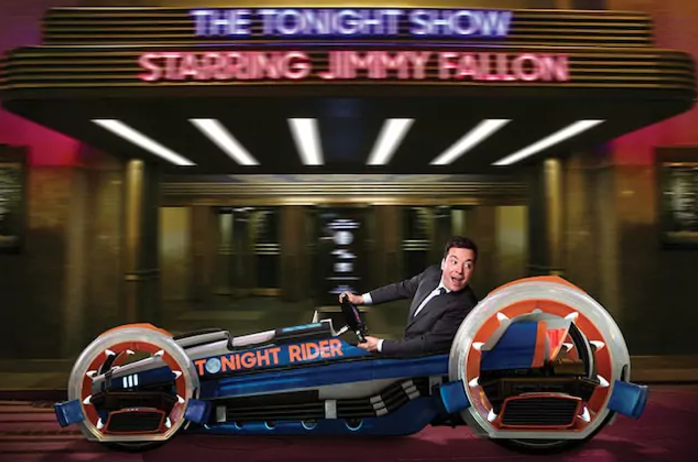 Race Through New York Starring Jimmy Fallon
Take The Show For A Ride
Get a place in the Virtual Line™ and get your return time to be a guest at The Tonight Show! Experience the history and fun of The Tonight Show in Studio 6B. Send a "Thank You Note" at the interactive desks. See Hashtag the Panda and enjoy a hip-hop barbershop performance by the Ragtime Gals!
Then, join Jimmy Fallon and all your favorite characters from The Tonight Show in a fun-filled race through, below and above New York City.
Secure your Virtual Line™ Pass through The Official Universal Orlando Resort™ App (free download). You'll need to be on property to select a return time.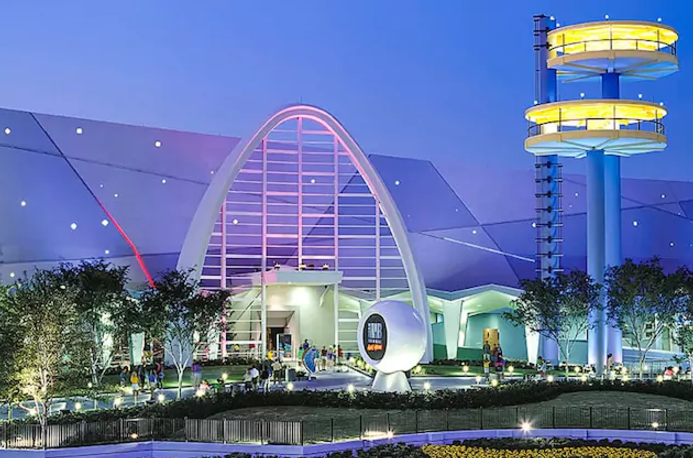 MEN IN BLACK™ Alien Attack™
Wipe Out The Scum Of The Universe
New York has been hit by an epidemic of aliens and it's up to you, Agent Trainee, to blast them into oblivion. You'll need a good eye and steady hand on your laser gun to zap those little suckers at just the right second.
But be warned—they zap back! And if they hit your car, it'll spin out of control.
The more of them you hit, the more points you get. The more points you get, the closer you'll be to becoming a full-fledged MEN IN BLACK™ agent. Not to put any pressure on you, but the fate of the Earth is in your hands. Let's see what you've got.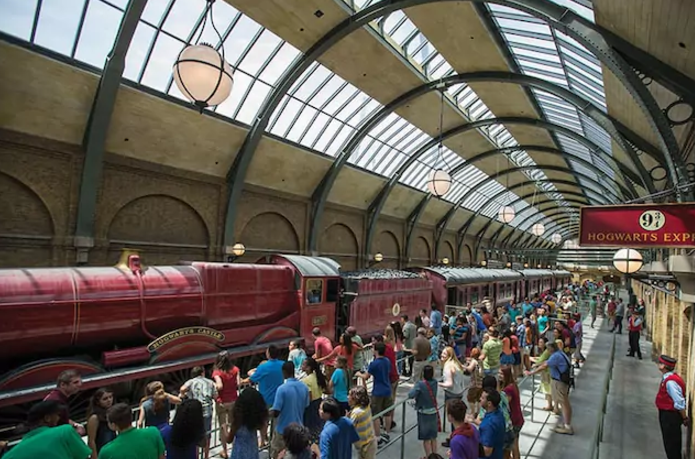 Hogwarts™ Express: King's Cross Station
Now Departing, London To Hogsmeade™
To ride the Hogwarts™ Express to Hogsmeade™, head to London in Universal Studios Florida™. Enter King's Cross Station and walk straight through a solid brick wall onto Platform 9 ¾™. There, a Hogwarts™ station staff member will be waiting to lead you to your passenger compartment aboard the train.
As you wind your way through the urban outskirts of London into the British countryside, keep watch outside your window. You never know who—or what—you might see flying, swooping, or lurking outside the train before alighting at Hogsmeade™ Station in Universal's Islands of Adventure™ theme park, located next door to Universal Studios Florida™.
Park-To-Park Ticket
To board and ride the Hogwarts™ Express between the two lands of The Wizarding World of Harry Potter™, you'll need a Park-to-Park admission ticket. Additional restrictions apply.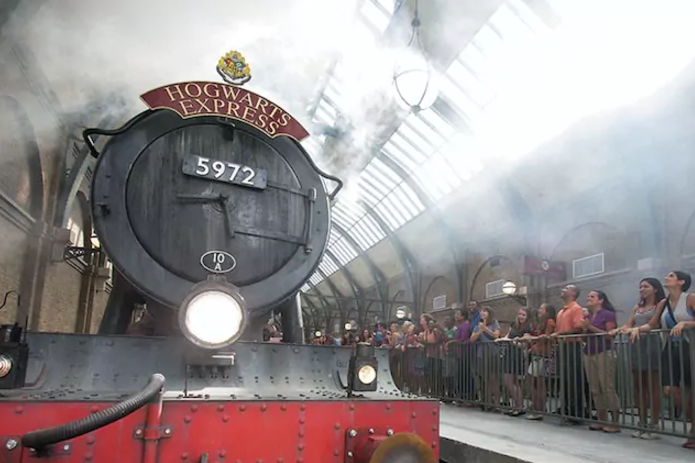 Hogwarts™ Express
Climb Aboard To Continue The Journey
With a Park-to-Park admission ticket, you can board and ride the Hogwarts™ Express from either King's Cross Station in London at Universal Studios Florida™ and travel to Hogsmeade™ Station in Universal's Islands of Adventure™, or ride the other way around for a different experience. Onboard, you'll see characters and creatures featured in the films.
From the thrill of walking through Platform 9 ¾™ to watching the British countryside pass by your window, we can assure you—this is not your everyday train ride. Additional restrictions apply.
****************************************************************************************