Blue Man Group At Universal CityWalk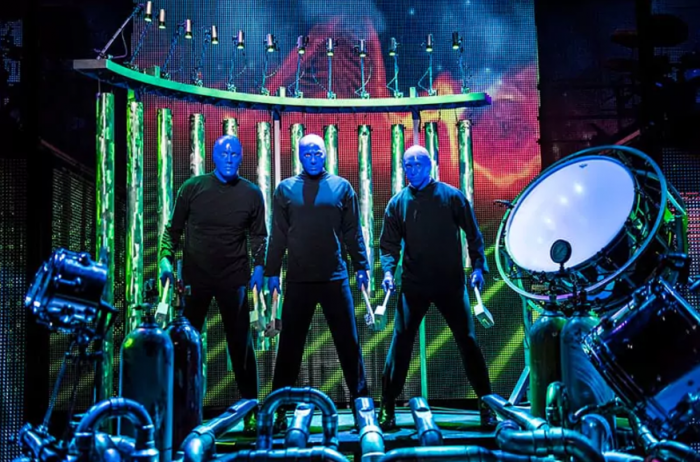 Blue Man Group is comedy, theater, rock concert and dance party all rolled into one. This wildly popular phenomenon delivers an unforgettable multi-sensory experience. It's an outrageous evening of entertainment you'll never forget. Don't miss the show that has captivated 35 million people worldwide. Blue Man Group: enemy of monotony, remedy for boredom, promoter of overjoy and elation.
Blue Man Group is a separately ticketed show. 
Caution: Strobe lights are utilized during the show. Guests with medical conditions may be aggravated by lighting effects. Sound levels vary; complimentary earplugs are available upon request.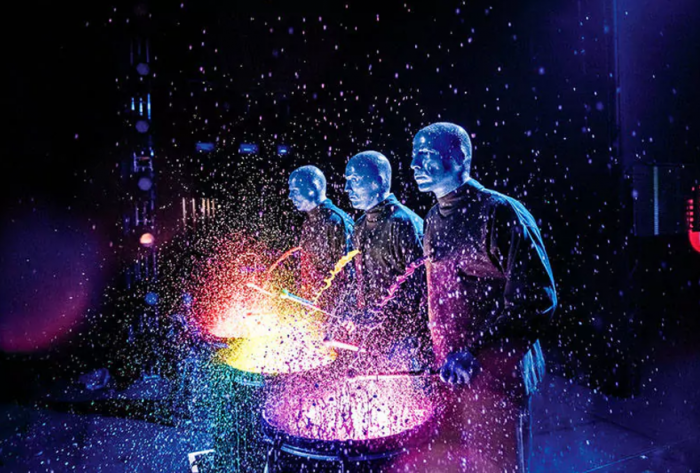 What To Expect
Kids will enjoy the lights, color and mesmerizing spectacle. Adults will appreciate the humor, technology and high energy entertainment. And because the show is performed with no spoken words, Blue Man Group is perfect for all languages and cultures.  While the show appeals to a wide audience, it may not be appropriate for all children under three years old.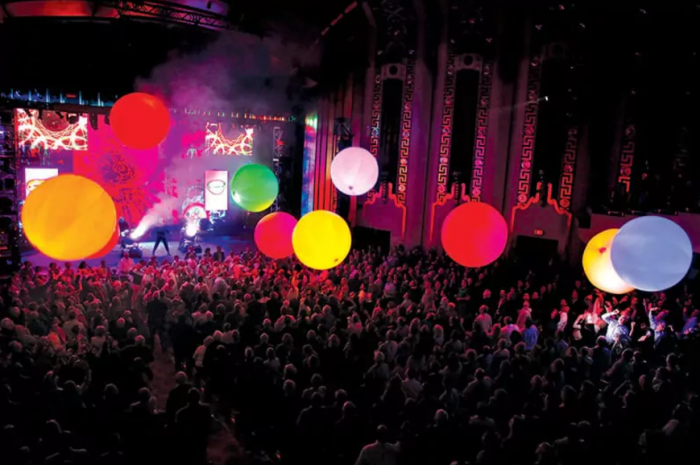 Where To See It
Custom built for Blue Man Group, the state-of-the-art theater is located in Universal CityWalk™.
If you sit in the first four rows of seats (aka "the poncho section"), you'll get a poncho because you might get splashed with (washable) stuff used in the show.
With 1,000 seats, a 30-foot Blue Man facade, state-of-the-art lighting, video and sound systems, incredibly vibrant colors and live music, you can expect a fun-filled experience like no other.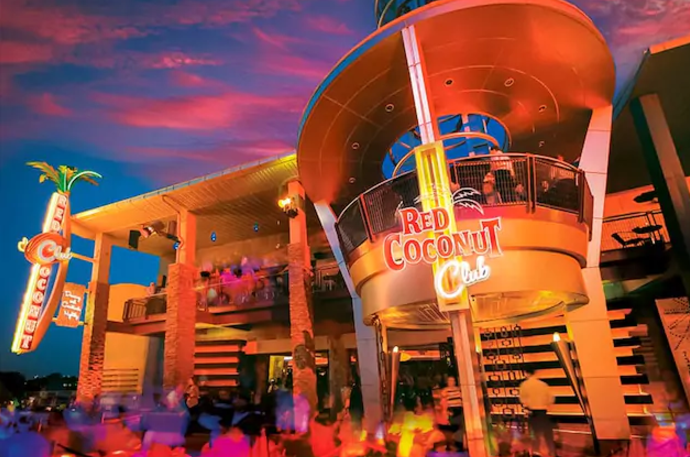 Vintage Vegas With A Tropical Twist
Start with a lavish ultra lounge. Add a dash of Cuban flair and a pinch of tiki chic, and you've got two levels of music and glamour swirling up a lush moonlit mood. Need a break from all the dancing? Head upstairs for intimate dining tables overlooking the main floor, or soak up the starlight on the outdoor patio for an unrivaled view of Universal CityWalk's shimmering lights. Signature martinis, specialty drinks, an extensive wine list, and VIP table service make this sophisticated-casual club the ultimate destination for plush nightlife.
Hours Of Operation
Monday–Sunday: 8 pm–2 am (subject to change)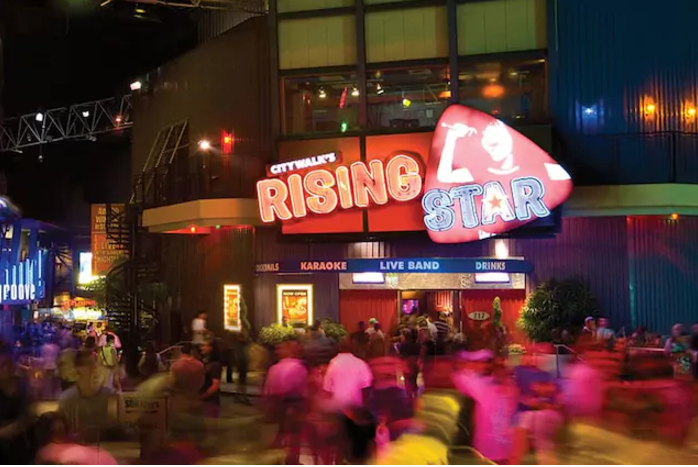 Where The Headliner Is You
Step up and take the stage at this rocking bar and karaoke club, where you can belt out your favorite tunes with help from talented backup singers and a live band (in the evening Tuesday through Saturday). Sunday and Monday evenings, croon along to recorded tracks. This is no ordinary sing-along experience: A nightly host keeps things going as you and your fellow headliners create a one-of-a-kind show. Whether you're a first-timer or a veteran vocalist, you'll never forget this little taste of fame
Admission
$7 cover (tax included), no charge to sing; CityWalk Party Pass™ accepted. Sunday–Thursday: ages 18+, Friday–Saturday: ages 21+.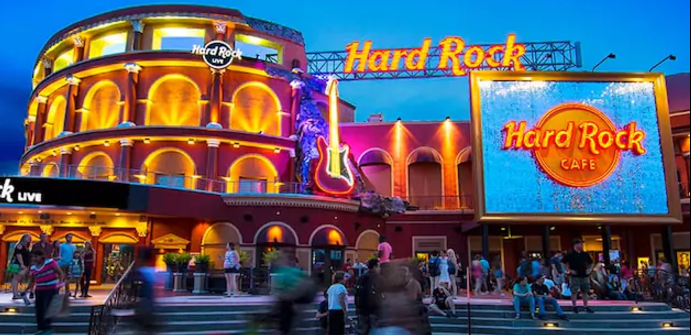 The Hottest Spot For Music And More
This is no overblown arena show where you're a mile away and can't see the stage. This is your moment with top names in music and comedy, and when the lights go down and the crowd rises up, you'll know you're in the right place.
The 3,000-seat auditorium boasts state-of-the-art audio, lighting, video, and a full bar and concession stand for the ultimate entertainment experience. The calendar is packed with a wide variety of musicians and who's who of comedians. No matter what you're coming here for, it's sure to be one rockin' party.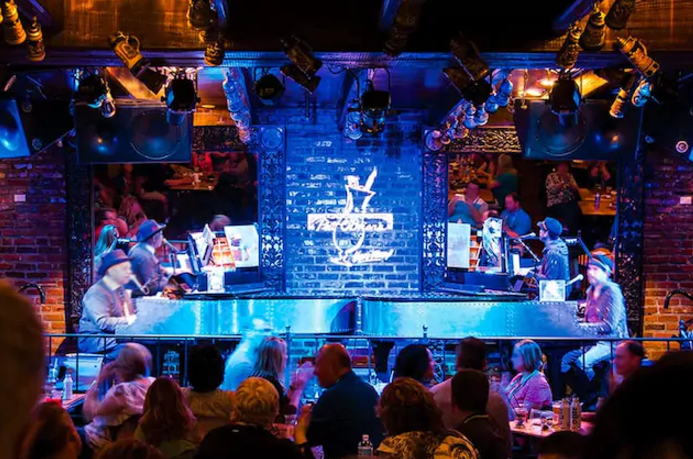 A Bourbon Street ClassicA reproduction of the infamous New Orleans original, this lively establishment will have you feeling like you've stepped straight onto Bourbon Street. Spend an evening enjoying the live tunes of dueling pianos as you chow down on Cajun recipes like Crawfish Etouffee, Louisiana Blackened Redfish, the N'awlins Po'Boy and the sweet Bag of Beignets. Order a Hurricane®, purchase Mardi Gras beads and settle in for a night of riotous revelry that only this bayou bar can deliver.
Music And Lights For An Endless Night
Locals and out-of-town visitors alike flock to this multi-level dance club boasting the latest in sound and special effects. Party through several uniquely themed full-service bars, check out the pulsating wall of video screens, and gaze out from the balcony terrace overlooking Universal CityWalk™. Feel like a celebrity when you opt for the exclusive VIP seating and table service. 
Bob Marley–A Tribute to Freedom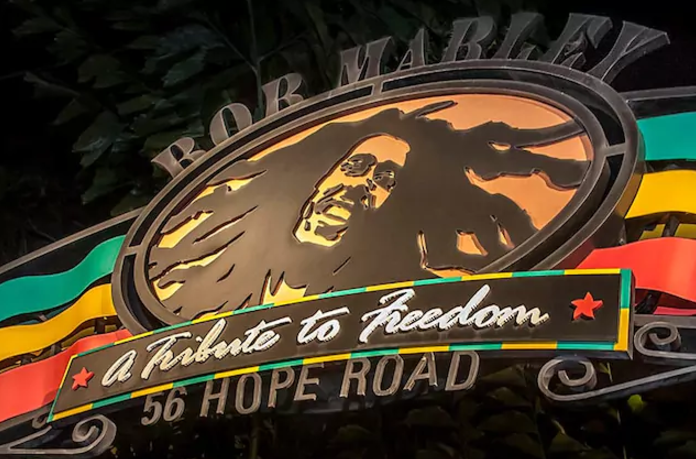 Get Up, Stand Up, Eat Up
Cultural icon and music legend Bob Marley became the "King of Reggae" with songs of faith, hope, and rebellion that inspired audiences from the 1960s through today. Working closely with Rita Marley and the Bob Marley Foundation, we created a replica of Bob's home on 56 Hope Road in Kingston, Jamaica. Artifacts, photos, and video clips from his storied career surround you in the open-air veranda and courtyard.
Get a taste of island life with a menu of Jamaican-influenced appetizers, entrees, and desserts. Try favorites like the Oxtail Stew, the Sun is Shining grilled chicken, or the Taste of Jamaica appetizer platter featuring veggie and beef pasties, jerk wings, and yucca fries.
********************************************************************************************