Dubai 4x4 Sandboarding Safari

Give one of the most popular desert sports a go with this 4x4 sandboarding safari from Dubai. Board a comfortable 4x4 and travel to some of the best and most beautiful sand dunes in the desert. Then, after instructions from your expert guide, jump on to a sandboard to slip and slide down the sandy slopes!
Leave your centrally located Dubai hotel in a comfortable, air-conditioned 4x4 and enjoy the views over the desert as you head out of the city.

After a short drive, arrive at some of the most beautiful sand dunes in the Dubai desert, and drive across the sands to find the perfect spot for sandboarding — one of the most popular of desert sports. 

Next, listen to instructions on how to use your sandboard from your expert guide, and strap a suitable board onto your feet. Then, get sliding down the slopes — it's easier than snowboarding and great fun!
3 Day Adventure Dubai
Explore Dubai, United Arab Emirates, known for luxury shopping, ultra-modern architecture and a lively nightlife scene. Visit Burj Khalifa, an 2740-foot tall tower, dominating the skyscraper-filled skyline. See Dubai Fountain, with jets and lights choreographed to music, and enjoy Atlantis water and marine-animal parks.
Highlights
Comprehensive tour by bus/coach
Enjoy fantastic aerial views
Ideal choice for families
All entrance fees included
All-inclusive tour
Day 1: Dubai - Desert Safari
Upon arrival at the airport, you will be met by your driver and transferred to your hotel. Then get ready for the desert safari at 3:30 pm. 


Day 2: Dubai City Tour (B) 
After breakfast, departing at 9 am for City tour. Along the way, you will drive through Dubai, the City of Gold, and the miracle garden(ticket Included). Next, tour the world tallest building, Burj Khalifa (admission ticket included). Finish the day at 5 pm, and then head back to the hotel to spend the evening at your own leisure.  

Day 3: Dubai (B) 
After Breakfast, relax until check out, and be transferred back to the airport.
Dubai Desert Safari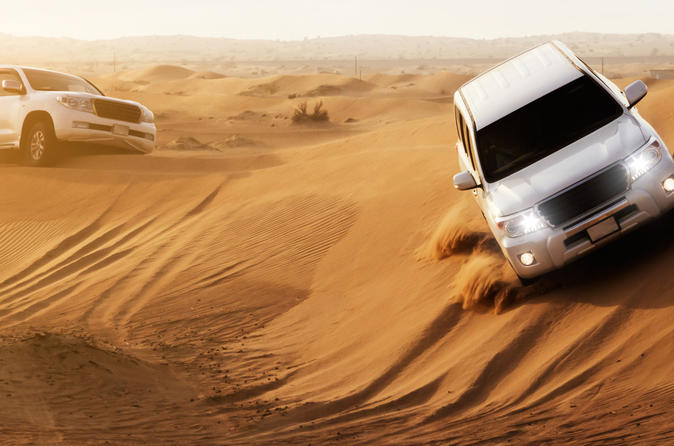 One must experience Dubai Desert Safari once in his life-time. This exaggerating and splendid tour will take you to Dubai dunes and sandy shores. You will experience the uphills and entire Dubai. If you are lover of adventurous and never want to miss out a real exposure then Evening Desert Safari is the best option for this as here you will have beautiful henna painting. Moreover a delicious desert dinner is waiting for you on this trip!
Highlights
Snacks and Beverages included
Buffet dinner included
Enjoy the drive of your life as expert drivers take you over dunes through the desert on to our specially built camp, where you see the traditional desert camp farm which reveals to the true Arabian hospitality as you enjoy delicious barbecued meats, salads, desserts and beverages.

Dune Bashing in the desert sand, ultimate desert camp environment along BBQ dinner with live belly dancing, Exciting fun - filled ride in a Land cruiser on Desert sand to reach amazing camp set up for an myriad experience with numerous activities. 

A must for everyone who is visiting UAE. A memory to share with your family and friends back home, This is one safari you cant do back home. We recommend it highly and it will be worth every penny spend!
Dubai Flyboard Experience
Feel like a superhero as you skyrocket over the Persian Gulf on a 30-minute flyboarding experience in Dubai. Strap into the flyboard boots and experience the world's latest watersports craze, with a certified flyboard pilot providing radio instructions throughout. Feel the water jets beneath your flyboard surge and lift you up to 49 feet in the air, and thrill as you spin, roll, hover and zoom over the water. With training and guidance from a certified instructor throughout, this exhilarating experience is ideal for beginners and adrenaline junkies alike.
Highlights
Perfect introduction for first-time visitors
Qualified and professional pilot
Make your own way to the Umm Suqeim area near Jumeirah Beach in Dubai and meet your expert instructor at your chosen flyboarding time.
Listen to a safety briefing and instructions on how to operate your flyboard. Similar to a snowboard with two sturdy boots on top, the flyboard is connected by water hoses to a jet ski. Water is then forced through jet nozzles to thrust you up to 49 feet (15 meters) into the air. Riding is relatively easy, and with a little co-ordination, you should be flying successfully within a few minutes!
When you're ready, put on your two-way communication helmet and strap on the boots and board connected to a jet ski waiting offshore. Then, feel your adrenaline rush as the powered jets lift your flyboard and you above the water.
Ride the board as your instructor provides instructions through the two-way helmet radio and controls the throttle. Practice tilting your board to steer, and spin, roll and skyrocket higher into the air to soar above the sea — it's an exhilarating experience. If you're confident enough, perhaps try advanced maneuvers such as low hovers and donut turns, or dive down into the water, dolphin style.
After around 30 minutes, your flyboarding experience comes to an end when you return to land.
4x4 Dubai Desert Safari With Quad Bike Drive From Dubai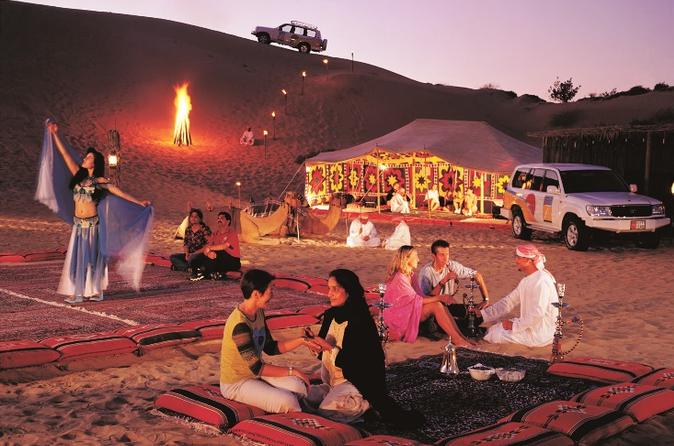 Enjoy our most popular Desert safari tour with an added excitement of taking on the Desert sands on a Quad bike.
Highlights
Get off the beaten track in a 4x4
Dinner included
Family friendly
This tour departs in the afternoon across the desert with photo-stops during an exciting dune drive and a stop at a camel farm. The drive continues across the desert to reach the Quad bike driving area. Get ready to take on the Arabian Desert on a Quad bike. Take in the thrill of driving the quad bike for 20 minutes through the sand dunes in a secured part of the Desert.
Watch the beautiful sunset in the desert. You have the opportunity to do camel riding, sand boarding and try out a henna design. Witness the traditional folk dance 'Tanoura' that is sure to mesmerize you. Enjoy the Arabian hospitality with dates, Arabic coffee and the Shisha (the Arabic water pipe). After working up an appetite, enjoy a delicious barbecue dinner. Before returning, watch the oriental belly dance performance.
Note
- Children should be above 8 years to do the quad bike. All guests must sign a NO Insurance Disclaimer Form for the quad bike experience.
- Quad Bike ride is for 20 Minutes & extra drive time will be charged extra
Dubai RIB Boat Cruise: Palm Jumeirah and Dubai Marina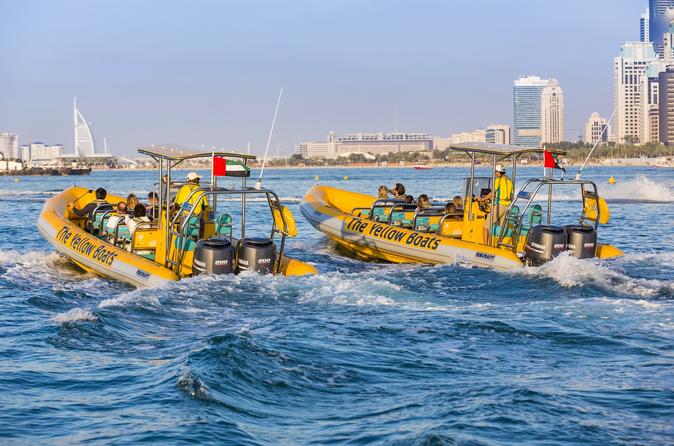 Speed around Dubai's coastline on a 75- or 90-minute cruise by RIB (rigid-inflatable boat), and see Dubai Marina, the man-made archipelago of Palm Jumeirah, and more. The boat is designed to maneuver with speed, as you enjoy close-up, unobstructed views of top Dubai attractions from the water. Pass prestigious hotels including Atlantis The Palm and Burj Al Arab, as well as several royal palaces and a Dubai lagoon. Your boat only holds a maximum of 10 people, ensuring a more intimate experience.
Highlights
Informative, friendly and professional guide
Meet your skipper at Dubai Marina, put on your life jacket, and then hop aboard your state-of-the-art RIB. Sit back, clutch the rail, and zip over the water — reaching speeds of up to 21 miles per hour (25 knots) — as your skipper navigates the boat around the marina's sleek yachts.

Leave the sights of Dubai Marina behind as you head east to one of the city's best-known archipelagos: stunning Palm Jumeirah. Built to resemble a palm tree, the island chain is home to luxury villas and high-end hotels situated on the Persian Gulf's calm coastal waters.

Arguably the top sight at Palm Jumeirah is Atlantis The Palm, the eye-popping hotel perched on the archipelago's furthermost point. Stop in the water in front of the hotel, and use the short break to take photos of the impressive building framed against the bright lights of Dubai.

Continue east around the palm and cruise toward Burj Al Arab, another equally esteemed Dubai hotel. Widely considered to be a 7-star hotel, Burj Al Arab is a true city icon with its distinctive sail-shaped architecture and ultramodern design. After looping in front of the hotel, cruise west along a straight stretch of coast, passing royal palaces and a lagoon, before returning to Dubai Marina.
Hajar Mountain Tour from Dubai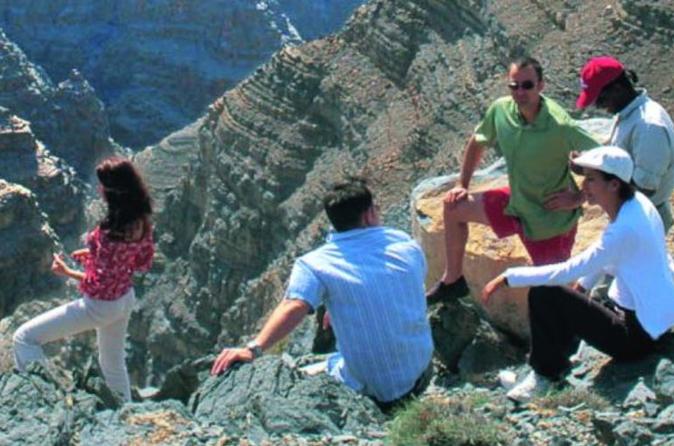 A full-day tour exploring dramatic canyons, rocky valleys and fishing villages in the Hajar Mountains on the United Arab Emirates' East Coast in a 4x4 safari-style vehicle.  Inclusive of a buffet lunch at Le Meridien Al Aqah Beach Resort.
Highlights
Get off the beaten track in a 4x4
Lunch included
Informative, friendly and professional guide
In the early morning you will depart your central Dubai hotel by air-conditioned 4x4 car.  Your knowledgeable and experienced guide will show you points of interest, as you head out of the city, along the desert highways and into the highest mountain range in the eastern Arabian Peninsula, the Hajar Mountains.   Arrive at the pristine Gulf of Oman coastline and visit the picturesque village of Dibba, also a large natural harbour.  You then stop for an international buffet lunch at the 5-star Le Meridien Al Aqah Beach Resort, Fujairah. You will then head to the United Arab Emirates' smallest and oldest mosque, the historic Bidiyah mosque, dating back to the 15th century.  

On your return journey to Dubai you will stop at the little town of Masafi, where there is a daily market, known as the 'Friday Market'.  Here browse local craft stalls selling pottery, incense burners, carpets and fresh produce of locally grown vegetables and fruits.  Even if you are not buying, the sellers' wares and sights make for an excellent photo opportunity. Enjoy scenic landscapes and don't miss the photo opportunities on the leisurely drive back to your hotel.  Your tour ends with a drop off at your hotel.
Dubai Speedboat Palm Jumeirah Cruise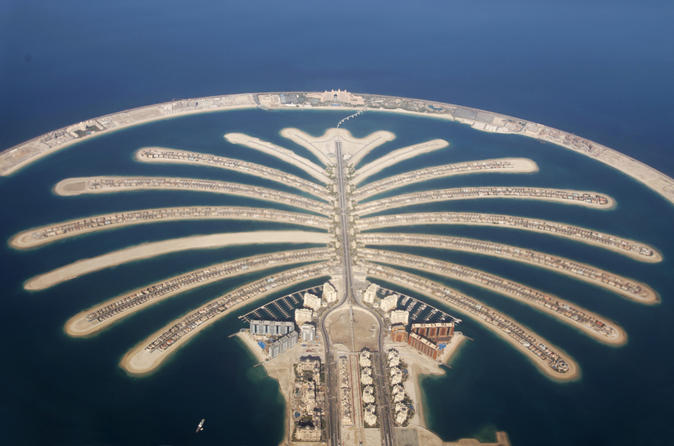 Jet around the spectacular Palm Jumeirah on a speedboat during an exciting 2-hour cruise from Dubai Marina! Choose from three start times and hold tight as your boat zooms over the Persian Gulf and around the Palm. Admire the archipelago's showpiece Atlantis The Palm hotel and see The World, a new archipelago shaped like a world map. Finally, relish stunning views of the Burj Al-Arab before heading back. Complimentary water and sodas are available on this intimate small-group cruise — for six people only.
Highlights
Free hotel pickup and drop-off included
Free drinks included
Multiple times offered throughout the day
Start your experience with a pickup from your centrally located Dubai hotel. Then, travel by comfortable minivan to Dubai Marina Yacht Club where your speedboat, the sleek Sea Breeze awaits.

Hop aboard and enjoy the views over the skyscrapers as your boat leaves the Marina for the Persian Gulf. Feel the coastal breezes as the aptly named Sea Breeze picks up speed — it can reach over 40 miles (64km) per hour, so it's an exhilarating feeling!

As you cruise, enjoy unlimited complimentary water and sodas. Then, watch as the Palm Jumeirah comes into view. The incredible man-made archipelago is designed to resemble a palm tree and is home to exclusive villas and hotels that look out over the water's edge.

Zoom around the Palm and have your camera ready as you approach its outermost point, where the Atlantis The Palm rises high into the sky. Take snaps of this spectacular hotel, known by many as the Palm's showpiece building.

Then, your boat turns eastward to see The World, a collection of man-made sand islets shaped to resemble a map of the globe. Admire the archipelago, which is still unfinished, and identify the countries and continents the islands represent before your boat turns around and heads back. 

On your return, your captain will slow your boat as you approach the Burj Al-Arab. This sail-shaped hotel is an icon of Dubai and another essential snap for your photo album.