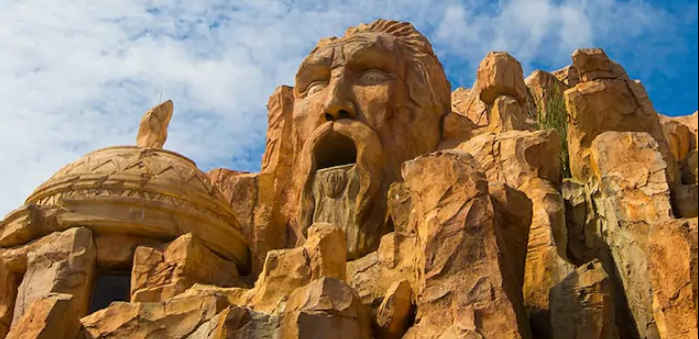 An Otherworldly Experience
As you approach the towering rock formations, cascading waterfalls and ancient figures carved into the side of Mythos, you know you're in for a dining experience unlike any other. This award-winning, full-service restaurant offers exceptional modern cuisine in a setting that sparks the imagination. The cavernous interior creates the feel of a craggy grotto on a distant ocean. In addition to an indoor dining room, you'll find outdoor seating with a spectacular view of the park's inland sea and colorful lands. 
Featuring a mix of Mediterranean, Asian and American fare, Mythos' casually elegant menu includes options like Greek salad, pad Thai, wraps, burgers, and more. There's also a separate children's menu for little ones. Indulge in an outstanding dessert or selection from the full wine list to make your time spent in this mythical space even more sublime.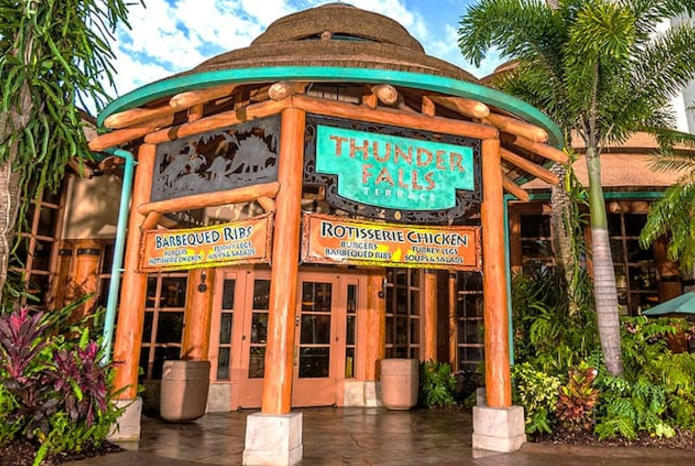 Robust Riverfront Fare
Ravenous hunger doesn't stand a chance at Thunder Falls Terrace, where there's a feast awaiting every adventurer, whether you're a leaf eater, meat eater, or voracious omnivore. 
Choose from a mouthwatering array of rotisserie chicken, BBQ ribs, smoked turkey legs, soups, salads, and more. Then relax in the cool indoor dining room or watch daring riders get drenched on Jurassic Park River Adventure™ right outside. You'll leave full and satisfied—perhaps even prepared to tackle those roaring falls yourself.
Circus McGurkus Cafe Stoo-pendous™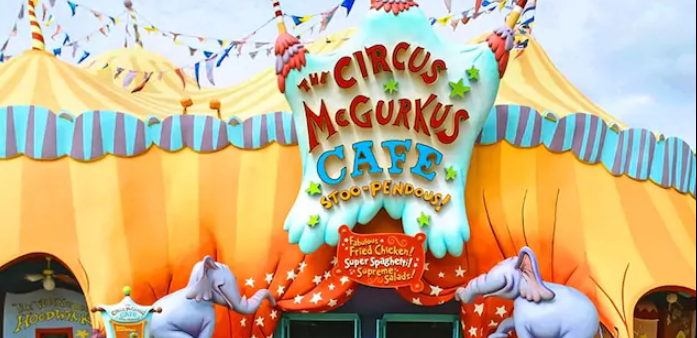 Join The Act And Eat Up
Enter the big top and marvel at this unique fusion of quick-service dining and Seuss-inspired circus acts. Chow down on crowd-pleasing favorites like fried chicken, spaghetti, pizza, cheeseburgers, and chicken Caesar salad, all while surrounded by colorful caricatures straight from the imagination of Morris McGurk. 
When you're choosing between a table in the center ring and a train car booth, don't forget to gaze up above and wave to those passing by on the High in the Sky Seuss Trolley Train Ride!™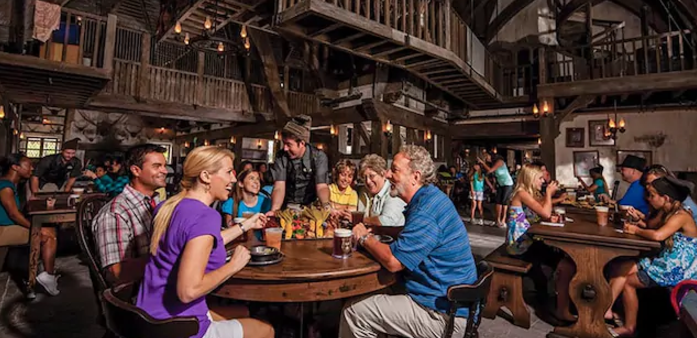 Head Inside For A Warm Hearty Meal
This rustic tavern is the place to go for good food, friendly conversation, and of course—a Butterbeer™. The cosy, snow-capped inn is the place where Harry Potter™ had his first taste of the sweet wizarding drink. Through the centuries, the Three Broomsticks™ has welcomed countless Hogwarts™ students including Harry and his friends.
Inside you'll notice details such as cast-iron chandeliers, weathered wood beams, and balconies brimming with curious bric-a-brac. Take a seat and have your fill of tasty British fare including 'The Great Feast', Fish And Chips, Shepherd's Pie, Cornish Pasties, Turkey Legs, and Fresh Vegetables.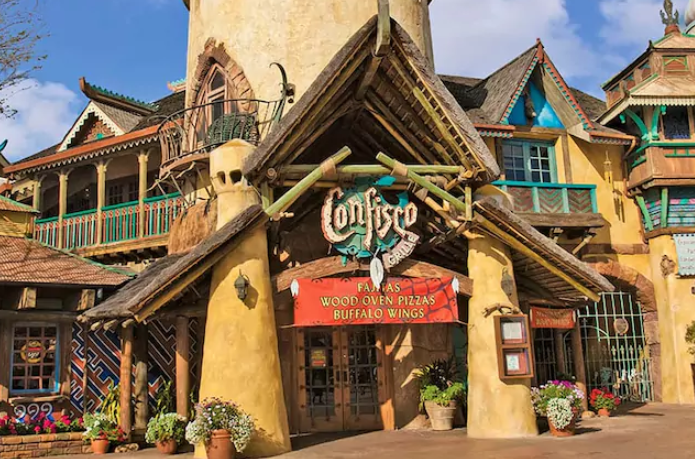 Where World Travelers Find International Tastes
As explorers, merchants, and adventurers from around the world pass through the Port of Entry™, they not only bring with them strange and unusual items, but also the delicious exotic foods you'll find on the menu at Confisco Grille. 
Choose from global fare including Italian, Mexican, Asian, Greek, and American dishes like wood-grilled pizzas, salads, fajitas, and much more. With a children's menu and full bar service, Confisco Grille™ has something to fill up the whole family. Look around to see "confiscated" goods on display from all over the park.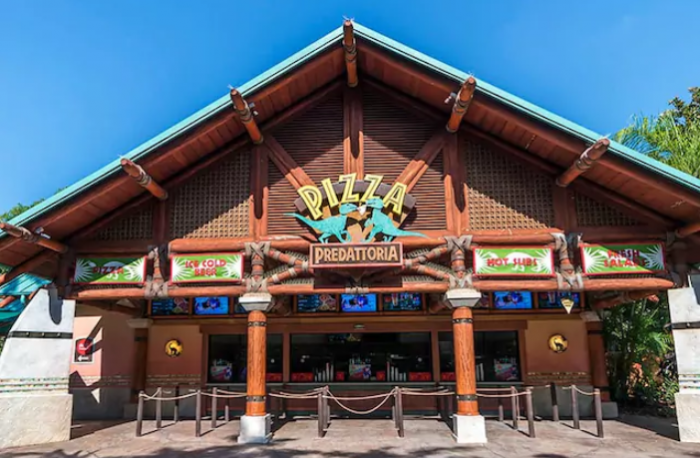 Easy (Cheesy) Prey
Located on the strip of midway-style games in Jurassic Park™, this Italian eatery is the perfect pit stop between adventures. Satisfy even the most colossal cravings with fresh-baked pizzas, delicious meatball subs, and chicken Caesar salad. Take your grub to go or sip an ICEE® in the shaded seating area before you jump back into the jungle.
Have A Sip And Stay Awhile
Tucked away beside Confisco Grille™ you'll find an oasis in the form of this tropical watering hole. Stone floors and wood beams create the perfect setting to kick back and enjoy cocktails and appetizers while you trade tales of your day's adventures. Draft beers and mixed drinks are refreshing on the outdoor patio, and the indoor tables are the perfect place to relax and take in a game on the flat screen TV. This hidden hut might just become your new favorite hangout.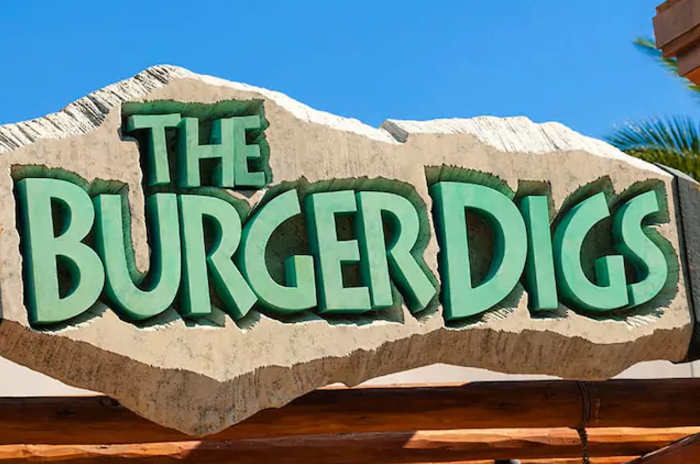 A Delectable Discovery
This quick-service cafe is where Jurassic Park™ paleontologists take a break from unearthing fossils and dig into more flavorful finds. Choose from juicy burgers, chicken sandwiches, or chicken tenders and add-on sides like fries and onion rings. If you choose your seat wisely, you can dine eye-to-eye with a towering T. rex skeleton. The interactive Jurassic Park Discovery Center™ is conveniently located just steps away from the counter.