South Africa North West Region
Madikwe Game Reserve
Madikwe Game Reserve, one of South Africa's foremost Big Five malaria-free reserves, was envisaged not by conservationists, but by economists. They found conservation would create more income and jobs than the existing land-use, which was cattle-farming. This successful reserve is now a model that has inspired South African conservation.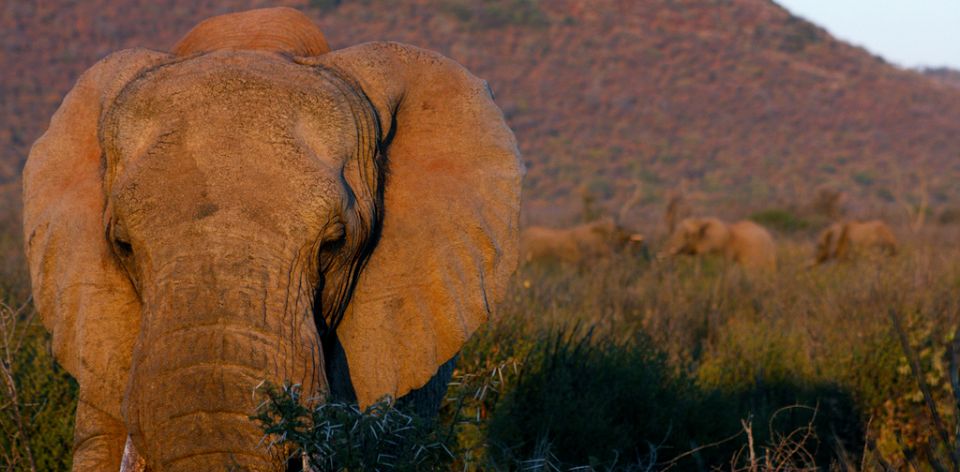 Madikwe Game Reserve, right up against the Botswana border in the North West province, is a strange anomaly in the world of conservation.
It was transformed from a number of low-yield cattle farms to a high yield conservation area. This was not land chosen by ecologists for its rare vegetation or animals. It was chosen by economists because they found that a game reserve here would generate more jobs and money than any other land use option. Madikwe is now a model of the way conservation can benefit communities.
Another remarkable factor is that this was pioneered in 1991, within one of South Africa's apartheid-era Bantustans – Bophuthatswana – which was reintegrated into the country in 1994.
Bop Parks, as it was then called, created an initiative where the state would manage the land and wildlife, the private sector would profit through game lodges, and the surrounding community would benefit through sustainable jobs and income.
On paper it seemed idealistic. Yet in practice it worked. Bop Parks launched Operation Phoenix in 1991. By 1997, it had brought in more than 8 000 individual animals, the largest translocation of its kind in the world. Several private companies set up very successful bush lodges within the 75 000 hectare park. And the three villages around Madikwe – Supingstad, Lekgophung and Molatedi – are doing very well.
Women are particularly empowered – a high proportion of them are employed in the park.
Social and financial upliftment aside, Madikwe is now better known as one of the best places to see the Big Five, and it also has the advantage of being malaria free. Madikwe is seen as a model of the benefits conservation can bring.
You may not be in an exclusive private game reserve (it's actually a provincial game reserve), but you'll feel as if you are – the experience is almost indistinguishable.
The only difference is that you might catch a special sense of pride from some of the people you encounter in and around the park.
Pilanesberg Game Reserve
See the Big Five just two hours from Johannesburg and Pretoria in one of the country's most popular wildlife areas – Pilanesberg Game Reserve. Set in an ancient volcanic crater, this well-stocked reserve has a dramatic landscape that supports a wide variety of plants, animals and birds.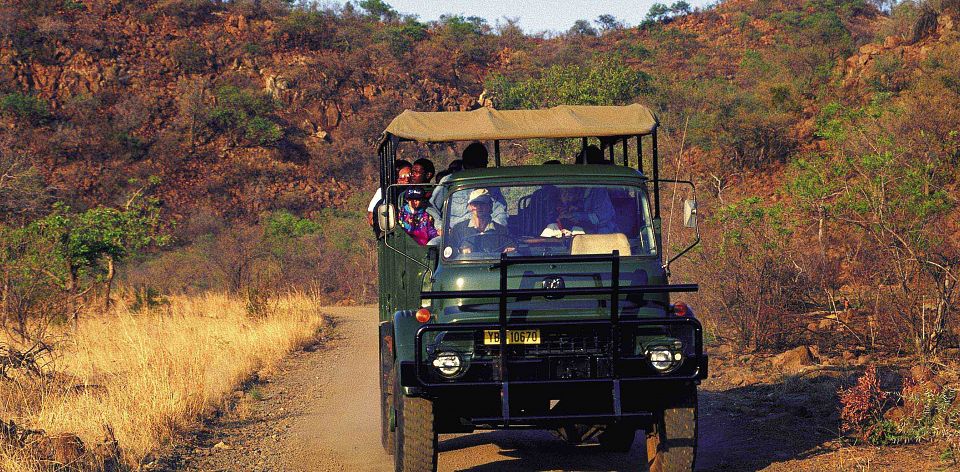 Pilanesberg is a popular game reserve in South Africa's North West province. As a true Big Five area it features elephant, lion, buffalo, leopard and rhino. But there's a lot more wildlife to discover. Some of the other animals that roam the park include African wild dogs, brown hyenas and sable antelope.
Like nearby Madikwe Game Reserve, Pilanesberg used to be farmland. Between 1969 and 1979, the land had to be rehabilitated. Alien plants were removed, eroded land was restored, houses and windmills were knocked down. An old fluorite mine was also dismantled.
During Operation Genesis nearly 6 000 animals of 19 different species were introduced to the reserve. At the time, this was the largest game translocation in the world.
The landscape was formed over a billion years ago, when overflowing magma shaped the area. The explosive turbulence spat up all sorts of interesting rock formations and rare minerals. Geology buffs will be interested to find red, white, green and Ledig foyaite, nepheline syenite, kimberlite, fluorite and uranium tuff.
Birders can look out for the southern pied babbler, sabota lark and rufous-naped lark on the grassy hill slopes while you'll find the ever-spectacular lilac-breasted roller, pin-tailed whydah and black-shouldered kite on the grasslands.
Soaring above them all, you might see black-breasted snake-eagles, African hawk-eagles and Verreaux's eagle. The more thickly wooded areas yield various hornbills, the Marico flycatcher, chinspot batis and small fire finches.
Because of its location in the former homeland of Bophutatswana, the game reserve is still referred to as Pilanesberg National Park, although it is in fact a provincial park and not officially part of South African National Parks.
Sun City
The Sun City theme park in the North West province is part of the Sun City resort and entertainment complex, offering a myriad of leisure and recreation options for the entire family.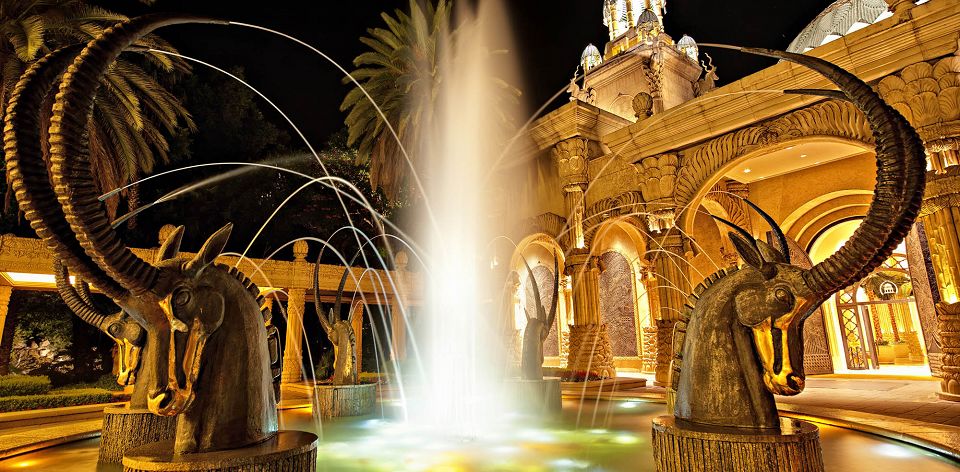 Known worldwide for its exotic entertainment options, the Sun City theme park is more a mini-city than a park, with so many attractions and entertainment options that first-time visitors may find it pleasantly bewildering.
Located in the North West province, less than 200 km from the major urban centres of Johannesburg and Pretoria, the Sun City entertainment park enthrals all with its African theme and multitude of entertainment options.
Far enough from South Africa's major cities to qualify as a real getaway from hectic city life, Sun City is nevertheless the ultimate all-in-one entertainment destination.
Activities run the gamut from adventure sports and safari options to a world-famous golf course and a wide variety of rides and games to keep the children happily busy.
Many will probably want to swing their clubs at the Gary Player Country Club, home to the world-famous Nedbank Golf Challenge.
Others may want to relax in the sun poolside at the Valley of the Waves while the kids go screaming down one of the water park's many thrilling slides.
Adults can try their luck at one of the biggest casinos in Africa (with its 38 gaming tables) before taking in a revue or live music show, or simply enjoy a meal at one of the many award-winning restaurants. Choose from Asian, traditional South African, steakhouse or Italian; or just order from one of the many fast food outlets.
Kamp Kwena, an activity park for children where they can learn, play and make new friends, will keep lively little minds well occupied. Mini-cars, trampolines, adventure golf and more ensure that the kids do not miss their parents too much.
Sun City is not just a hotel or an entertainment complex or even just a theme park; it's an entire experience.
Taung Heritage Route
The Taung Heritage Route is a fascinating journey of discovery. It comprises an area once occupied by early humans and features many sites that speak to the existence and evolution of our ancient ancestors. The Taung skull fossil site, a World Heritage Site, is a major attraction on the route.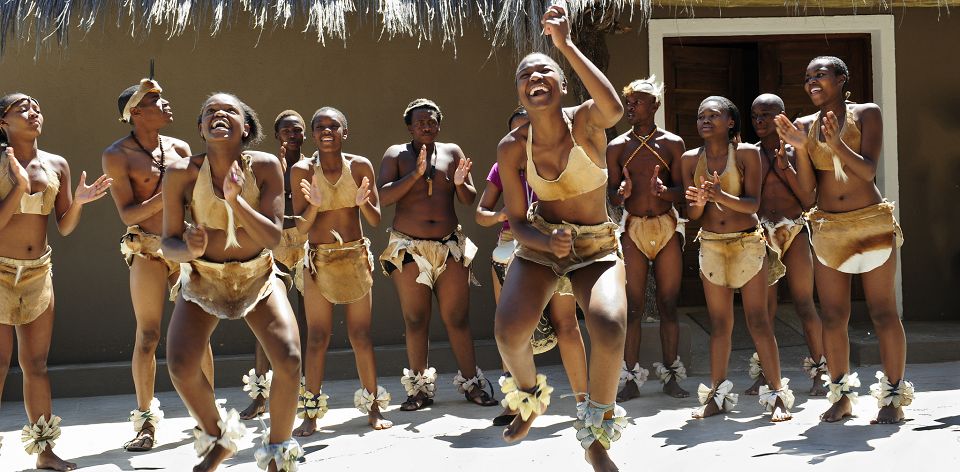 The Taung Heritage Route marks a location of significant scientific importance, for it was here, in 1924, encased in limestone in the Buxton quarry, that the 2.5-million-year-old fossilised skull of a hominid child was revealed.
Professor Raymond Dart of the University of the Witwaterrand identified the skull as belonging to an early hominid, or ancient human ancestor, and named it Australopithecus africanus, or 'southern ape of Africa'.
The discovery of the Taung Skull was acknowledged as one of the most significant scientific events of the day. Dart's scientific classification promoted lively debate among academics in the field because it was evidence that human ancestors had lived on the continent more than a million years earlier than previously believed, which gave credence to the theory that humankind originated in Africa.
Recent evidence has solved the mystery of the three-year-old child's death. It was most likely killed by a large bird of prey, probably an eagle. Looking up from the valley at the site's location, you can almost imagine these predatory birds riding the overhead thermals.
The Taung Heritage Route encourages visitors to follow in the prehistoric footsteps of our hominid forefathers and gives a rare glimpse into our distant past and the region that early humans once called home.
Spanning more than 45km, the route takes in several natural wonders, such as a limestone waterfall and the Blue Pools, a collection of natural rock basins, streams and caves in a lush river valley.
The Taung skull discovery site is officially part of the UNESCO Cradle of Humankind World Heritage Site and a monument has been erected to mark the location. Nearby, an abandoned mine tunnel has been opened for exploration, allowing visitors to venture into the age-old limestone mountains.
Located in the Bophirima district of the North West province, the Taung Heritage Route is an initiative of South Africa's National Heritage Council.
Kwa Maritane Bush Lodge
Only two hours by road from Johannesburg, the multi-award-winning Kwa Maritane Bush Lodge guarantees excellent accommodation, great food and superb game – including the Big Five. Go on game drives, take a guided bush walk, chill by the pool, or go glitzy at nearby Sun City.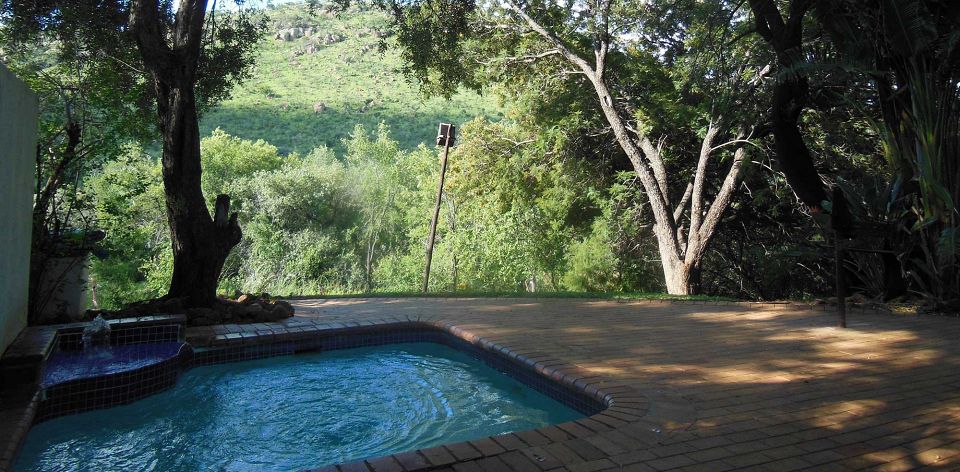 Tucked away in the bowl of an ancient volcano at the foot of huge granite boulders, Kwa Maritane is the perfect base for exploring the malaria-free 55 000ha Pilanesberg Game Reserve – the Kwa Maritane gate into the park is a mere few minutes' drive from the lodge.
Accommodation options include 90 luxury rooms, 28 self-catering cabanas or 25 luxurious self-catering chalets. Spend a few extra pennies and opt for one of the eight chalets on the very perimeter of the lodge that have their own plunge pools – but book well in advance.
All the studio twin rooms have two double beds and a sleeper couch, DStv, safes, aircon, tea- and coffee-making facilities, hair dryer, shaving plug and en-suite bathrooms. The three-bedroom chalets are very well equipped with aircon, microwave, oven, a big fridge, a traditional and a gas braai, outdoor furniture and recliners, and great views over the bush to the mountains beyond.
What are you going to do while at Kwa Maritane? Take your pick.
An early-morning or late-afternoon game drive is a must. A knowledgeable guide will introduce you to the bush, and then try to find as much game as possible. As well as having more than 300 bird species, this is also Big Five country, and although leopards are always notoriously elusive, your chances of seeing the other Big Four – lion, rhino, buffalo and elephant – are good.
By the way, Pilanesberg Game Reserve gives you one of the best opportunities in the country to spot rhino – both white and black.
You can also choose to go on a guided bush walk with an armed ranger and discover some of the little critters you might miss on a drive; or splurge on a balloon ride at dawn in one of South Africa's loveliest game parks; or just laze beside one of the two swimming pools; or walk the 150m tunnel to the underground hide and see elephants up close.
The lodge is noted for its good food. Enjoy dinner in the open-air boma (an outdoor barbecue/dining area), or sit on the deck of the Kwa Lefakeng restaurant and indulge in a decadent breakfast as you watch zebras and wildebeest grazing below.
There are special rates for children (who often can stay for free), plus a Junior Ranger programme to keep them happy and occupied as they learn bush lore.
And if you feel the need for some sophisticated entertainment or a flutter, then take the shuttle bus to Sun City, the legendary entertainment complex only 10km away.
Lesedi African Lodge and Cultural Village
At the Lesedi African Lodge and Cultural Village you can experience the colourful sights and sounds of authentic African villages and learn about the ways of the Zulu, Xhosa, Pedi, Basotho, Nguni and Ndebele people. Traditional song and dance and a feast fit for a king top off an unforgettable day and night.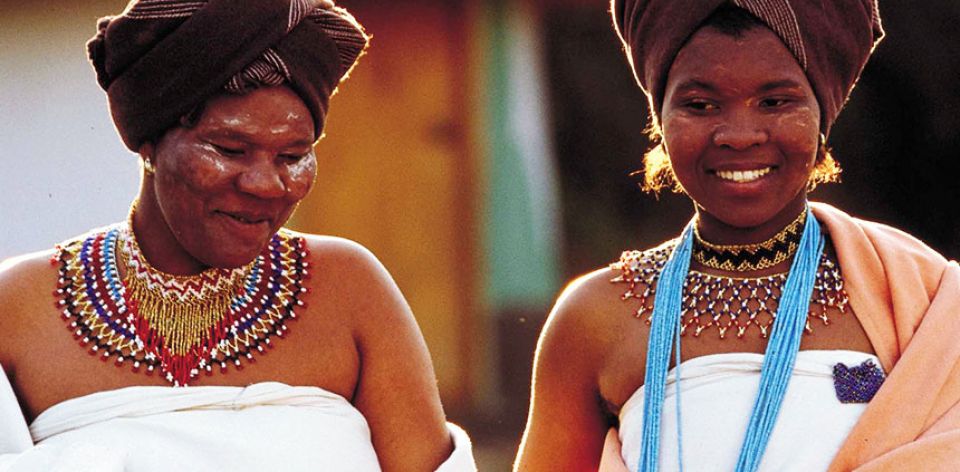 Located near Hartbeespoort Dam in South Africa's North West province, Lesedi African Lodge and Cultural Village is a flagship cultural tourism destination for visitors interested in learning more about South Africa's traditional people and cultures.
Lesedi, which means "light" in Sotho, features traditional homesteads of the Zulu, Nguni, Xhosa, Pedi, Basotho and Ndebele people, where guests can immerse themselves in cultural activities. If you're staying over, the village offers accommodation in each homestead, ranging from luxury suites in the Nguni village to twin rooms in the Ndebele homestead.
Upon arrival at Lesedi, you're welcomed to the Ndebele village before settling down to an fascinating presentation on the history of South Africa's rainbow nation. You're then taken on a guided tour of each of the cultural villages, where you can learn all about the various rituals and folklore of different South African cultures, and even learn a bit of the local lingo.
Traditional songs and dances round off the day's activities, followed by a buffet dinner of traditional fare fit for a king, hosted in the 200-seater Nyama Choma restaurant. Put your tastebuds to the test by digging into some impala, ostrich or crocodile meat then gather around the open fire at the end of the evening to listen to tales of African mythology.
Overnight guests at Lesedi will wake up to the sounds of the maskanda guitar (a Zulu guitar) and African melodies before being treated to a full English breakfast. If you want to immerse yourself in South African culture, this is the place to do it. 
Chameleon Village, Hartbeespoort
Not far from Hartbeespoort lies Chameleon Village, a melting pot of craft outlets, pubs, restaurants, outdoor and trailer goods, a decor warehouse, a tattoo parlour, a reptile park, handcrafted items, African curios, shoes, bags, new-age goodies and lots more.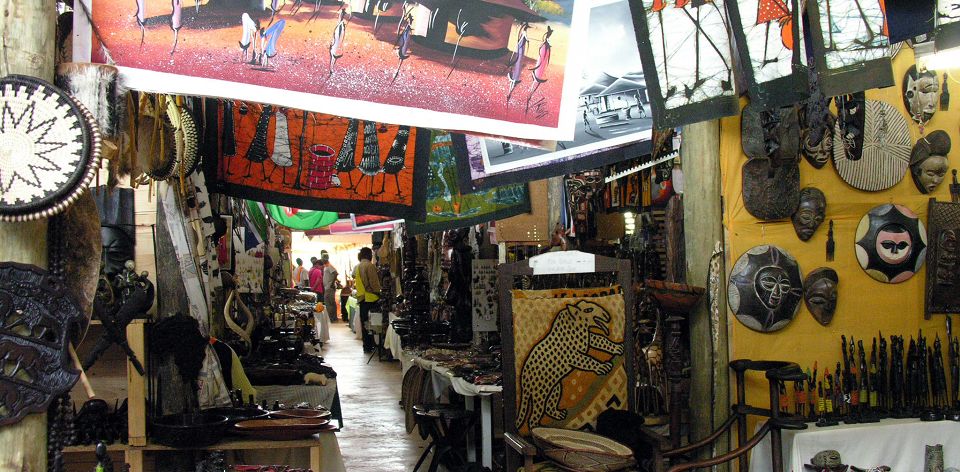 A wealth of retail therapy awaits at the foot of the Magaliesberg mountains at Chameleon Village, South Africa's largest indoor market.
Chameleon Village acts as a collective for handcrafted products from all over South Africa. In addition to the many African curios to be found here, 800m2 of space is dedicated to the country's skilled craftsmen and craftswomen.
From beautifully designed jewellery to aromatherapy products, candles, knitted goods, folk art, cards, decorations, paper craft, quilting, stitch craft and scrap-booking supplies, there's something for everyone.
You can tend to your holistic and spiritual needs with a tarot card reading, an iridology session, and dietary and nutritional advice; or you can stock up on your incense, ornamental angels and more in the tranquil garden area behind the restaurants.
Those who want to take a break from all the shopping can pop into the Chameleon Brewhouse, where five craft beers and a cider are waiting on tap. Team your brew with a tasty cheese platter or sausage basket.
There's also an outdoor and trailer world, 1 500m2 housing everything to do with life in the great outdoors.
A wide variety of exclusive furniture and décor items are displayed in a thatched building to the left of the main entrance. Here 28 independent shops feature artwork, mosaics, woodcraft, paintings, lampshades, lanterns, grandfather clocks, furniture and more eclectic items for your home.
A row of formal shops include a tattoo parlour, a copper art outlet, an internationally acclaimed art gallery, a gaming and DVD store, and shops selling cellphones, leather jackets, shoes, bags, sweets and clothing.
The kiddies will love spending time at the reptile park where lizards and snakes – mambas, vipers, cobras, pythons, adders and constrictors – are on display. The park also features crocodiles, porcupines, birds, monkeys and hyenas. Educational talks and eco talks are included, and picnics may be enjoyed here too.