Dining--Universal Studios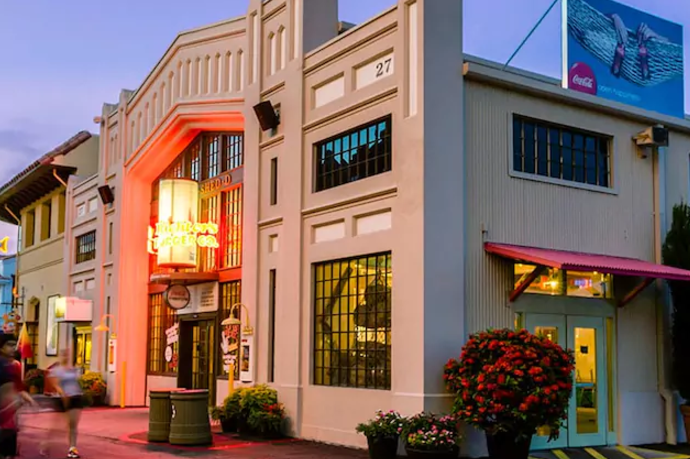 Richter's Burger Co.
Shake Things Up
Was that an earthquake, or just your stomach rumbling? Better head to Richter's for an off-the-charts meal. This two-story dockside restaurant features themed menu items such as The San Andreas Sandwich and The Aftershock Burger, as well as traditional favorites like grilled chicken salads and apple pie. A DIY condiment station ensures your selections are just the way you like them. To wash it all down, explore a magnitude of choices at the Coca-Cola freestyle® station or sip on a frosty milkshake.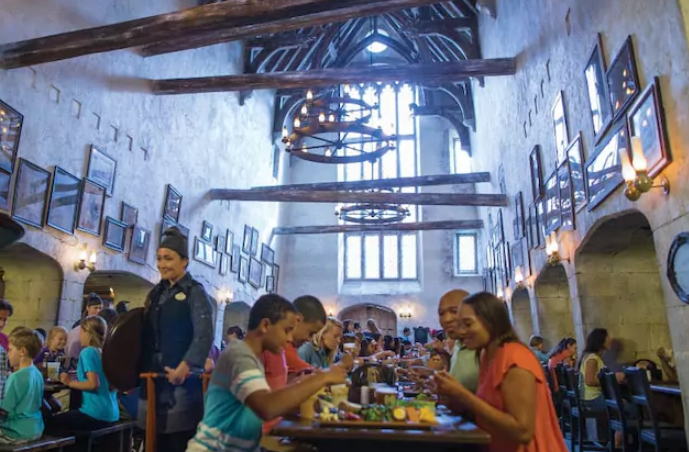 Leaky Cauldron
Fill Up On Traditional British Food
The Leaky Cauldron™ is a small, grubby-looking pub and inn. In Harry Potter and the Prisoner of Azkaban, Harry stayed there for several weeks over the summer before heading off to Hogwarts™ for his third year.
Once inside, you'll find yourself under a cathedral ceiling with views towards the guest rooms in the inn. Menu items include Bangers and Mash, Fisherman's Pie, Toad in the Hole, Ploughman's Platter, and more, plus a Kid's Menu offering Fish And Chips, Macaroni Cheese, and Cottage Mini Pie.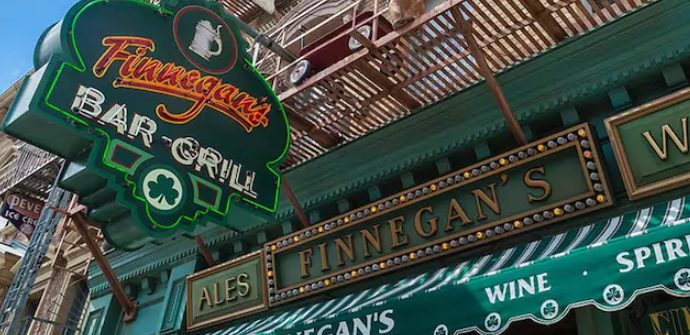 Finnegan's Bar & Grill
Cheers To This Cheery Irish Establishment
Step off Universal Studios' New York streets into this traditional Irish-American pub that whisks you away to the Emerald Isle. Finnegan's is both a lively bar and a full-service restaurant. Featuring authentic Irish dishes like Bangers and Mash, Shepherd's Pie, and Guinness Beef Stew as well as classic burgers, salads, and steaks, this delicious destination offers a wide array of options to pair with your favorite pint.
For a festive feel, Finnegan's often showcases live music. Settle in and sing along to traditional pub songs—and maybe even learn some new ones.
Beverly Hills Boulangerie
Say "Au Revoir" To Hunger
Part Parisian bakery, part American sandwich shop, this charming store is stocked with goodies for each stage of your day. Start the morning off with a flaky croissant or fresh pastry. Make lunch and dinner quick and easy with soup and a sandwich. And don't forget to treat yourself to a well-deserved cookie or decadent slice of cheesecake.
In a rush? Pop in and grab coffee, juice, or soda and simply take a snack to go. This petite cafe is as convenient as it is chic.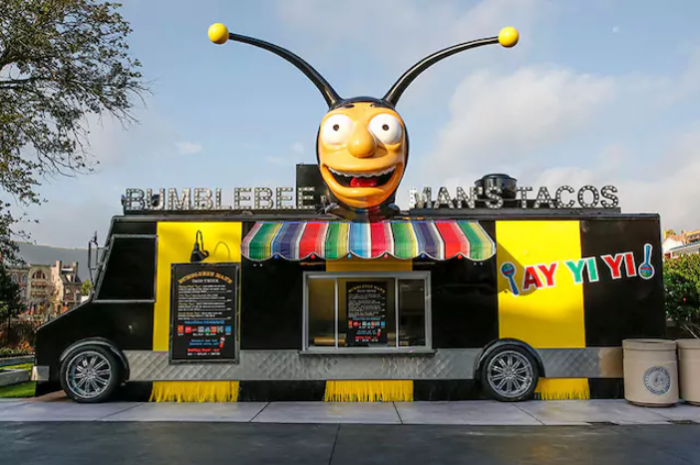 Bumblebee Man's Taco Truck
Nacho Average Mexican Food
No one knows great Mexican food better than a man dressed as a bumblebee! When he's not starring in Channel Ocho's longest running variety show, this Bombus pennsylvanicus-Homo sapien is cooking up a variety of the best Mexican street food that Springfield's ever tasted. Choose from Korean beef tacos, carne asada tacos, chicken tacos, and more. It's muy bueno to the last chomp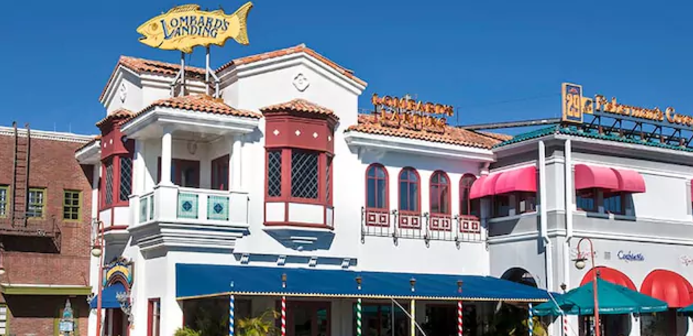 Lombard's Seafood Grille
Delightful Dining At The Docks
You can almost hear the foghorns and clanging of buoy bells at Lombard's Seafood Grille, a casually elegant full-service eatery located in San Francisco's Fisherman's Wharf. This waterfront establishment is Universal Studios' flagship restaurant and has been charming customers with its delicious food, friendly service, and nautical atmosphere since the park first opened.
Seafood is Lombard's specialty with fresh favorites like lobster bisque and fish tacos. If you prefer turf to surf, there's an array of burgers, sandwiches, and salads to satisfy any craving. A children's menu is also available to ensure even the littlest diner leaves happy.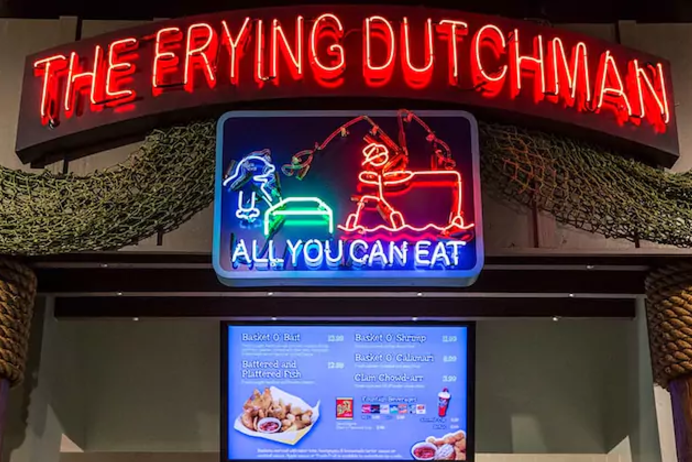 The Frying Dutchman
Battered Bounty Of The Sea
Arrrrr you ready for a delicious seafaring seafood adventure? As Sea Captain Horatio MacAllister would say, if it can be hauled from the ocean and fried, it can be put on your plate. Be you sea captain or swabbie, the Frying Dutchman's fare will fill yer belly and patch up your scurvy. Here you can try the Basket O' Shrimp, the Basket O' Calamari, the Basket O' Bait (fried fish, shrimp, and calamari), Battered and Plattered Fish, or the Clam Chowd-arr.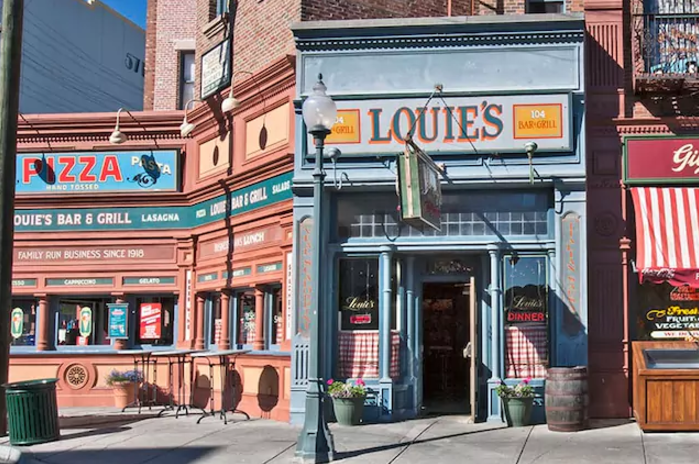 Louie's Italian Restaurant
Welcome To The Family
If you can't make it to your Nonna's house for dinner, there's a tasty alternative. Louie's is home to Italian favorites like pizza, pasta, meatball subs and salads, plus creamy gelato and Italian ice (available seasonally). A quick-service counter makes ordering a breeze. Then gather around in the spacious dining room under a string of lights or take your meal outside to take in the New York vibe at a shaded table. Buon appetito.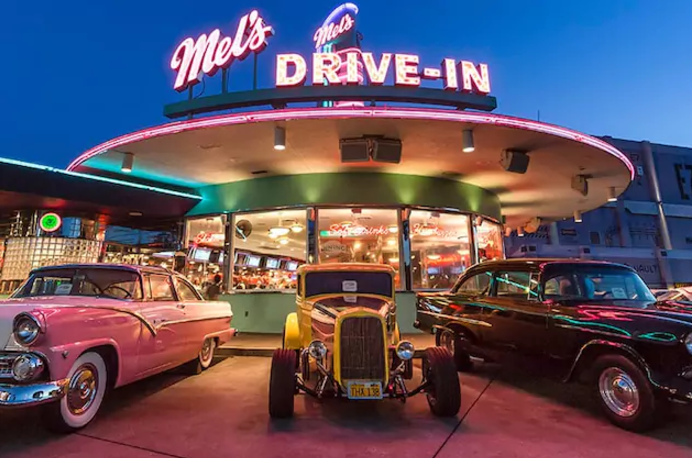 Mel's Drive-In
Cruise Over To This Hip Hangout
Prepare to rock around the clock at this American Graffiti-inspired 50s drive-in featuring golden oldies on the jukebox and a fleet of shiny vintage cars out front.
This retro restaurant serves up delicious diner fare that never goes out of style. Choose from burgers and fries, chicken sandwiches, chicken fingers, onion rings, root beer floats, and frosty milkshakes. Dine inside with classic vinyl booths and tabletop tunes, or enjoy your eats outside beneath the glow of neon lights.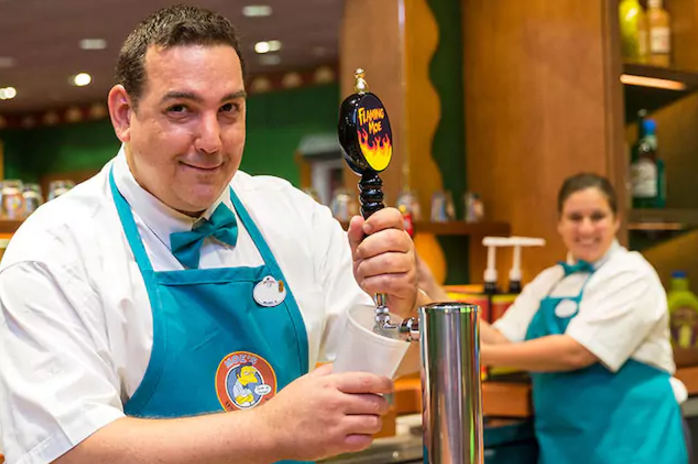 Moe's Tavern
Now With Electricity
Step inside Springfield's most recognizable pub and cozy up to the bar where you can enjoy a real Duff Beer, locally brewed exclusively for Universal Orlando Resort™. Take a selfie alongside the bar's resident customer, Barney Gumble. Try a famous Flaming Moe or two and be sure to give the Love Tester machine a yank. You're sure to fall in love with Moe's Tavern, where the jukebox is just as broken down as most of Moe's regulars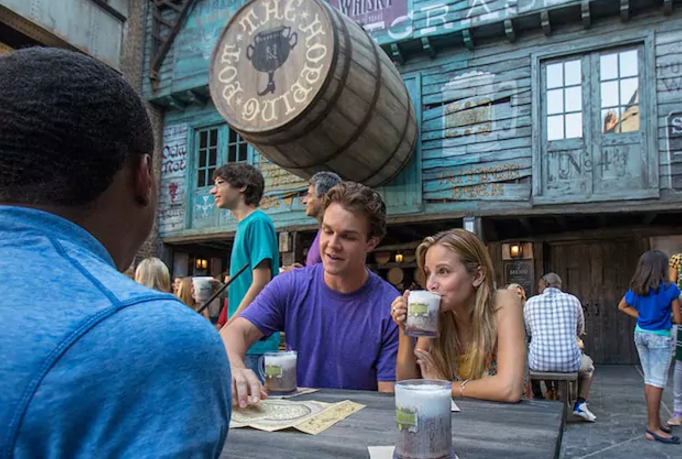 The Hopping Pot
An Eclectic Selection Of Wizard Drinks
Nestled within the activity of Carkitt Market at The Wizarding World of Harry Potter™ – Diagon Alley™ is this walk-up counter where you can cool off with a variety of delicious drinks. Want to know an inside tip? It's also a great place to grab yourself a cup of Butterbeer™ ice-cream, as well as a light snack before strolling over to watch a live performance by Celestina Warbeck and the Banshees.
Aside from Butterbeer™, you can try exclusive Diagon Alley™ drinks like Tongue Tying Lemon Squash, Otter's Fizzy Orange Juice, Peachtree Fizzing Tea, Fishy Green Ale, and our Wizard's Brew and Dragon Scale beers.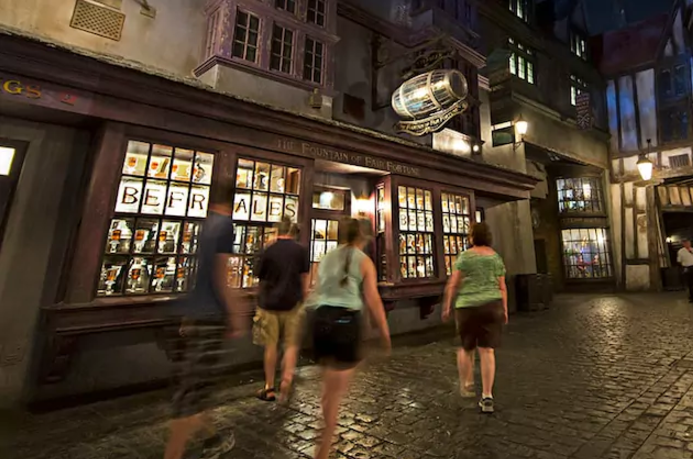 The Fountain of Fair Fortune
Stop In To See What's On Tap
Named for one of the fables in The Tales of Beedle the Bard (a collection of children's stories that many young witches and wizards grew up reading), The Fountain of Fair Fortune serves a variety of beers and other beverages (both alcoholic and non-alcoholic).
Non-alcoholic offerings include Butterbeer™, Frozen Butterbeer™, Pumpkin Juice™, Gillywater (bottled water), and Pumpkin Fizz.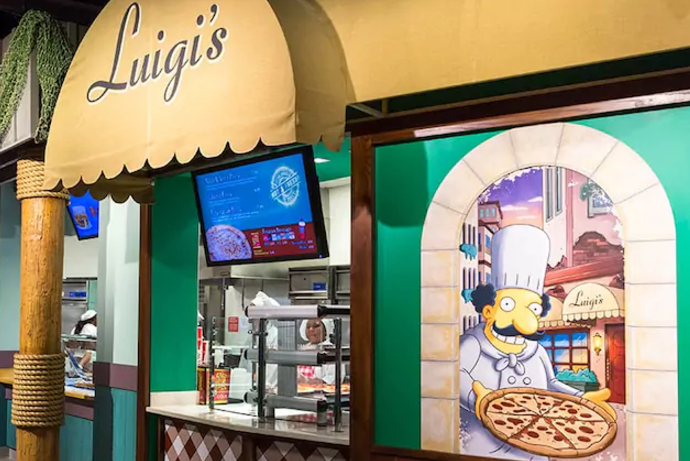 Luigi's Pizza
Springfield's Hot And Saucy Slice
That's a spicy meat-a-ball! Long rumored to be a mob hangout with links to infamous Springfield criminals such as Fat Tony, this classic little pizza joint is also known as Springfield's finest Italian eatery. Owner Luigi Risotto has a delicious menu in store, offering hot and fresh individual pizza pies. Choose from the Cheese Pizza, the Vegetarian Pizza or the Meat Liker's pizza.
***************************************************************************************