DISNEY'S ANIMAL KINGDOM® THEME PARK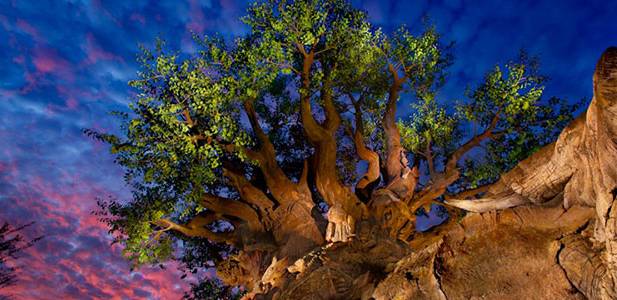 Encounter exotic animals and exciting adventures at Disney's Animal Kingdom® Theme Park, the largest animal theme park in the world. Home to more than 1,700 animals across 250 species, the park reflects Walt Disney's dedication to conservation and is committed to animal care, education and research. Explore 6 enthralling lands: Oasis, Discovery Island, Africa, Rafiki's Planet Watch, Asia and DinoLand, U.S.A. areas.
PANDORA - THE WORLD OF AVATAR
What if there was a world that challenged everything you thought you knew? A world beyond what you thought was possible. Beyond belief.
Welcome to Pandora-The World of Avatar.
Journey to a distant world where floating mountains defy gravity. Where nature comes alive in a brilliant bioluminescent glow and mystical rivers flow. Where you can fly on the back of a mountain banshee and feel it breathing beneath you.
For the first time ever, Alpha Centauri Expeditions, in partnership with Disney's Animal Kingdom® Theme Park, has made it possible to explore Pandora—offering unique expeditions and previously unimaginable possibilities in interplanetary adventure travel.
Your expedition begins in the Valley of Mo'ara, where the land is an adventure unto itself. Hike under mountains that float mysteriously above while you discover the totems, cuisine and artifacts of the Na'vi culture that surround you. Take in the Pandoran flora and keep your eyes wide open for fauna along the way. And as the sun sets, get ready for a forest alive with bioluminescence that'll amaze even the most well-traveled.
Ready for a rite of passage exclusive only to the Na'vi of Pandora until now? Climb aboard the back of a living, breathing banshee on Avatar Flight of Passage. Let anticipation build knowing you'll experience flight like never before on one of Pandora's largest predators. Fly over thrilling vistas populated by herds of Pandoran animals, soar through ancient stone arches, and dive under floating mountains and over rushing rivers like nothing on earth.
Board a reed boat and experience a mystical Pandoran river where every moment tells a story. As the rainforest canopy glows with life around you, discover plants and exotic creatures as the Na'vi Shaman of Songs calls to you. Experience the true harmony of nature—Na'vi and humans together as one in a world that can only be Pandora.
A world beyond belief.
Extra Magic Hours: 
Each day, one of the parks offers extended hours, so Guests can enjoy select attractions. And through August 19, 2017, enjoy "Extra" Extra Magic Hours only in Pandora - The World of Avatar. These nightly Extra Magic Hours offer extra time to fly on the back of a banshee, navigate a mystical river and walk under floating mountains. Please note valid Theme Park admission and a Resort ID are required.
Expeditions
Avatar Flight of Passage
Get a banshee's-eye view of the beauty and grandeur of Pandora on a rite of passage you won't soon forget! Deep in the heart of the Valley of Mo'ara, discover Avatar Flight of Passage—an all-new expedition that lets interstellar explorers like you climb atop a mountain banshee for a breathtaking, first-person flight over the moon's incredible landscape.
Bonding with a mountain banshee is a crucial step in the life of a Na'vi hunter—and flying on the back of one of these powerful winged creatures represents an important rite of passage. Now, as a visitor to Pandora, you'll finally have the chance to test yourself in a similar way!
Na'vi River Journey
Glide down a gentle, mysterious river and feel a sense of wonder as the full beauty of Pandora reveals itself. Located within the Valley of Mo'ara, Na'vi River Journeyoffers explorers an experience that has to be seen—and heard—to be believed!
As your expedition begins, climb aboard a reed boat and drift downstream. After coasting through a series of caves, and passing by exotic glowing plants and amazing creatures of the rainforest, you'll soon find yourself face-to-face with the Na'vi Shaman of Songs.
The adventure comes to a conclusion as the Shaman demonstrates her deep connection to the life force of Pandora—and sends positive energy out into the forest through the power of her music!
Valley of Mo'ara
Walk about through the Valley of Mo'ara and get ready to discover a world like no other! There's more to Pandora than expeditions like Avatar Flight of Passage and Na'vi River Journey… much more! All around its enormous floating mountains, you'll quickly uncover the valley's one-of-a-kind dining and shopping experiences—along with sights, sounds and experiences that include:
Exotic plants that come to life with beautiful bioluminescence each night
A Na'vi-built drum circle, containing instruments playable by all
Na'vi totems and other cultural items found throughout the land
Brand-new Wilderness Explorers challenges and badges to collect
You may even come across tour guides from Alpha Centauri Expeditions (ACE), scientists from the Pandora Conservation Initiative (PCI), or even an eclectic expat or two!
Dining
Satu'li Canteen
Discover healthful dishes and familiar flavors from another world-wholesome grains, fresh vegetables and hearty proteins.
Between your aerial adventures on Avatar Flight of Passage and family-friendly voyages aboard Na'vi River Journey, tuck inside the Quonset-hut structure called Satu'li Canteen—long ago an RDA mess hall, now a peaceful dining facility adorned with Na'vi art and cultural items.
Owned and operated by Alpha Centauri Expeditions (ACE), Satu'li Canteen supplies travelers all the comforts of home—courtesy of a unique, fast-casual menu that's been crafted from Pandora's natural abundance.
Featuring international-inspired cuisine, vegetarian options and specialty libations, it's the perfect place to refuel as you venture through the Valley of Mo'ara.
The fast-casual restaurant will also be the first to offer Mobile Order, a new convenient option to order and pay for meals on-the-go within the My Disney Experience app, allowing your Clients to bypass the queue to order when they arrive at the restaurant. Using the app, your Clients can select menu items, customize their order and pre-pay for their meal. When they arrive at the restaurant they will tap an "I'm here" button in the app, which will notify the kitchen to prepare the meal. When ready, your Clients will be alerted through the app to pick up their meal at a designated window. Additional fast-casual and quick-service restaurants will begin to offer Mobile Order later this year. Disney Dining Plan will be accepted at Satu'li Canteen but, at this time, Mobile Order will only accept credit cards.
Pongu Pongu
Quench your thirst the Pandoran way at an otherworldly pit-stop offering Na'vi-inspired refreshment.
Are your expeditions at Avatar Flight of Passage and Na'vi River Journey leaving you parched? Hike to the corner of Windtraders where you'll find Pongu Pongu—when you spot a friendly expat serving out-of-this-world drinks, you've come to the right place.
Meaning "Party Party" in the language of the Na'vi, Pongu Pongu welcomes weary travelers to try our bioluminescent frozen cocktail, indigenous beers—or even a sweet snack you won't find elsewhere!
Shopping
Windtraders
Discover exotic merchandise and souvenirs celebrating the flora, fauna and culture of Pandora.
As you trek through the Valley of Mo'ara, make your way to Windtraders, where the walls have long since been overtaken by natural root structures—which nowadays serve as still-growing displays for a variety of mementos and take-home treasures.
From Na'vi cultural artifacts and animal toys to science kits and Alpha Centauri Expeditions (ACE) apparel, you'll find something exciting for every member of the family here!
Colors of Mo'ara
As you trek through the Valley of Mo'ara, drop by this colorful kiosk for a Na'vi-inspired face painting.
Run by local expats, as wild and eclectic as the creatures they paint, Colors of Mo'ara helps explorers see themselves as one of the Na'vi! Featuring authentic Pandoran markings, along with select merchandise, it's a perfect stop for little ones and big ones alike—whether you're just arriving to Pandora or departing for your next great adventure!
VisitPandora.com
Pandora-The World of Avatar is now live online at www.visitpandora.com. This new website has launched to offer the chance to learn about the floating mountains, flying banshees and other flora and animals of the exotic world.
The storyline behind VisitPandora.com was created by Alpha Centauri Expeditions (ACE), so you can see first-hand how the team at ACE can transport you to Pandora to check-out the experiences that await you there. This new website takes you inside this extraordinary environment - up close and personal - with the ACE "experts" taking questions about your future journeys through Pandora.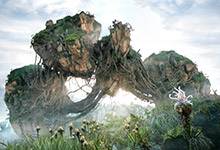 ********************************************************************************************