Disney Cruise Line has selected the most stunning destinations - in the most exciting regions around the world - for cruises you and your family will not soon forget. Enjoy the service and expertise of our dedicated crew as we guide you in your exploration of international ports of call, from the Caribbean to Alaska to Europe and beyond. Discover, in detail, the world of delights waiting for you. Best of all, every night, your family gets to return "home" to the comfort and magic of your Disney cruise ship—where plenty of enchantment awaits.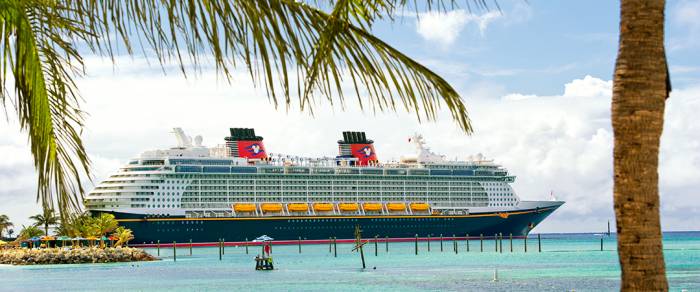 THE VALUE OF A DISNEY CRUISE
Discover the Value of a Disney Cruise - Magic Included!
There's a special place where kids can train to be a pirate with Captain Hook while parents are off lounging the day away at an adult-exclusive pool. It's an enchanted place where the entire family can dine at a different restaurant each night, laugh and cheer during an original Disney-themed musical, or watch a fireworks show under the stars.
All of this - and so much more - is included in the price of a Disney cruise. If you've never sailed with Disney Cruise Line®, you'll find that a Disney cruise offers a vacation experience unlike any other. Discover what sets Disney Cruise Line apart during a one-of-a-kind voyage that includes the world-class hospitality, legendary service and attention to detail that Disney is famous for - it's magic only Disney could provide.
View this document (Adobe PDF) to see which top features included on a Disney cruise drive value for families. Then use this insight when talking with your clients about a Disney cruise. Please note this document should not be given to clients.
Entertainment and Fun for Everyone
Delight in extravagant, Broadway-caliber Disney live shows and entertainment every night of your cruise that you won't find anywhere else.
Come together for unique deck parties - including an unforgettable firework spectacular at sea - starring many of your favorite Disney Characters.
Watch first-run and classic Disney movies under the stars or state-of-the-art theatre spaces featuring Dolby 3D projection and sound.
Dining for Every Taste
Experience the star treatment as you enjoy Disney's one-of-a-kind Rotational Dining, in which you're invited to "rotate" through wondrously themed restaurants with personalized service from a wait staff that travels with you to each meal.
Take your pick of a variety of dining options for breakfast, lunch, dinner and more - including casual on-deck eateries, amazing Disney themed restaurants and complimentary 24-hour room service.
Enjoy complimentary sodas, coffee and tea on deck and in the dining rooms throughout your cruise.
Kids Clubs
Kids ages 3 through 12 can learn and play in larger-than-life children's activity spaces fueled by Disney storytelling and participate in activities hosted by specially trained Disney counselors. And we offer longest complimentary hours at sea - there's never an extra charge in the evening.
Tweens ages 11 through 14 are invited to dock in a youth club all their own - where Disney storytelling comes alive, and videogames, music, and movies are available throughout the day.
Teens can relax in their own parents-free teen spaces until 2:00 a.m. with activities like karaoke, video game challenges, trivia showdowns, dance parties and tons more - under the supervision of a cool staff who like to join in the fun.
Complimentary kids club dining available for lunch and dinner means the excitement doesn't have to stop during the day.
For the Adults
Adults enjoy the best of both worlds: Time with the kids and time alone. Escape to the privacy of serene, adults-only locales, including intimate nightclubs and lounges, a tranquil pool and whirlpool spa, and more.
Take part in a plethora of unique, fun-filled activities designed exclusively for adults, like nighttime dancing, adult-exclusive mixers and shows, absorbing lectures and eye-opening tours.
Staterooms Designed with the Family in Mind
Rest in absolute comfort with extra storage, split bathrooms (in most staterooms) and privacy curtains that make getting ready easier for everyone.
Large travel parties can take advantage of convenient sofa beds or even request adjoining rooms, pending availability.
In-room movies and refrigerator plus attentive service from our friendly housekeeping crew help to provide a smoother sailing for all.
Experience Disney's world-renowned attention to detail - from vintage decorative touches to the playful "towelgami" you'll find waiting for you each night.
Signature Services & Amenities
Convenient Wave Phones let you call and text your fellow passengers while you're onboard or at Castaway Cay so you can always keep in touch.
Guest Services, available 24 hours a day, ensure all of your requests and questions are answered right away and that everyone in the family is comfortable and contented.
And while you can expect larger-than-life magic on a Disney cruise, you'll also find the same heartwarming magic in the smallest of details. From enchanting decorative touches throughout the ship to one-of-a-kind, surprise Disney Character appearances, cruising with Disney is a voyage the entire family is sure to never forget.
The more you and your Clients do to prepare for their cruise in advance, the more seamless their cruise vacation experience will be. Here is some helpful information regarding the online activities and services that can be handled prior to cruise departure.
My Online Check-In:
Your Clients don't have to wait until they receive their cruise documents to submit the required cruise forms for their upcoming Disney cruise vacation. Filling out the cruise forms in advance is a great way to make embarkation faster and easier. You can assist them by ensuring they complete the following:
Guest Information including verification of home address, emergency contact information as well as an important question on pregnancy.
Identification including what proof of citizenship your Clients are bringing to check-in for their cruise.
Pre / Post Cruise Plans including travel and stay arrangements both before or after their cruise.
Onboard Account payment information for charges incurred onboard.
Port Arrival Time to pre-select a time when your Clients will arrive at the port, as well as opting-in to receive luggage tags only.

The option to select luggage tags only applies to Castaway Club Members who are confirmed on a closed-loop sailing out of Port Canaveral and Miami. Guests who make this selection will receive a modified version of the Guest Travel Booklet.

Youth Activity Registration including details needed for children to participate in activities in both the nursery and Disney's Oceaneer Club/Disney's Oceaneer Lab.
Review Contract which includes an electronic acceptance of the terms and conditions.
Note: Due to the personal information and electronic acceptance of the terms and conditions, My Online Check-In should be completed by your Clients and is located under "My Disney Cruise" on disneycruise.com. Please encourage them to print out and bring a copy of the Port Arrival Form with them to the cruise terminal for embarkation, Travel Agents are unable to complete the Youth Activity Registration or agree to the Cruise Contract Terms and Conditions for their Clients.
Additional Information:
If Online Check-in is completed more than 30 days prior to sailing, the cruise documents sent by mail will not include the forms already submitted.
Once Online Check-in documents are submitted, an online confirmation will be received.
Online Check-in is available up to 48 hours prior to vacation commencement.
When completing the Pre/Post Plans, the flight details must match the arrival and departure date of the Disney cruise vacation. If the dates don't match, please call Disney Cruise Line reservations to add the flight information.
Other forms available to download and complete include the Authorization for Minors to Travel Without a Parent or Legal Guardian, Debarkation Authorization for Minors and Special Services Information Form.
Pre-Reserve Onboard Services and Port Adventures
There's no need for your Clients to wait until they're onboard the ship to plan their upcoming Disney cruise itinerary. Through "My Cruise Activities" under the My Disney Cruise on disneycruise.com, you and your Clients can:
Book and modify port adventures.
Reserve and revise spa treatments and fitness activities.
Make and update dining reservations at Palo and Remy.
Reserve babysitting.
The requirements to pre-reserve services online are as follows:
Reservation must be paid in full.
(A booking is considered paid in full if gross is paid. The gross amount must be applied anytime a Guest's credit card is used as payment or the Travel Agent uses mixed funds such as a Guest credit card and agency check or agency credit card and guest credit card.)
Birth dates are required for all Guests.
Concierge Stateroom Guests may book 120 days prior to sailing.
Castaway Club Guests receive access to book based on their membership level.

Silver Castaway - 90 days prior to sailing
Gold Castaway - 105 days prior to sailing
Platinum Castaway - 120 days prior to sailing

All other Guests may book 75 days prior.
Concierge Service
Guests with reservations confirmed in a Suite/Concierge category will receive assistance from a Concierge Service Specialist prior to boarding the ship. The Specialist provides Personalized Itinerary Planning, including but not limited to:
Pre-reserving port adventures, Castaway Cay Beach Cabanas, adult dining reservations, spa treatments and nursery reservations for Concierge Guests at 120 days prior to travel as long as the reservation is paid in full.
Confirming dining requests.
Assisting with all pre- and/or post-arrival requests.
Planning special occasion celebrations.
As a reminder, this exclusive service is not available to Guests confirmed in non-concierge staterooms that are traveling with Concierge Guests.
**************************************************************************************************