DISNEY'S BOARDWALK ENTERTAINMENT DISTRICT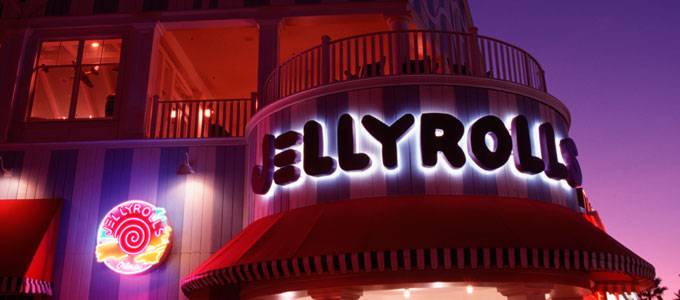 Experience the timeless charm of Disney's BoardWalk, a quarter-mile promenade of exquisite dining, unique shops and exciting nightlife. Stroll along the water's edge, play afternoon midway games and discover evening street performers. Evoking turn-of-the-century boardwalks in such coastal cities as Coney Island and Atlantic City, Disney's BoardWalk is a short stroll to Epcot® and a breezy boat ride to Disney's Hollywood Studios®.
Atlantic Dance Hall
Get into the groove at this hoppin' nightclub that plays the hottest songs from the '80s, '90s and today.
When the sun sets, the sounds and lights come to life in the elegant surroundings of a stunning Art Deco ballroom. Stars twinkle from the celestial ceiling over the expansive dance floor inviting you to strut your stuff. Between tunes, take a break on one of the balconies with a romantic view of the rippling waters of Crescent Lake, which stretches from the lip of the Dance Hall to the BoardWalk and beyond.
Atlantic Dance Hall is for Guests who are 21 years of age and older.
ESPN Club
Good times are a slamdunk as part of the total dining, shopping and entertainment experience at this fantastic facility. This massive entertainment complex includes three action-packed sections: The Sidelines, an interactive multimedia entertainment center; The Yard, a sporting arcade of interactive games; and Sports Central, a full-service restaurant and television and radio broadcast facility. It's a home run!
Jellyrolls
Let the good times roll at this lively piano bar for Guests over 21 with dueling pianos and audience sing-alongs.
Raise a glass as you enjoy the rollicking music of 2 piano maestros. No request is too obscure, no artist beyond mimicry. These guys can play anything. Well, almost anything. Go ahead—try to stump them!
Jellyrolls serves Guests 21 years of age and older. Be there early to grab a table. Jellyrolls is one of the hottest nightspots in the Orlando area and seats fill up fast. A cover charge is applicable.