The Amazing Adventures of Spider-Man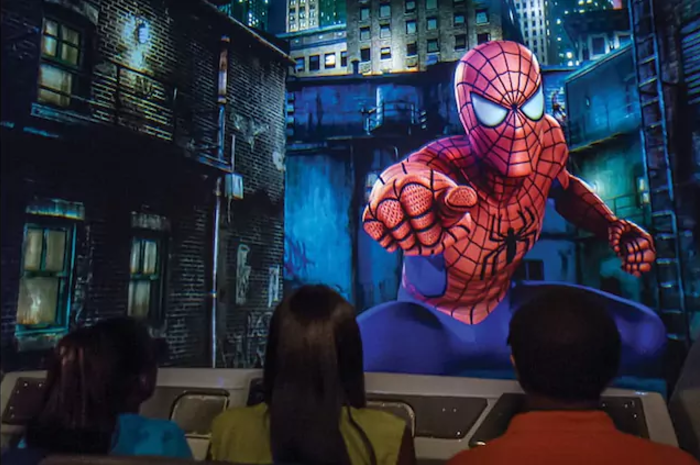 The Amazing Adventures of Spider-Man
Blast Into Action With Spider-Man
Strap on your 3-D glasses and join the world's most famous web slinger in a high-flying virtual reality ride. The villains of the Sinister Syndicate have stolen the Statue of Liberty and it's up to Spidey to save the day. 
You'll face a cast of Marvel characters as you soar above the streets, scale skyscrapers and battle bad guys left and right. The high-definition 3-D graphics are so vivid, you might catch yourself counting the stitches on Spider-Man's gloves. Just watch out for the 400-foot freefall.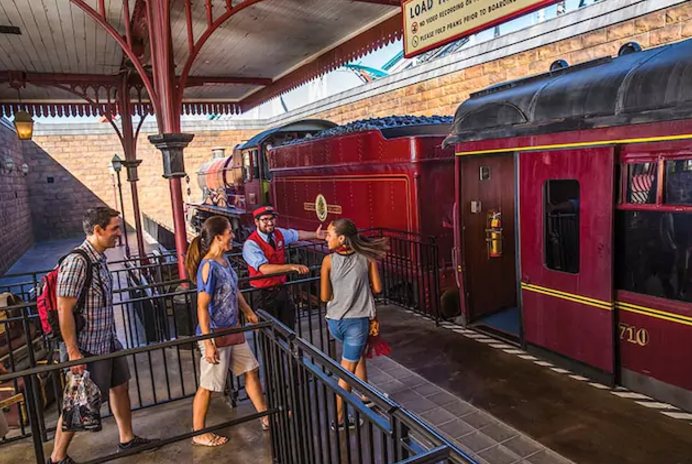 Hogwarts Express: Hogsmead Station
Now Departing, Hogsmeade™ To London
Nestled within the charming village of Hogsmeade™ inside Universal's Islands of Adventure™, Hogsmeade Station is where you can board and ride the Hogwarts™ Express to King's Cross Station in the London area of Universal Studios Florida™.
Once on your way, get ready to encounter familiar characters and creatures from the Harry Potter™ books and films. Be sure to keep your wits about you—mischief could materialise at any moment. When you arrive in London, pop around the corner to find the secret entryway into Diagon Alley™.
Park-To-Park Ticket Required
To board and ride the Hogwarts™ Express between the two lands of The Wizarding World of Harry Potter™, you'll need a Park-to-Park admission ticket. Additional restrictions apply.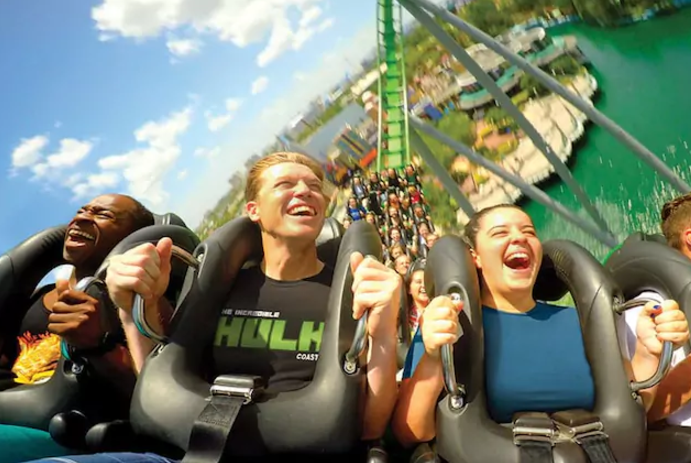 The Incredible Hulk Coaster
Race Up To 67 Miles Per Hour
Step inside a high-security research compound commanded by General Thaddeus "Thunderbolt" Ross. You've bravely volunteered to be a test subject for a (potentially life-altering) science experiment based on Dr. Bruce Banner's research. At the General's word, your group is blasted with gamma radiation.
Suddenly, you feel unstoppable.
Before you can blink, you're catapulted out with the force of a fighter jet. Hulk-like power propels you upside down into a weightless zero-gravity roll, racing faster and faster down the track. Hang on with superhuman strength as this high-speed, red-line rampage smashes its way through the sky.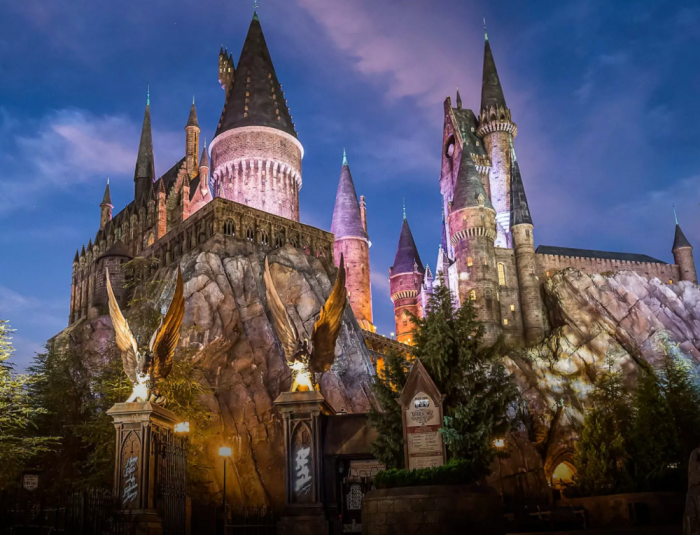 Harry Potter and the Forbidden Journey
Soar Above Hogwarts™ With Harry Potter™
Enter through the towering castle gates and make your way down the familiar passageways and corridors of Hogwarts™ School of Witchcraft and Wizardry. Visit iconic locations such as Dumbledore's office, the Defence Against the Dark Arts classroom, the Gryffindor™ common room, the Room of Requirement, and more. 
Then get ready to soar above the castle grounds as you join Harry Potter™ and his friends on an unforgettably thrilling adventure, coming face-to-face with an array of magical creatures. This amazing attraction uses groundbreaking, state-of-the-art technology (and a little magic) to create a one-of-a-kind ride.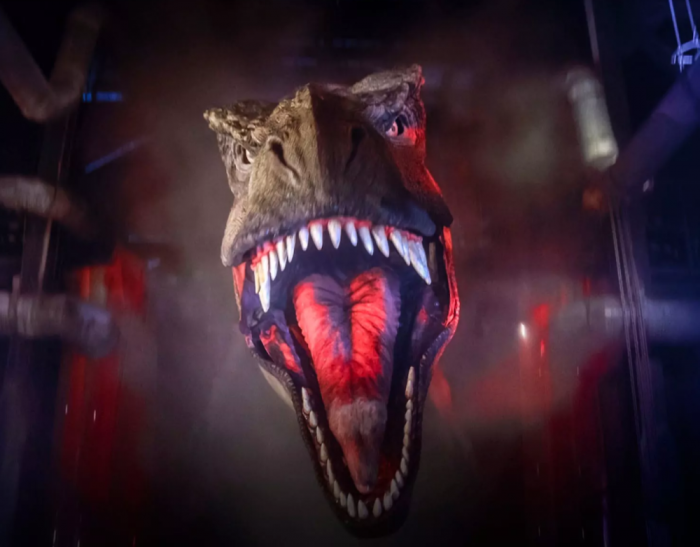 Jurassic Park River Adventure
It's Lunchtime And You're On The Menu
This scenic water cruise starts out innocently enough. You're gliding along in your raft, watching a baby stegosaurus and its mother share a moment.
When out of nowhere, you're bumped off course and thrust into the ominous "restricted area" of Jurassic Park™. This is where they keep the other creatures. The dangerous ones. Suddenly, a T. rex stands before you. There's nowhere to turn. Your only possible escape from his razor sharp teeth is to take the pitch-black plunge before you.
Did we mention it's an 85-foot drop? Hope you brought a towel.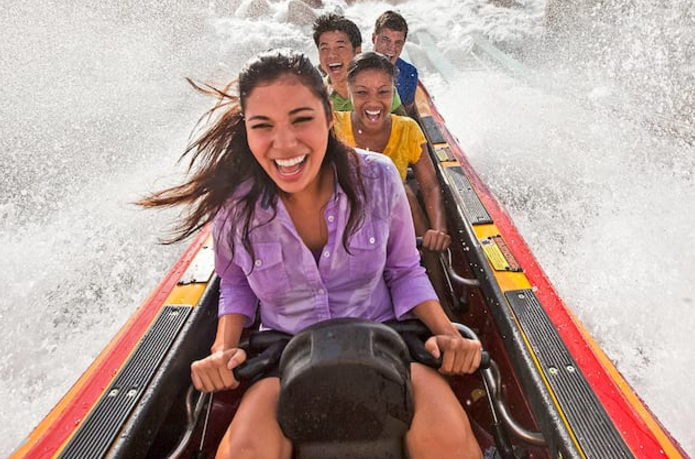 Dudley Do-Right's Ripsaw Falls
Plan To Get Very, Very Wet
Part roller coaster, part water flume, this ride combines the fun of the classic cartoons with edge-of-your-seat action. As our story unfolds, Snidely Whiplash has once again kidnapped fair Nell Fenwick, and it's up to the lovably laughable Royal Canadian Mountie, Dudley Do-Right, to rescue her.
As your flume log sloshes its way through twists and turns, keep a lookout for funny puns and visual jokes that were a trademark of the animated series.
And once you find yourself approaching that final nail-biting 75-foot drop, get ready to whoosh down the track—underneath the water level—for the biggest splash of your life.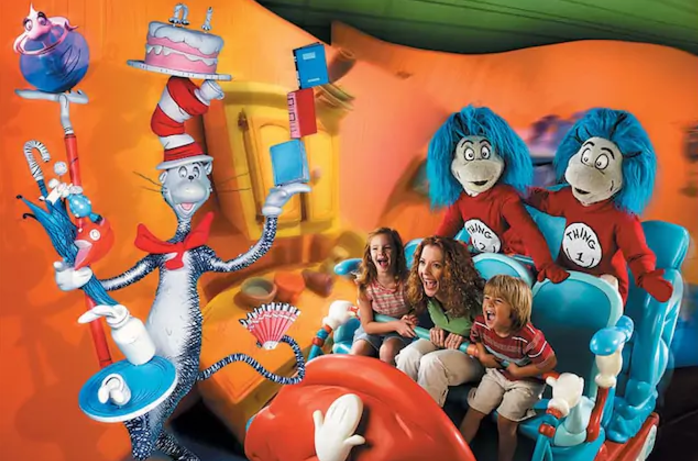 The Cat in the Hat
Climb Into Your Couch Car And Ride Through The Book
Who hasn't wished they could disappear into a Dr. Seuss story? Now you can. Grab a seat and swerve this way and that through one of Dr. Seuss's most beloved classics. Each scene has been vividly re-created with colorful characters and crazy motion as you twist from room to room.
While the mischief mounts inside the house, The Cat in the Hat™, and Thing One™ and Thing Two™ make quite a mess. There are bumps. And thumps. And things going "crash." Cautious Mr. Krinklebein reminds us that any minute, Mother will be home. Will you get the house cleaned up in time?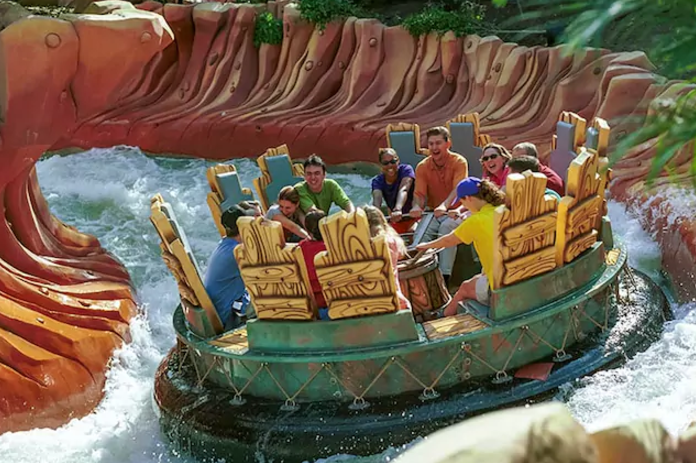 Popeye & Bluto's Bilge-Rat Barges
Spinach Or Not, You'll Get Soaked
Get set for spectacular splashes and lots of silliness. That blowhard Bluto has made off with Popeye's best gal, Olive Oyl, and the only way to save her involves an 18-foot octopus and a lot of water. 
Hold on tight as you brave your way through raging rapids. And keep your eyes peeled for snippets of classic cartoon humor, including a super-sized cephalopod with 10-foot tentacles. You'll laugh. You'll scream. You'll be really wet and squooshy.
***************************************************************************************