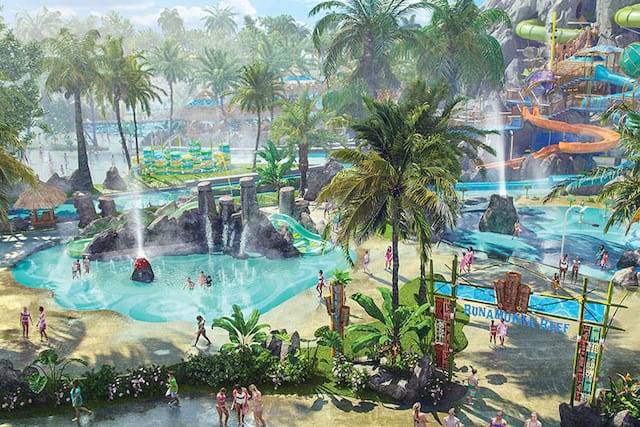 Make A Big Splash
Once an exotic coral reef beneath the ocean, Runamukka Reef™ is now a favorite play place for young Waturi children with its bubbling geysers, water guns, slides and dump cups. Shaded by fanciful bamboo sea creatures and waving seaweed, this whimsical play structure is the most playful spot in Universal's Volcano Bay™.
Puihi of the Maku Puihi Round Raft Rides™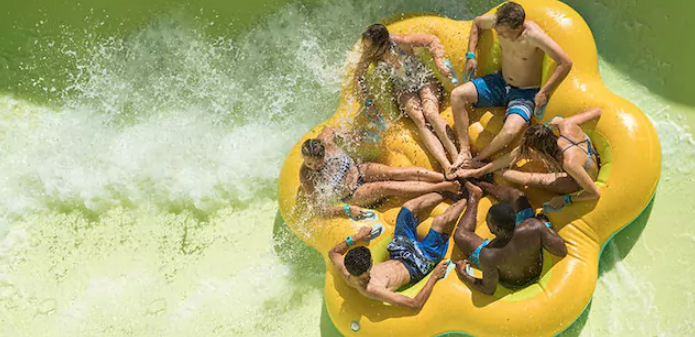 Go For A Spin
This multi-person rafting ride will get your heart pumping. Enter the dramatic lava-tube path and test your bravery on Puihi, where you careen through a dark, winding cavern. Suddenly, you feel the stomach-flipping thrill of zero-gravity hang time as you explode out into the far side of an immense funnel, then splash your way to safety at the bottom.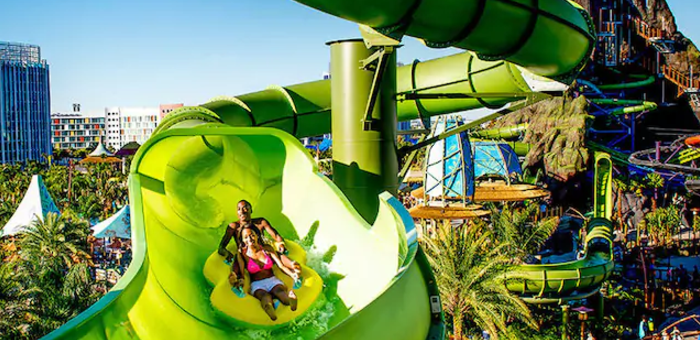 Get Twisted
There's a place where the puka trees grow abnormally tall, with strange snakelike trunks. Inspired by their twisting roots, the Waturi built four twisting water slides called Taniwha Tubes™. Riders can try all four tracks, but beware—mischievous tiki statues spray jets of water when you least expect it.
Kala & Tai Nui Serpentine Body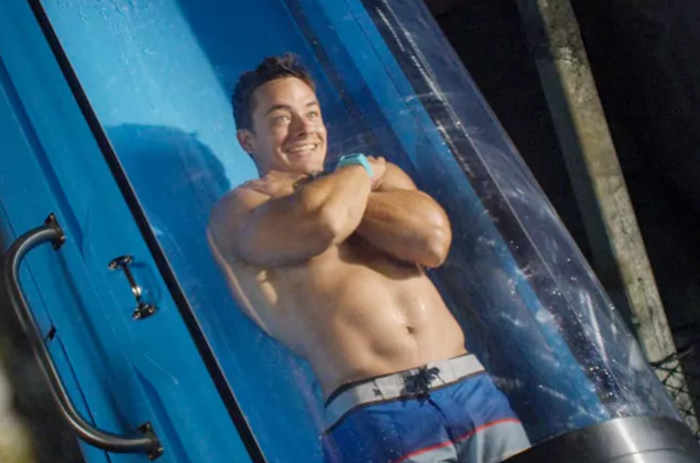 It's A Jaw-Dropping Plunge
Join Kala and Tai Nui where sea and sky meet and take a leap of faith from high atop the volcano. Twin trap doors plunge two guests down clear, intertwining tubes before sending them joyfully splashing into the turquoise waters below.
Kopiko Wai Winding River™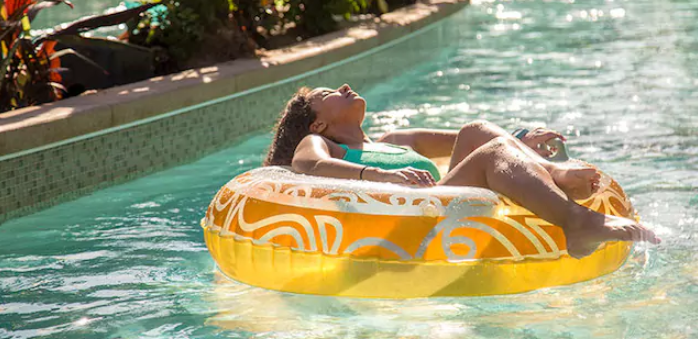 Round-Trip Relaxation
Take a slow ride on the Kopiko Wai Winding River through the tropical landscape of Universal's Volcano Bay™, a land full of surprises. Sprays of water surprise along the way, and beneath the lava rocks, Stargazer's Cavern reveals the magical night sky above.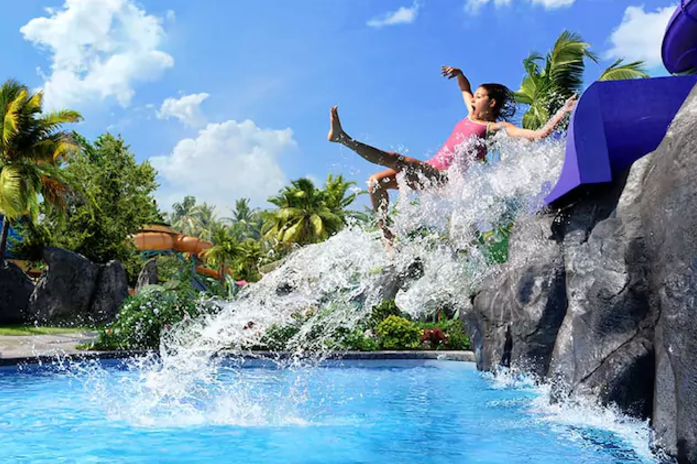 You Can't Top These Drops
Ascend the side of a cliff and choose between two rides. Plummet down the twisting waters of the Ohyah Slide, dropping out four feet above the swirling pool below. Then make the climb again to cross a deep chasm, brave the rope bridge and take the plunge down the Ohno Slide, a serpentine adventure that ends six feet above the awaiting pool. Ride these waterways and you may find yourself unleashing defiant battle cries of "Ohno" or "Ohyah" as you fly along the twists and turns, soar out into space and splash triumphantly into turquoise blue waters at the base of Krakatau™.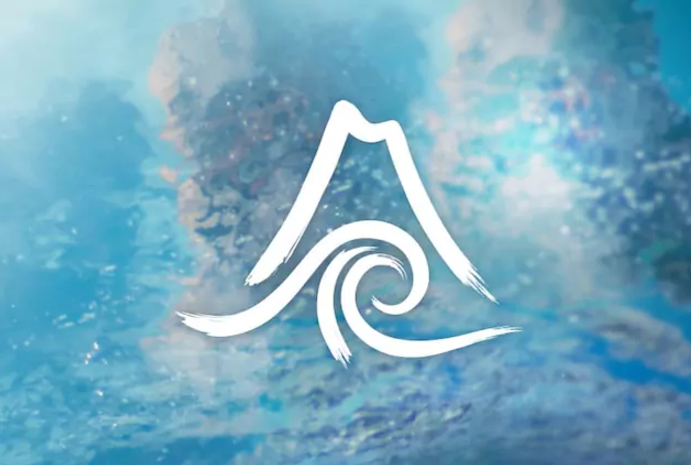 Full Speed Ahead
A favorite among Waturi children, Punga Racers™ send single riders on their manta ray mats sliding down four lanes through unerwater sea caves. Among Waturi children, one of the best loved legendary heroes is Punga, the playful son of Tangaroa, god of the sea and Mahuika, goddess of fire. And to this day, the first racer to cross the finish line receives a celebratory spray of water, a special salute from Punga himself.
Poolside Paradise
This relaxing leisure pool features playful elements that even the tiniest Waturi can enjoy, like tropical bongo drums and spraying jets of water. Set beside the splash pool for the Ohyah & Ohno Body Slides™, you'll have a great view of all the fun as riders splash down from above. It's the perfect spot to soak up the sun and indulge in some poolside relaxation.
The Hottest Spot To Cool Down
Even the youngest Waturi can get in on the fun in the shallows of Tot Tiki Reef. Play among splashy slides, a tot-sized water volcano and a family of friendly tikis with spraying fountains. Plus, adorable whales spray and sing as kids raise and lower their hands.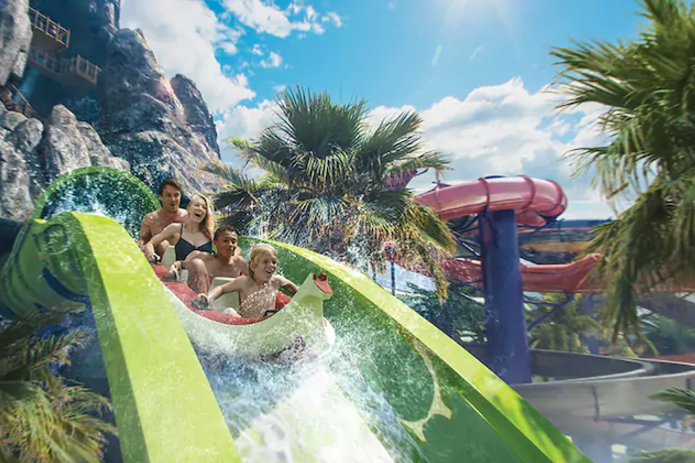 It's A Drencher
Honorary Waturi can experience the power of Krakatau™ on this amazing ride. Four-person canoes slide upward through the mists and into the dark twists and turns within the volcano before emerging with a plunge through a shimmering waterfall.
Maku of the Maku Puihi Round Raft Rides™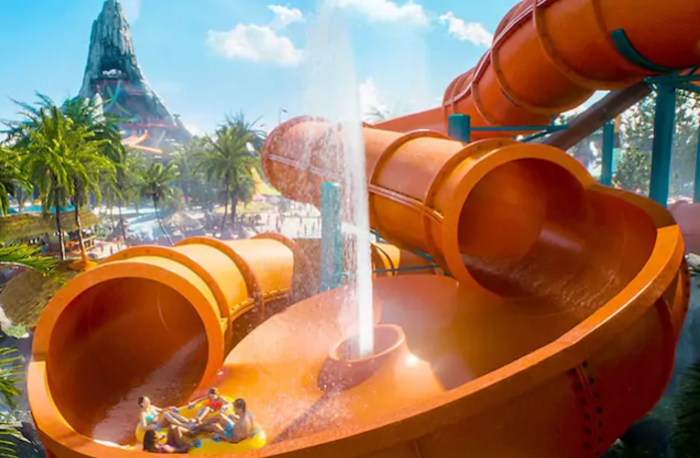 Give It A Whirl
This six-person rafting adventure isn't for the faint of heart. Enter the dramatic lava-tube path, then Maku slides through a deep volcanic gorge before spinning wildly around bowl-like formations. When a geyser blasts its massive column of water high into the air, your raft gets sucked into a watery vortex and shot along the twisting flume before you're deposited into a calm pool at the canyon's end.
Honu of the Honu ika Moana™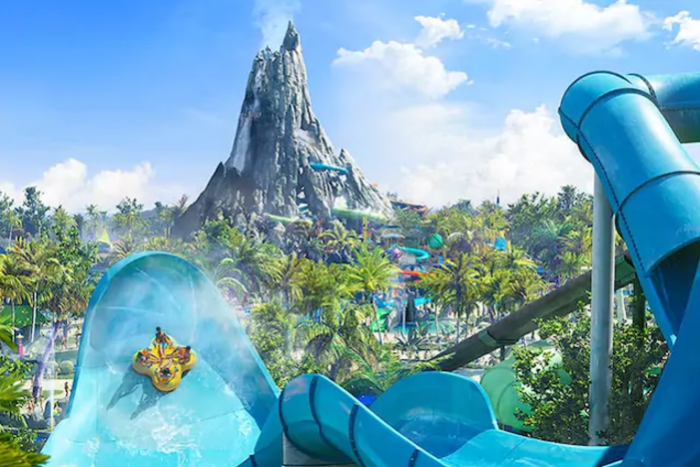 Take A Ride On The Wild Side
Just like the ancient Waturi people who rode the ocean waves on friendly sea turtles, you can enjoy this twisting, turning, multi-person slide. On Honu, you can surf the underwater currents on a four-passenger raft, speeding through an open flume, then streaking along two massive walls emblazoned with Waturi turtles.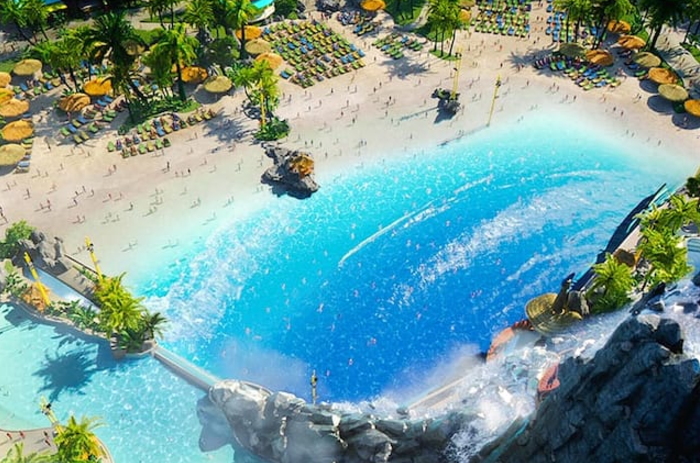 Lagoon With A View
Locals know that the waves are always perfect at Waturi Beach, where lapping surf overlooks the picturesque Wave Village. As you enter Volcano Bay, you pass through a lush tropical landscape, guided by the roar and splash of water until you reach a break in the foliage. From there, you're greeted by an unforgettable view of Krakatau™, the mighty volcano and its stunning series of waterfalls that pour into the sparkling lagoon. There, you can swim, splash and relax right along with the locals amid the breathtaking view and warm waves.