South Africa Kwazulu-Natal Region
The North Coast, KwaZulu-Natal, stretches from Zimbali in the south to the Thukela River in the north. While beaches, battle sites and heritage routes comprise the major North Coast attractions, the coastal towns of Ballito, Salt Rock, Umdloti and Zinkwazi offer up endless North Coast activities.
KwaZulu-Natal's North Coast is also known as the Dolphin Coast due to the hundreds of bottlenose dolphins that frequent this part of the coast. They can be seen all year round, frolicking in the warm waters just offshore.
The coast can be explored by boat, providing front row seats from which to watch the dolphins at play, or on horseback or by microlight, which offers a bird's-eye view of this spectacular region. Of course you could just while away the days lazing on the exquisite beaches of Ballito, Blythedale, Prince's Grant and Sheffield, which is also a hot snorkelling spot.
The influence of the Zulu culture and the legacy left by King Shaka is tangible here. Salt Rock was once his home and Shaka's Rock a favourite look-out point. Inland, at KwaDukuza-Stanger, you can see a memorial to the king, built on his gravesite.
Shaka's grave forms part of the local Zulu Heritage Route, which takes in numerous sites associated with his reign. You can also visit the tiny town of Shakaskraal - the site of Shaka's royal military homestead and today home to many traditional African healers. Explore this theme further on the Muti (African medicine) Trail in the Harold Johnson Nature Reserve.
The North Coast has a strong Indian influence, reflecting the history of Indian labourers who were brought in to work the sugar cane fields. Visit Indian temples in KwaDuzuka-Stanger or pop in at the colourful markets to pick up authentic food, curios and spices at bargain prices.
Twitchers should definitely stop off at Zinkwazi, which is renowned for its stunning birdlife.
From its mountains, rolling hills and pristine beaches to World Heritage Sites, battlefields and a perennially warm climate, KwaZulu-Natal is always ready to welcome the thousands of tourists who visit the province each year.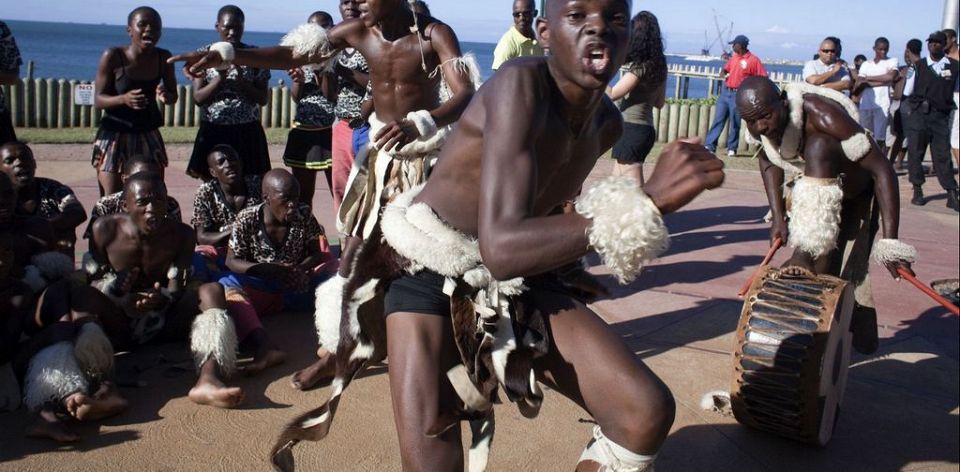 The warm Indian Ocean to the east and the Drakensberg Mountains to the west border KwaZulu-Natal, South Africa's self-styled playground province, home to two World Heritage Sites: the iSimangaliso Wetland Park and the uKhahlamba-Drakensberg Park.
The 332 000ha iSimangaliso Wetland Park features three lake systems, eight ecosystems, swamp forests, pristine reefs, Africa's largest estuarine system, more than 500 bird species and some of the highest sand dunes in the world.
The imposing mountain range of the uKhahlamba-Drakensberg Park is celebrated for its San rock art as well as its beauty. More than 30 000 symbolic paintings adorn the walls and overhangs of 500 caves scattered throughout this extensive and ancient rocky landscape.
In and around the town of Ladysmith in the northern hinterland lies the historical Battlefields region, which has witnessed much spilling of blood. Zulu warriors, Boer garrisons and British troops clashed in many skirmishes in the region during the late 1800s. The most famous of these was the 118-day siege of Ladysmith during the South African (Anglo-Boer) War.
Culturally speaking, KwaZulu-Natal is a mix of Zulu, Indian and colonial influences, with each heritage reflected in historical and cultural trails, architecture, township cuisine and Durban's fine Indian curries.
Game and nature reserves, unspoilt beaches and the iSimangaliso Wetland Park dominate the Elephant Coast north of the port city of Durban, while the Sapphire and Hibiscus coasts to the south comprise small holiday towns, holiday accommodation and numerous Blue Flag beaches.
About two hours' drive inland from Durban, Nottingham Road marks the heart of the Midlands Meander, a country setting for more than 100 art and craft outlets, B&B and hotel accommodation, adventure sports destinations, pubs, farm-style and upmarket eateries, hiking and horse trails, and quaint getaway spots.
A sun-worshipper's dream by day and a party destination by night, the beachfronts of Durban and Umhlanga come alive, with clubs, pubs, live music, lounges and restaurants vying for patronage. Greater Durban's Florida Road and Helen Joseph Road are popular meeting places for the young and trendy, where a strip of bistros and restaurants offer international and local cuisine.
Larger shopping malls in the province include Umhlanga's Gateway; the Galleria in Amanzimtoti; the Midlands Mall in Pietermaritzburg; Westville's Pavilion; the Dolphin Coast Centre in Ballito; Musgrave Centre in Durban; La Lucia Mall in La Lucia; and the Shelley Mall on the lower South Coast.
Around 10.2-million South Africans, attracted by the largely warm subtropical climate (hot, humid summers and dry, clear winters), call this province home.
Zulu cultural ceremonies
A festival involving snakes, a reed dance with thousands of Zulu maidens or a mass religious gathering of the Shembe are all cultural outings available to visitors to Eshowe in Zululand at certain times of the year.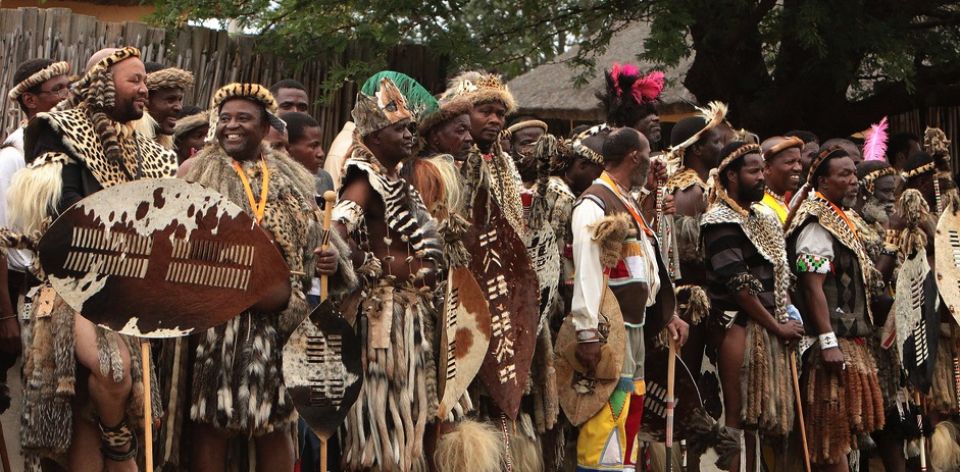 The cultural calendar in Zululand has particular ceremonies of interest to visitors who can attend one of these events as part of a guided tour.
If you visit the town of Eshowe in February, then you can witness a festival known as the 'first fruits ceremony', which was done by early Zulu kings. This particular event is held by a local sangoma (traditional healer) who goes by the name of Khekhekhe and involves poisonous snakes.
Khekhekhe (whose birth name was Zizwezonke Mthuthwa) lives in a homestead close to the Tugela River and invites fellow sangomas to attend this event, which takes place on 23 February every year. 
During the ceremony he handles the snakes, even putting their heads in his mouth, and tells the story of how Chief Dingiswayo (Shaka Zulu's mentor) gained power over snakes as a young man.
Khekhekhe, who has 14 wives, is the driving force behind a tourism initiative to get foreigners to experience rural Zululand and African spirituality. He also has a local transport and bus business.
Visitors to Zululand in September can also sign up to attend another Zulu festival of note. This is the Zulu Reed Dance that takes place in September at the royal palace of King Goodwill Zwelithini, where thousands of young Zulu women gather to celebrate the custom of retaining their virginity before marriage.
If you visit the town of Eshowe between 15 and 31 October, you can also attend a gathering of the Shembe, a religious group which gathers in the thousands at a town called Judea at this time of the year. 
On Saturdays they hold traditional prayer dances and on Sundays they observe a day of prayer with an emphasis on traditional dress, dance, singing and the blowing of the Horns of Jericho.
If you visit Zululand outside of these particular times, you can organise to visit a Zulu homestead, attend a wedding, meet a sangoma or go to a coming-of-age ceremony with Zululand Eco-Adventures, which specialises in real Zulu cultural experiences.