Regions
Eastern Cape Highlights
The Wild Coast
The Wild Coast in the Eastern Cape remains one of the world's most untouched scenic locations. Beaches don't come more beautiful than those of the Wild Coast and thanks to the rugged nature of the coast, they remain undeveloped. This is Xhosa tribal country, birthplace of Mandela and home of the inspiring Nelson Mandela Museum, with a landscape dotted by tribal huts and gentle rolling hills. Cattle roam freely, even on the beaches. Romantic shipwrecks, spectacular rock formations, pristine white sands, dolphins flashing in the waves and charming family hotels make this area one of South Africa's best kept secrets.
The Wild Coast is an unspoiled natural treasure. Visitors can explore its renowned beauty on foot, by 4x4 or horseback before embarking on fishing expeditions or snorkelling and diving outings. The seaside villages along the Wild Coast have been the traditional holiday haunt of families for many generations.
The Wild Coast in South Africa stretches along the Eastern Cape province's northern coastline.
As its name suggests this strip of coastline, which reaches from the Mtamvuna River in the north to the Great Kei River in the south, is an untamed wilderness.
It offers incredible views of the dramatic coastline, jagged cliffs, sheltered bays, wild beaches and rolling hills and valleys. This is a hikers' paradise and can also be enjoyed on horseback.
It is renowned for being one of the most beautiful places on the planet and is the heartland of the Xhosa people.
Ancient forests filled with cycads and yellowwood trees abound with bird and animal life. Bird watchers can go in search of the approximately 320 species that make this area their home, while anglers can catch the big one whilst deep sea, rock, surf, fly and spear fishing. Fishing licenses must be acquired from any local Post Office.
Due to its incredible natural beauty the Eastern Cape's Wild Coast is ideal for hiking, but a multitude of 4x4 trails allow for those who prefer travelling in comfort.
Due to their delicate ecosystems beaches are off limits for drivers.
The Wild Coast is also known for its shipwrecks, a legacy of its wild and tempestuous nature.
Water activities like snorkelling and diving give a spectacular experience of the world beneath the waves while spotting lost treasure and other relics from shipwrecks.
Addo Elephant Park
Situated in a malaria free area and just one hour's drive from the coastal city of Port Elizabeth, lies the Addo Elephant Park. Safe from the relentless persecution of the past, the grey leviathans of the bush now roam in peace. Today this finely tuned ecosystem is sanctuary to over 450 elephants, 280 Cape buffalo, black rhino, a variety of antelope species, as well as the unique flightless dung beetle, found almost exclusively in Addo.
If you're in love with elephants, then Addo Elephant National Park near Port Elizabeth is the place for you. Rated as one of the best places in Africa to see these gentle giants up close, this wild paradise is also our third-largest safari park and has a huge diversity of animals and natural vegetation.
To get a clear understanding of how awesome this place is, one has to travel back to 1931. It was then that Addo was proclaimed as a protected area for the 16 elephants that remained there – showing that South Africa has always loved her elephants. Today it's a world-famous mega park and elephant numbers have swelled to over 600 – easily one of the most dense elephant populations in Africa.
From just 2500ha in the beginning, Addo Elephant National Park is now 180 000ha in size, stretching from Darlington Dam in the Karoo in the north, across to the Zuurberg Mountains in the south, to the coast where it includes the famous St Croix and Bird Island groups.
The park is also home to land-based animals such as buffaloes, lions, leopards and rhinos, as well as sea-dwelling animals like Great White sharks and Southern Right whales. This means that Addo is one of the few reserves in the world that has all of the Big Seven!
In Addo, you'll also find 1000-year-old cycads, hillsides covered in pastel-coloured proteas, primeval impenetrable thicket, bizarre-looking spiny noorsveld, and wide-open plains where antelope graze.
Lions and spotted hyenas were reintroduced into the park in 2003 to help control antelope numbers which include Kudu, Red Hartebeest and Eland.
The rare flightless dung beetles of Addo are a more unusual attraction. Always busy rolling perfect balls from elephant dung, the park is full of signs warning visitors to avoid harming these unique creatures.
The marine section of the park includes the St Croix Island group, with Brenton and Jahleel, which is home to a huge number of different bird species. St Croix is also home to the largest breeding colony of African Penguins in the world. These waddling wonder birds are endangered and the population in the bay has sadly declined 70% in the last seven years. The colony went from a high of 60 000 individuals down to the current number of 22 000, roughly half of the entire world's population.
Bird Island also has a population of breeding African Penguins but the main species found on this island is the Cape gannet. There are around 250 000 birds on this island (it's not called "Bird Island" for nothing), and it is the largest "gannetry" on the planet. The Bird Island group also has a small islet named Black Rocks, which has 6 000 Cape fur seals breeding on it.
Rare Roseate terns come to Bird Island to breed in winter, Siberian falcons breed in the coastal dunes nearby, and Caspian and Arctic terns stop off on the island during long-haul flights. So there really is quite a hive of animal activity found here – it is nature in its purest form.  
To top it all off, both islands have a rich cultural and natural history as they have been utilised for food and supplies since the first Portuguese explorers rounded the Cape in 1488. 
Addo is just a short drive from Port Elizabeth, the largest city in the Eastern Cape, where visitors can pick from a range of accommodation and adventure activities, including 4x4, horse and hiking trails.
Shamwari Game Reserve
The luxury Shamwari Game Reserve is the southernmost Big Game private reserve in Africa. This premier, award-winning game reserve forms a natural extension to the famous Garden Route. The 25 000 ha reserve is steeped in Settler history, and dates back to the time when game roamed freely in the Eastern Cape.
Shamwari Private Game Reserve in the Eastern Cape offers visitors award-winning luxury accommodation in the heart of malaria-free big game country. Game viewing and responsible tourism go hand-in-hand as you view the Big Five and enjoy five-star pampering and cuisine.
Shamwari Private Game Reserve stands in a class of its own. It has been voted the best game reserve and conservation company in South Africa for 10 consecutive years.
The reserve has even become a favourite among international celebrities. Golfer Tiger Woods got engaged here, and Hollywood stars Brad Pitt, Nicolas Cage and John Travolta have all visited Shamwari in the past few years.
Situated in the malaria-free Eastern Cape, Shamwari Game Reserve not only boasts Africa's most sought-after Big Five animals, it also aims to rehabilitate an ecosystem almost destroyed by centuries of farming.
Situated along the Bushmans River, the area comprises five of the country's seven biomes,so it's no wonder the 25 000 hectare area supports a stunning variety of flora and fauna. Because of the focus on responsible tourism, the reserve has received the Global Nature Fund Award for Best Conservation Practice.
Both the British TV series 'Safari School' and a popular Animal Planet programme 'Shamwari: A Wild Life' were filmed here, showcasing this magnificent reserve to an international audience.
Shamwari Game Reserve is also home to two sanctuaries of the Born Free Foundation, which cares for lions and leopards that have been rescued from poor conditions in circuses or zoos around the world. Visitors are welcome to pay their respects to these 'pensioner cats'.
For families with children there is no better safari destination than Shamwari Private Game Reserve, which provides special programmes for kids.
With or without children, after a morning of admiring magnificent wildlife, you deserve a treatment in one of three luxury spas. You can also spend the afternoon on one of the local beaches nearby before enjoying the sunset back at the reserve, with drink in hand and the sound of jackals performing a suppertime serenade.
Discover the Garden Route
When you take a trip down the N2, between the Eastern and Western Cape, you'll discover one of South Africa's best kept secrets: the Garden Route.
The Garden Route is a mix of modern golf courses, ancient forests, secluded artists' communities, retirement estates, modern malls, craft centres, mountain hideaways and beach holidays. A large number of interesting and creative people are drawn to this magnificent stretch of coastline and many of them now call it home.
The main highway through The Garden Route, a highlight on most visitors' itineraries, is the N2 stretch running from Heidelberg in the Southern Cape to Storms River Village on the Eastern Cape border.
While the scenery is enough to make you stop and stare, it's the hidden gems that can be found on the sides of the roads that are the real allure of the Garden Route.
Over time ancient woodcutter clans, fishermen, artists, businessmen and top chefs have all found their niches along the Garden Route in the Western Cape. The latest addition of which is the Bramon Wine Farm just outside Plettenberg Bay. This empowerment project is bringing wine-making, and all of its economic benefits, to the region. It doesn't just do good, it tastes good too!
Oudtshoorn (the ostrich capital of the world) also calls the Garden Route home and, for those who are interested in history, both early inhabitants and elephants have been crossing the Outeniqua Mountains, from Oudtshoorn to the coast, for many centuries.
Other surrounding towns well worth visiting include Calitzdorp, Sedgefield, The Wilderness, Knysna and Plettenberg Bay.
The Garden Route National Park which connects the existing Tsitsikamma National Park's ancient forests and wild coastline with the Wilderness National Park via a chain of lakes and preserved sections of Fynbos, is a fascinating and enchanting mix of ecosystems. This park is also famous for its secluded little bays and its year-round holiday frame-of-mind, and it's conveniently accessible from Cape Town.
While you're exploring all the nooks and crannies of the Garden Route, don't forget to cast an eye out to sea where you could see the Southern Right and Humpback Whales, Bottlenose and common dolphins and even Killer Whales that have been known to frolic close to the shore, especially near Plettenberg Bay.
Whatever your pleasure is, you'll find what you're looking on the Garden Route… even if it's just to lose yourself in one of the most beautiful parts of South Africa, if not the world. 
The Bloukrans Bungee
One, two, bungee! When you're about to leap off the Bloukrans Bridge, you're about to safely plunge 216m into the gorge below. As far as adrenalin rushes go, you don't get much better than this. And the beautiful surrounds don't hurt either.
The Bloukrans Bridge, at 216m, is the highest commercial bridge bungee jump in the world and attracts adventure seekers from all over the globe. It's found along the scenic Garden Route offering one of the most spectacular bungee jumps in South Africa, if not the world.
This slick, professional bungee operation is run by Face Adrenalin, a member of the Southern Africa Tourism Association. These specialists in South African bungee jumping put safety first with all equipment conforming to international standards and highly trained and experienced staff ensuring that you enjoy the jump of a lifetime.
While bungee jumping is the most popular adventure activity at the bridge, there are plenty of other rides, jumps and swings to try, including the newest addition to the Bloukrans bungee adventure menu: the thrilling 200m Flying Fox cable slide (known as a foofie slide in South Africa).
Another adrenalin option is a tour of the Bloukrans Bridge, the largest single span concrete arch bridge in the world. The tour takes you along a specially-designed catwalk to the top of the arch where you look out over the gorge to the mountains and the sea in the distance.
Your adventure doesn't need to stop there. Around the area you can find tons of fun from Bloukrans Bridge to Storms River. Hiking, sea kayaking, diving, canopy tours, zip lining… it's all here for you to explore. Don't forget to stop in at Tsitsikamma National Park to complete your journey and discover why the Eastern Cape truly is one of our most picturesque provinces.   
Sanccob Eastern Cape
Sanccob Eastern Cape, located in the delightful seaside town of Cape St Francis, is a rescue facility for seabirds. Here birds that have been oiled, stranded or injured are nursed back to health. The work done here is critical, as the African penguin population has recently nosedived.
It's feeding time at Sanccob Eastern Cape, in the shadow of the lighthouse in the lovely coastal town of Cape St Francis.
Xolani Lawo heads into the grassy enclosure where many of the penguins are dozing or balancing on rocks and gently herds them through a door. Each penguin has an identity bracelet on a flipper. Once on the Astroturf feeding platform, the volunteers call out the details to Xolani: 'Nip has had four sardines; four fish for Nella; four tails for Barcelona; Elvis had one small tail and three long tails.'
Most of the birds are African penguins (not surprising because two of the most important breeding islands for this dwindling species, Bird Island and St Croix, are not far away). But sometimes a few exotics arrive. Nip and Tuck, rockhopper penguins with crazy yellow hair-dos, are from Prince Edward Islands in the Southern Ocean. Sailors might have caught them and then let them go close to Port Elizabeth. A while back, a king penguin from Antarctica washed up on South African shores and was brought here.
Some penguins have been caught up in oil slicks from ships cleaning their bilges. A single vessel washing its decks can oil 100 penguins, leaving them poisoned, cold (because their feathers are no longer waterproof) and dehydrated.
This centre has treated more than 10 000 seabirds in 25 years. It's a significant number, given that the African penguin population has suffered a crash from 150 000 pairs in the 1950s to fewer than 26 000 pairs by 2009. In 2010 they were put on the list of endangered animals.
Sanccob Eastern Cape runs a highly professional operation. It's not specifically geared around visitors, although they are made welcome. Visitors can come at any time and see penguins in an outside enclosure. There's also a shop which sells souvenirs like t-shirts, and which is open daily whenever the Sanccob staff are there, generally between about 8am and 4pm.
Some penguins can never be released (like Stevie, who is blind). But for the staff at this sanctuary, the happiest days of all are when healthy penguins can be taken to the beach and released. They head straight home, without a backward glance.
WESTERN CAPE
Where mountains meet the sea
The scenic splendour of the Western Cape has long been a drawcard in South Africa. This is where you'll find the Cape Winelands and a beautiful stretch of coastline. Most visitors list Table Mountain, Robben Island (where the late Nelson Mandela was incarcerated) and a visit to the Cape of Good Hope, at the tip of the Cape Peninsula, as priorities.
Table Mountain
Table Mountain is South Africa's best-known landmark, but what many don't know is that it is also a hiker's paradise with numerous trails, amazing views and plenty of interesting facts to learn. Oh, and it's part of a national park. And all this in the heart of the Mother City.
South Africa's most famous landmark, Table Mountain, is more than just a pile of rock in the bay. A protected national park, it has some remarkable features that make it a great destination for nature-lovers, deserving of more than just a quick cable car ride to see the view from the top.
The mountain forms part of Table Mountain National Park, which is globally recognised for its biodiversity, and contains truly unique fauna and flora. The park encompasses the Table Mountain chain stretching from Signal Hill in the north to Cape Point in the south and the seas and coastline of the peninsula.
It is primarily an open-access park with only a few points where conservation fees are payable including Cape Point, Boulders (where you'll see penguins), the Kirstenbosch National Botanical Garden and Silvermine.
The Table Mountain Aerial Cableway was the solution to the arduous walk and climb to the top. Since its opening in 1929, more than 22 million people have taken the trip to the top of Table Mountain. The new cableway was upgraded and officially reopened on 4 October 1997.
At the upper cable station you will find a restaurant and a curio shop as well as a network of footpaths to explore the table top.
There are plenty of hiking trails from the Camps Bay side of the mountain, as well as from the Kirstenbosch National Botanical Garden, and even from the city centre itself.
You can walk or climb the mountain, or even abseil down it, depending on your expertise and fitness levels, but be warned. Although the mountain may look tame on any given day, each year it claims lives as people set off under-prepared for a sudden change in weather. Always hike in a group and carry water and warm clothing with you. Better still, hire a guide or ask an experienced hiker to take you along.
Boulders Beach Penguins
South Africa's penguins are under threat from the loss of habitat, declining fish and their ever-encroaching human neighbours. But not to worry, by making a visit to see these unique locals you are helping them. Every year over 60 000 visitors flock to Simon's Town to photograph and watch the famous Boulders Beach Penguins. This leads to more money to help boost our penguin conservation efforts through South African National Parks (SANParks).
Don't laugh but African Penguins used to be known as Jackass Penguins due to the braying sounds they make. Although they breed in colonies stretching from southern Namibia to Port Elizabeth, the story of how they came to call Boulders Beach home is one of remarkable urban colonisation. The whole species though, both at Boulders Beach and elsewhere, face many threats and these aquatic flightless birds are actually listed as endangered.
Boulders Beach remains the only place in the world where one can get up close to African Penguins. Penguin viewing is made easier by boardwalks that lead vistors across the beaches as well as to an information centre, which is managed by SANParks.
To help stop the loss of chicks, and provide a safe breeding environment, Boulders Coastal Park management has introduced artificial nesting boxes, which you will see when you walk through the area. Thanks to conservation initiatives by the Southern African Foundation for the Conservation of Coastal Birds (SANCCOB), the Dyer Island Conservation Trust, and SANParks, these precious penguins may yet survive to swim, and waddle, another day.
To understand our penguins is to understand their history. The story of this penguin colony in Cape Town started in 1983 when a pair was spotted on Foxy Beach at Boulders. The birds came to False Bay from Dyer Island. At the time, False Bay was closed to commercial fishing. For the newcomers, abundant food and breeding sites meant the African Penguin population at Boulders soared.
However, almost three decades later, Boulders Beach penguins are in trouble. Cars, people and competition for breeding sites has seen the penguins trying to nest in unsafe environments, leaving their nests exposed to both predators and the elements. Climate change has also affected fish stocks and increased severe weather incidences have depleted penguin chick numbers.
But thanks to tourism, there is hope. Every time you visit these little guys at Boulders Beach, you help spark a lifelong commitment to saving their future.  
Cape Winelands
he Cape's 18 official wine routes, and two brandy routes, are among the most scenic in the world, featuring many historic wine estates that date back centuries. Take your time exploring this magnificent part of South Africa's Western Cape province and enjoy sampling its magnificent wines and brandies.
The Cape Winelands, origin of some of the world's most popular wines, is a premier Western Cape visitor attraction.
Wine tasting, winemaking tours, excellent cuisine and magnificent scenery collectively create an irresistible attraction for international and local travellers alike.
South Africa's winelands stretch from the Cape Overberg in the south-western Cape, through the Little Karoo and the West Coast into the adjacent province of the the Northern Cape. There are also wine farms in the Free State, KwaZulu-Natal and even Gauteng. The Cape Winelands are the most well-known, and include the Route 62 wine route, said to be the world's longest wine route.
Most Cape wine estates are characterised by classic Cape Dutch-style buildings and massive vineyards with picturesque mountains as a backdrop. There is also a distinct European influence in number of regions, thanks to the arrival of French Huguenot, Dutch and German settlers during the 18th century.
Spier Wine Estate has one of the Cape's the oldest wine cellars, dating back to 1767. The estate continues to produce world-class wines to this day.
The Stellenbosch Wine Route, South Africa's oldest, was founded in 1971. JC Le Roux, a world-renowned sparkling wine, is produced here.
The town of Robertson, two hours' drive east of Cape Town, is home to the acclaimed Robertson Winery, winner of numerous international awards for its Shiraz, sauvignon blanc and chardonnay varietals.
In addition to its wine, the Wellington region is famous for its brandy. The Schalk Burger & Sons Welbedacht Estate in this area is owned and run by former and current international rugby players, Schalk Burger snr and his son of the same name.
Paarl, the third-oldest town in South Africa, is home to the internationally renowned Nederburg Wine Estate, as well as numerous other premier brands.
Constantia, a 20 minutes' drive from Cape Town, is the closest wine region to the Mother City.
The Franschhoek Wine Valley is also famous for its food and is acknowledged as the 'gourmet capital of South Africa'.
The Whale Route
Imagine looking out across the Atlantic Ocean from the boardwalk and you spot a dark figure gliding through the surf in front of you. As more start to appear, you realise that this is your first sighting of a pod of Southern Right whales that have come into the Cape to give birth. Between June and October this is an everyday spectacle.
The Cape Whale Route is the perfect outdoor family adventure. On this route you'll check into charming towns like Betty's Bay, Kleinmond, Hermanus, Pringle Bay, Stanford and Gansbaai. The route offers some of the best land-based whale watching spots on the planet, but it doesn't stop there.
The road trip from Betty's Bay, along the coast towards the other towns on the Cape Whale Route, is an idyllic experience, with the Atlantic Ocean on the one side and mountainous Fynbos terrain on the other. The Fynbos in this region is the epitome of unique as most species exist noweher else on earth. Travellers will pass through several quaint villages in between the more established towns.
Hermanus is the largest town along the Cape Whale Route, boasting excellent accommodation, restaurants and adventure activities. This beautiful little nook has become particularly famous for its whale watching, so the annual Hermanus Whale Festival is a must do event.
If you want to get up close and personal with these gentle giants of the sea, there are a number tour operators specialising in whale-watching boat tours.
Once you've seen some whales, it's time to step it up a notch with one of the many additional activities on offer, including hiking, sea kayaking, quad biking, parasailing and horse riding.
If golf is more your thing, there are also several golf courses along the Cape Whale Route. Arabella Country Club is famed for its pristine fairways and luxury infrastructure, while the Hermanus Golf Course has become one of the most popular courses in Africa because it offers 27 holes and a variety of challenges for golfers of all levels.
Whatever you're searching for, the Cape Whale Route certainly offers more than just whales. Having said that, the whales are in the name so it's worth making sure you spot some along your way. 
Shark Alley
If you're looking for safari action on the open water, then there's no better place than the famous and fearsome Shark Alley – a hunting ground for sharks off the coast of the Western Cape. However, it's not only sharks you'll find stalking these waters – it's also a hotbed of Cape Fur Seals and sea birds.
Shark Alley is famous for being one of the top commercial cage-diving destinations in the world. This is not surprising, given that it is home to one of the largest populations of Great White Sharks.
Lying just a few kilometres south of the small fishing village of Gansbaai, Shark Alley is actually a narrow channel of water that runs between Dyer Island and Geyser Rock. It's thanks to the 50 000-odd Cape Fur Seals on Dyer Island that the channel is so named, for these furry mammals are favourite food for great white sharks. As a result, the sharks trawl the alley in numbers looking for their next meal.
Cage-diving is a thrilling activity where you are lowered into the water, in a secure cage, for a face-to-face encounter. Divers don't have to be scuba qualified to cage-dive, as the cage actually floats, with part of it remaining out of the water.
Visitors preferring to watch from the safety of the boat certainly won't miss out on any of the action, as the sharks remain just under the surface of the water and come right up to the boat.
During peak season, between June and September, onboard spectators may also see Great Whites breaching – a fascinating and awe-inspiring display of these sharks' unique hunting habits.
Whale-watching along the Gansbaai coast is also excellent, particularly between May and December, when Southern Right Whales come to mate, calve and nurse their young in this area.
There are also a number of hikes and walking trails around the cliffs of De Kelders at Gansbaai, which feature caves to explore, abundant fynbos, spectacular ocean views and a fascinating history of ancient people settling in this area.
Tsitsikamma
If you're looking for the complete coastal forest experience, Tsitsikamma, in the Eastern Cape has to be on the top of your list. Walk through the ancient forest, chill on the beaches, kayak up rivers and hike some of the most famous trails South Africa has to offer.
The Tsitsikamma National Park forms part of the greater Garden Route National Park. The area is covered by large areas of forest as well as commercial plantations and fynbos. There are also many rivers in the area that have carved deep gorges into the mountains as they wind their way from the plateau to the sea. With a pleasant climate all year round, this is the perfect place to get your adventure on.
Why not leap off the world's highest commercial bungee jump at Bloukrans Bridge? Or take a idyllic kayak up the Storms River? How about a bird's-eye view of the forest with a canopy tour? Or an breathtaking hike along the Otter Trail or Dolphin Trail? Why not do it all?
If you love nature, the coast and all that goes with it, then you'll love Tsitsikamma. With an abundance of bird and marine life (not to mention the cheeky Cape Otter), you can really get in touch with nature.
The Tsitsikamma region of the Western Cape stretches from the Bloukrans River in the west to Eerste Rivier in the east, and from the Tsitsikamma Mountains in the north to the Indian Ocean in the south.
It's also the largest marine reserve in South Africa and is home to an ancient indigenous rain forest with 116 types of massive trees, including the giant Outeniqua yellowwood tree. There is a great walk that leads to a very special yellowwood called "The Big Tree". This wooden giant is estimated to be over 800-years old, stands 36.6m high and has a circumference of almost nine metres, it's not called "The Big Tree" for nothing.
With activities, shops, accommodation and tour operators all readily available, there's no excuse not to have a go at one of the many, exhilirating and breathtaking adventures on offer.
Explore the Cape with Bikes 'n Wines
The Cape Winelands are ideal for cycling: beautiful scenery, good farm roads and superlative wines to taste. Bikes 'n Wines offers visitors the opportunity to explore the area on two wheels.
The Cape's wine-growing region is legendary for its scenic beauty, with towering, blue mountains, lush expanses of vineyards and often sunny weather that allows the grapes to ripen on the vine.
And while many tourists choose to explore these areas by car, there is no better way to experience this environment than on the back of a bicycle, which is where local tour company Bikes 'n Wines comes into play.
For the past six years, Bikes 'n Wines has been organising bicycle tours for visitors who want to enjoy the Cape Winelands in a healthy and active way. Its cycle tours take place on private farm roads, through the vineyards and tree-lined avenues typical of this area. Along the way, the groups get to visit some of the best wine farms in the region and to taste the wines (while keeping a clear head, of course, for the cycle back).
All its tours are guided and it offers trips ranging from casual cycling to family tours and more intensive mountain-biking outings.
Because the company is committed to a carbon-neutral policy, it also has a partnership with an organisation called Greenpop that arranges for the planting of trees. For every 10 riders who book a tour with Bikes 'n Wines, a tree is donated.
While you can organise a transfer to your location of choice, Bikes 'n Wines also encourages the use of public transport, such as the train, to the starting point.
An example of a tour would be to meet in Stellenbosch (after a train ride from Cape Town or transfer by road) and then to cycle between 10km and 30km between several wine farms, such as the tiny Lovane Boutique Wine Estate (known for its red wines), Overgaauw (a farm that specialises in Merlot) and Van Ryn's distillery. 
In Franschhoek, guests can enjoy other treats such as a visit to a chocolaterie, while the Wellington area is ideal for mountain bikers. There's also a mountain-bike tour of the magnificent Hemel-en-Aarde area near Hermanus, where some of the country's finest wines are made due to its proximity to the sea.
A new, and increasingly popular, tour is the Peninsula Pedal, which follows part of the route of Cape Town's famous cycle race, the Cape Town Cycle Tour, widely known as 'the Argus'. 
This day out starts in Simonstown with a stop at Boulders, to see the African penguins, and a side trip to Cape Point. From here, there is a road transfer to Noordhoek, where guests can tackle the dramatic Chapman's Peak Pass (also known as Chappies) to Hout Bay. Along the way, guests will enjoy a picnic and wine tasting too.
Bikes 'n Wines has 45 bikes for hire and all tours are guided, so must be pre-booked. They cater for all levels of ability (even complete novices).
NORTHERN CAPE
Back roads and big sky country
The Northern Cape is the largest of South Africa's provinces but has the smallest population, making it one of the more remote areas of the country. Among its key selling points are its vast, open spaces, unique vegetation – including the beautiful spring flower spectacle that transforms a semi-desert landscape – and the Kgalagadi Transfrontier Park, which is famous for its lions.
Kgalagadi Transfrontier Park
If you think the desert is bland, you've obviously never been to the Kalahari. It's a magical place where dry landscapes and red dunes provide the backdrop to a singularly unique experience, one that can only be found in the Kgalagadi Transfrontier Park.
The Kgalagadi Transfontier Park is a fusion of the former Kalahari Gemsbok National Park of South Africa, which was set up to protect migratory game such as Gemsbok, and the neighbouring Gemsbok National Park in Botswana.
These two wild wonderlands were separated by nothing but an unmarked international border. They form an ecological unit of some 37 000 km² – a semi-desert wilderness of blonde grass, red dunes and enormous open spaces. All that was needed was to formalise the arrangement and co-ordinate ecology management. So in 2000, this became the first of South Africa's transfrontier ventures.
Authorities on both sides learnt much from the union, but tourists were the real winners, being able to move between the two parks, and thus two countries, without a passport (unless exiting on the other side, of course).
Managing the ecology of the Kgalagadi Transfrontier Park as a single unit has been a great step forward for desert conservation. Plus, the opening of the border crossing at Mata Mata has opened more than just access between South Africa, Botswana and Namibia.
This gateway has started talks about creating a corridor linking this giant park to nearby Augrabies National Park, due south, and from there the Ai-Ais Richtersveld Transfrontier Conservation Area in the west. Just north of that is Namibia's 26 000km² Sperrgebiet National Park. That, in turn, abuts the Namib Naukluft National Park, one of the largest conservation areas in the world. If all goes to plan, they will all be linked in the near future.
Sustaining the spirit started by Kgalagadi may soon give rise to a mega-transfrontier park, protecting a desert storehouse of some of the most exquisitely adapted plants and animals on Earth. Proving that the African ethos of "Ubuntu" – sharing with your neighbours – really is the way forward.
Augrabies Falls
At the Augrabies Falls you will be awed by the water thundering down the gorge. There are also plenty of other attractions to explore nearby, including a wide variety of flowers and animals, and the inimitable views from the Moon Rock.
To understand why the Khoisan people referred to the Augrabies Falls as "the place of great noise", you need to come and experience them for yourself. Particularly when there has been plenty of rain and the Orange River is overflowing, you will experience the full might of the water as it thunders down the 56m-high falls. The might of this natural wonder will stay with you long after you have left the falls.
The Augrabies Falls are situated 120km to the west of Upington in the Northern Cape. They form part of the Augrabies Falls National Park, which is rich with endemic and indigenous plant and animal species.
On the menu of plant species is the enigmatic Quiver tree or Kokerboom (Aloe dichotoma). Traditionally, the Khoisan hunters made their quivers from this tree which dates back thousands of years and which produces vivd yellow flowers in May and June.
The Augrabies Falls National Park offers an ancient landscape that will take you back in time to the world of the first hunter-gatherers.
Just as they did thousands of years ago, if you sit silently you might be treated to the sight of a beautiful pair of klipspringers grazing - all the while keeping alert to the slightest sign of trouble from any of the predators, including leopards, jackals and the African wild cat. The klipspringers are not the only ones that are preyed upon. The park is the natural habitat for other antelope species such as steenbok, springbok, gemsbok, kudu and eland. You will hopefully see them all as you explore the park.
Complete your visit with a bird's eye view of the park from the top of the Moon Rock - a vast 'whaleback' dome which is a prominent landmark of Augrabies Falls. Walking to the summit will give one of the best views of the park and its surroundings.
Diamond Fields
Delve into the diamond fields of the Northern Cape and relive the days of the great and terrible diamond rush, when lives were ruined and fortunes were made, with a tour of historic Kimberley. Then head off through the battlefields of the Anglo-Boer war and beyond, into the Kalahari sunset.
Blood, sweat, tears, triumph, murder and despair ... such are the foundation stones of Kimberley, diamond capital of the world and gateway to the Kalahari and Diamond Fields of the Northern Cape.
Diamonds were first discovered in 1871 on Colesberg Koppie. It triggered rush fever which led to frantic mass diggings, culminating in what is now the Big Hole, the largest artificial construction to be found anywhere in the world.
Around this 365m-deep pit Kimberley sprang into being, impelled by the diamond rush that drew 30 000 miners to the diamond fields of South Africa. As time went by, prospectors' tents and shacks were replaced by tree-lined avenues graced by Victorian mansions, as Kimberley developed into a modern city.
A good starting point to relive these times is the Big Hole and Kimberley Mine Museum. After watching an introductory film at the visitor's centre, peer into the depths of the Big Hole from the Viewing Platform.
Admire the 616, the world's biggest diamond crystal, at the Real Diamond Display. See the old mining machines in the Pulsator Building.
Experience the mining conditions of yesteryear in the Underground Mine Experience, a recreated mine shaft. Then head on down to the Old Town, with its preserved and restored period buildings. Round off a memorable day with a drink at the famous Diggers' Tavern.
Thirsty for more? Kimberley has numerous other attractions. Walk through the historical city centre, take in the museums, monuments and art galleries in old stately homes, or explore the city's haunted corners on the Kimberley ghost trail.
Then prepare yourself to experience the rest of the Diamond Fields region. The Vaal River diggings at Barkly West; old Boer War battlefields at Modder River and Magersfontein; the still operational Bultfontein mine; all this and more beckons to the diamond fields.
The Diamond Coast
Are you looking to venture out on the road less travelled? Are you looking for alluring coastlines and rugged views that speak of romance? If this equation speaks to you then you absolutely have to check out the Diamond Coast.
Winding along the coast of the Northern Cape Province, you'll find a place adventurers and fortune hunters throughout history have called home. And while you may not find your fortune here, you'll definitely be romanced by its beauty and peacefulness.
Wild and rugged, the Diamond Coast can be found on the far north-western coast from Port Nolloth to the mouth of the Orange River. Situated in Namaqualand, it's renowned for its rich plant life – especially in Spring when thousands of blooming flowers cover the landscape in a sea of colour.  
Along the way you will find charming locations like Alexander Bay, a previously restricted diamond mining area, which can now be visited on organised tours. Or, if the dramatic shipwrecks along the Northern Cape coastline are more your thing, organised tours and hikes can be arranged for this as well, with a 4x4 trip through the coastal dunes forming part of the shipwreck trail.
If you're feeling brave dare yourself to go for a dip in the very cold ocean. Or skip this step and move on to the small town of Port Nolloth where you can stay in a wide range of accommodation while you explore the Diamond Coast on foot – perhaps on a five-day hiking trail.
This piece of coastline is definitely off the beaten track, a perfect opportunity to rekindle a romance – be it with your partner or simply with nature.
NORTH WEST
Madikwe Game Reserve
Madikwe Game Reserve, one of South Africa's foremost Big Five malaria-free reserves, was envisaged not by conservationists, but by economists. They found conservation would create more income and jobs than the existing land-use, which was cattle-farming. This successful reserve is now a model that has inspired South African conservation.
Madikwe Game Reserve, right up against the Botswana border in the North West province, is a strange anomaly in the world of conservation.
It was transformed from a number of low-yield cattle farms to a high yield conservation area. This was not land chosen by ecologists for its rare vegetation or animals. It was chosen by economists because they found that a game reserve here would generate more jobs and money than any other land use option. Madikwe is now a model of the way conservation can benefit communities.
Another remarkable factor is that this was pioneered in 1991, within one of South Africa's apartheid-era Bantustans – Bophuthatswana – which was reintegrated into the country in 1994.
Bop Parks, as it was then called, created an initiative where the state would manage the land and wildlife, the private sector would profit through game lodges, and the surrounding community would benefit through sustainable jobs and income.
On paper it seemed idealistic. Yet in practice it worked. Bop Parks launched Operation Phoenix in 1991. By 1997, it had brought in more than 8 000 individual animals, the largest translocation of its kind in the world. Several private companies set up very successful bush lodges within the 75 000 hectare park. And the three villages around Madikwe – Supingstad, Lekgophung and Molatedi – are doing very well.
Women are particularly empowered – a high proportion of them are employed in the park.
Social and financial upliftment aside, Madikwe is now better known as one of the best places to see the Big Five, and it also has the advantage of being malaria free. Madikwe is seen as a model of the benefits conservation can bring.
You may not be in an exclusive private game reserve (it's actually a provincial game reserve), but you'll feel as if you are – the experience is almost indistinguishable.
The only difference is that you might catch a special sense of pride from some of the people you encounter in and around the park.
Pilanesberg Game Reserve
See the Big Five just two hours from Johannesburg and Pretoria in one of the country's most popular wildlife areas – Pilanesberg Game Reserve. Set in an ancient volcanic crater, this well-stocked reserve has a dramatic landscape that supports a wide variety of plants, animals and birds.
Pilanesberg is a popular game reserve in South Africa's North West province. As a true Big Five area it features elephant, lion, buffalo, leopard and rhino. But there's a lot more wildlife to discover. Some of the other animals that roam the park include African wild dogs, brown hyenas and sable antelope.
Like nearby Madikwe Game Reserve, Pilanesberg used to be farmland. Between 1969 and 1979, the land had to be rehabilitated. Alien plants were removed, eroded land was restored, houses and windmills were knocked down. An old fluorite mine was also dismantled.
During Operation Genesis nearly 6 000 animals of 19 different species were introduced to the reserve. At the time, this was the largest game translocation in the world.
The landscape was formed over a billion years ago, when overflowing magma shaped the area. The explosive turbulence spat up all sorts of interesting rock formations and rare minerals. Geology buffs will be interested to find red, white, green and Ledig foyaite, nepheline syenite, kimberlite, fluorite and uranium tuff.
Birders can look out for the southern pied babbler, sabota lark and rufous-naped lark on the grassy hill slopes while you'll find the ever-spectacular lilac-breasted roller, pin-tailed whydah and black-shouldered kite on the grasslands.
Soaring above them all, you might see black-breasted snake-eagles, African hawk-eagles and Verreaux's eagle. The more thickly wooded areas yield various hornbills, the Marico flycatcher, chinspot batis and small fire finches.
Because of its location in the former homeland of Bophutatswana, the game reserve is still referred to as Pilanesberg National Park, although it is in fact a provincial park and not officially part of South African National Parks.
Sun City
The Sun City theme park in the North West province is part of the Sun City resort and entertainment complex, offering a myriad of leisure and recreation options for the entire family. 
Known worldwide for its exotic entertainment options, the Sun City theme park is more a mini-city than a park, with so many attractions and entertainment options that first-time visitors may find it pleasantly bewildering.
Located in the North West province, less than 200 km from the major urban centres of Johannesburg and Pretoria, the Sun City entertainment park enthrals all with its African theme and multitude of entertainment options.
Far enough from South Africa's major cities to qualify as a real getaway from hectic city life, Sun City is nevertheless the ultimate all-in-one entertainment destination.
Activities run the gamut from adventure sports and safari options to a world-famous golf course and a wide variety of rides and games to keep the children happily busy.
Many will probably want to swing their clubs at the Gary Player Country Club, home to the world-famous Nedbank Golf Challenge.
Others may want to relax in the sun poolside at the Valley of the Waves while the kids go screaming down one of the water park's many thrilling slides.
Adults can try their luck at one of the biggest casinos in Africa (with its 38 gaming tables) before taking in a revue or live music show, or simply enjoy a meal at one of the many award-winning restaurants. Choose from Asian, traditional South African, steakhouse or Italian; or just order from one of the many fast food outlets.
Kamp Kwena, an activity park for children where they can learn, play and make new friends, will keep lively little minds well occupied. Mini-cars, trampolines, adventure golf and more ensure that the kids do not miss their parents too much.
Sun City is not just a hotel or an entertainment complex or even just a theme park; it's an entire experience.
Taung Heritage Route
The Taung Heritage Route is a fascinating journey of discovery. It comprises an area once occupied by early humans and features many sites that speak to the existence and evolution of our ancient ancestors. The Taung skull fossil site, a World Heritage Site, is a major attraction on the route.
The Taung Heritage Route marks a location of significant scientific importance, for it was here, in 1924, encased in limestone in the Buxton quarry, that the 2.5-million-year-old fossilised skull of a hominid child was revealed.
Professor Raymond Dart of the University of the Witwaterrand identified the skull as belonging to an early hominid, or ancient human ancestor, and named it Australopithecus africanus, or 'southern ape of Africa'.
The discovery of the Taung Skull was acknowledged as one of the most significant scientific events of the day. Dart's scientific classification promoted lively debate among academics in the field because it was evidence that human ancestors had lived on the continent more than a million years earlier than previously believed, which gave credence to the theory that humankind originated in Africa.
Recent evidence has solved the mystery of the three-year-old child's death. It was most likely killed by a large bird of prey, probably an eagle. Looking up from the valley at the site's location, you can almost imagine these predatory birds riding the overhead thermals.
The Taung Heritage Route encourages visitors to follow in the prehistoric footsteps of our hominid forefathers and gives a rare glimpse into our distant past and the region that early humans once called home.
Spanning more than 45km, the route takes in several natural wonders, such as a limestone waterfall and the Blue Pools, a collection of natural rock basins, streams and caves in a lush river valley.
The Taung skull discovery site is officially part of the UNESCO Cradle of Humankind World Heritage Site and a monument has been erected to mark the location. Nearby, an abandoned mine tunnel has been opened for exploration, allowing visitors to venture into the age-old limestone mountains.
Located in the Bophirima district of the North West province, the Taung Heritage Route is an initiative of South Africa's National Heritage Council.
Kwa Maritane Bush Lodge
Only two hours by road from Johannesburg, the multi-award-winning Kwa Maritane Bush Lodge guarantees excellent accommodation, great food and superb game – including the Big Five. Go on game drives, take a guided bush walk, chill by the pool, or go glitzy at nearby Sun City.
Tucked away in the bowl of an ancient volcano at the foot of huge granite boulders, Kwa Maritane is the perfect base for exploring the malaria-free 55 000ha Pilanesberg Game Reserve – the Kwa Maritane gate into the park is a mere few minutes' drive from the lodge.
Accommodation options include 90 luxury rooms, 28 self-catering cabanas or 25 luxurious self-catering chalets. Spend a few extra pennies and opt for one of the eight chalets on the very perimeter of the lodge that have their own plunge pools – but book well in advance.
All the studio twin rooms have two double beds and a sleeper couch, DStv, safes, aircon, tea- and coffee-making facilities, hair dryer, shaving plug and en-suite bathrooms. The three-bedroom chalets are very well equipped with aircon, microwave, oven, a big fridge, a traditional and a gas braai, outdoor furniture and recliners, and great views over the bush to the mountains beyond.
What are you going to do while at Kwa Maritane? Take your pick.
An early-morning or late-afternoon game drive is a must. A knowledgeable guide will introduce you to the bush, and then try to find as much game as possible. As well as having more than 300 bird species, this is also Big Five country, and although leopards are always notoriously elusive, your chances of seeing the other Big Four – lion, rhino, buffalo and elephant – are good.
By the way, Pilanesberg Game Reserve gives you one of the best opportunities in the country to spot rhino – both white and black.
You can also choose to go on a guided bush walk with an armed ranger and discover some of the little critters you might miss on a drive; or splurge on a balloon ride at dawn in one of South Africa's loveliest game parks; or just laze beside one of the two swimming pools; or walk the 150m tunnel to the underground hide and see elephants up close.
The lodge is noted for its good food. Enjoy dinner in the open-air boma (an outdoor barbecue/dining area), or sit on the deck of the Kwa Lefakeng restaurant and indulge in a decadent breakfast as you watch zebras and wildebeest grazing below.
There are special rates for children (who often can stay for free), plus a Junior Ranger programme to keep them happy and occupied as they learn bush lore.
And if you feel the need for some sophisticated entertainment or a flutter, then take the shuttle bus to Sun City, the legendary entertainment complex only 10km away.
Lesedi African Lodge and Cultural Village
At the Lesedi African Lodge and Cultural Village you can experience the colourful sights and sounds of authentic African villages and learn about the ways of the Zulu, Xhosa, Pedi, Basotho, Nguni and Ndebele people. Traditional song and dance and a feast fit for a king top off an unforgettable day and night.
Located near Hartbeespoort Dam in South Africa's North West province, Lesedi African Lodge and Cultural Village is a flagship cultural tourism destination for visitors interested in learning more about South Africa's traditional people and cultures.
Lesedi, which means "light" in Sotho, features traditional homesteads of the Zulu, Nguni, Xhosa, Pedi, Basotho and Ndebele people, where guests can immerse themselves in cultural activities. If you're staying over, the village offers accommodation in each homestead, ranging from luxury suites in the Nguni village to twin rooms in the Ndebele homestead.
Upon arrival at Lesedi, you're welcomed to the Ndebele village before settling down to an fascinating presentation on the history of South Africa's rainbow nation. You're then taken on a guided tour of each of the cultural villages, where you can learn all about the various rituals and folklore of different South African cultures, and even learn a bit of the local lingo.
Traditional songs and dances round off the day's activities, followed by a buffet dinner of traditional fare fit for a king, hosted in the 200-seater Nyama Choma restaurant. Put your tastebuds to the test by digging into some impala, ostrich or crocodile meat then gather around the open fire at the end of the evening to listen to tales of African mythology.
Overnight guests at Lesedi will wake up to the sounds of the maskanda guitar (a Zulu guitar) and African melodies before being treated to a full English breakfast. If you want to immerse yourself in South African culture, this is the place to do it. 
Chameleon Village, Hartbeespoort
Not far from Hartbeespoort lies Chameleon Village, a melting pot of craft outlets, pubs, restaurants, outdoor and trailer goods, a decor warehouse, a tattoo parlour, a reptile park, handcrafted items, African curios, shoes, bags, new-age goodies and lots more.
A wealth of retail therapy awaits at the foot of the Magaliesberg mountains at Chameleon Village, South Africa's largest indoor market.
Chameleon Village acts as a collective for handcrafted products from all over South Africa. In addition to the many African curios to be found here, 800m2 of space is dedicated to the country's skilled craftsmen and craftswomen.
From beautifully designed jewellery to aromatherapy products, candles, knitted goods, folk art, cards, decorations, paper craft, quilting, stitch craft and scrap-booking supplies, there's something for everyone.
You can tend to your holistic and spiritual needs with a tarot card reading, an iridology session, and dietary and nutritional advice; or you can stock up on your incense, ornamental angels and more in the tranquil garden area behind the restaurants.
Those who want to take a break from all the shopping can pop into the Chameleon Brewhouse, where five craft beers and a cider are waiting on tap. Team your brew with a tasty cheese platter or sausage basket.
There's also an outdoor and trailer world, 1 500m2 housing everything to do with life in the great outdoors.
A wide variety of exclusive furniture and décor items are displayed in a thatched building to the left of the main entrance. Here 28 independent shops feature artwork, mosaics, woodcraft, paintings, lampshades, lanterns, grandfather clocks, furniture and more eclectic items for your home.
A row of formal shops include a tattoo parlour, a copper art outlet, an internationally acclaimed art gallery, a gaming and DVD store, and shops selling cellphones, leather jackets, shoes, bags, sweets and clothing.
The kiddies will love spending time at the reptile park where lizards and snakes – mambas, vipers, cobras, pythons, adders and constrictors – are on display. The park also features crocodiles, porcupines, birds, monkeys and hyenas. Educational talks and eco talks are included, and picnics may be enjoyed here too.
KWAZULU-NATAL
From its mountains, rolling hills and pristine beaches to World Heritage Sites, battlefields and a perennially warm climate, KwaZulu-Natal is always ready to welcome the thousands of tourists who visit the province each year.
The warm Indian Ocean to the east and the Drakensberg Mountains to the west border KwaZulu-Natal, South Africa's self-styled playground province, home to two World Heritage Sites: the iSimangaliso Wetland Park and the uKhahlamba-Drakensberg Park.
The 332 000ha iSimangaliso Wetland Park features three lake systems, eight ecosystems, swamp forests, pristine reefs, Africa's largest estuarine system, more than 500 bird species and some of the highest sand dunes in the world.
The imposing mountain range of the uKhahlamba-Drakensberg Park is celebrated for its San rock art as well as its beauty. More than 30 000 symbolic paintings adorn the walls and overhangs of 500 caves scattered throughout this extensive and ancient rocky landscape.
In and around the town of Ladysmith in the northern hinterland lies the historical Battlefields region, which has witnessed much spilling of blood. Zulu warriors, Boer garrisons and British troops clashed in many skirmishes in the region during the late 1800s. The most famous of these was the 118-day siege of Ladysmith during the South African (Anglo-Boer) War.
Culturally speaking, KwaZulu-Natal is a mix of Zulu, Indian and colonial influences, with each heritage reflected in historical and cultural trails, architecture, township cuisine and Durban's fine Indian curries.
Game and nature reserves, unspoilt beaches and the iSimangaliso Wetland Park dominate the Elephant Coast north of the port city of Durban, while the Sapphire and Hibiscus coasts to the south comprise small holiday towns, holiday accommodation and numerous Blue Flag beaches.
About two hours' drive inland from Durban, Nottingham Road marks the heart of the Midlands Meander, a country setting for more than 100 art and craft outlets, B&B and hotel accommodation, adventure sports destinations, pubs, farm-style and upmarket eateries, hiking and horse trails, and quaint getaway spots.
A sun-worshipper's dream by day and a party destination by night, the beachfronts of Durban and Umhlanga come alive, with clubs, pubs, live music, lounges and restaurants vying for patronage. Greater Durban's Florida Road and Helen Joseph Road are popular meeting places for the young and trendy, where a strip of bistros and restaurants offer international and local cuisine.
Larger shopping malls in the province include Umhlanga's Gateway; the Galleria in Amanzimtoti; the Midlands Mall in Pietermaritzburg; Westville's Pavilion; the Dolphin Coast Centre in Ballito; Musgrave Centre in Durban; La Lucia Mall in La Lucia; and the Shelley Mall on the lower South Coast.
Around 10.2-million South Africans, attracted by the largely warm subtropical climate (hot, humid summers and dry, clear winters), call this province home.
Zulu cultural ceremonies
A festival involving snakes, a reed dance with thousands of Zulu maidens or a mass religious gathering of the Shembe are all cultural outings available to visitors to Eshowe in Zululand at certain times of the year.
The cultural calendar in Zululand has particular ceremonies of interest to visitors who can attend one of these events as part of a guided tour.
If you visit the town of Eshowe in February, then you can witness a festival known as the 'first fruits ceremony', which was done by early Zulu kings. This particular event is held by a local sangoma (traditional healer) who goes by the name of Khekhekhe and involves poisonous snakes.
Khekhekhe (whose birth name was Zizwezonke Mthuthwa) lives in a homestead close to the Tugela River and invites fellow sangomas to attend this event, which takes place on 23 February every year. 
During the ceremony he handles the snakes, even putting their heads in his mouth, and tells the story of how Chief Dingiswayo (Shaka Zulu's mentor) gained power over snakes as a young man.
Khekhekhe, who has 14 wives, is the driving force behind a tourism initiative to get foreigners to experience rural Zululand and African spirituality. He also has a local transport and bus business.
Visitors to Zululand in September can also sign up to attend another Zulu festival of note. This is the Zulu Reed Dance that takes place in September at the royal palace of King Goodwill Zwelithini, where thousands of young Zulu women gather to celebrate the custom of retaining their virginity before marriage.
If you visit the town of Eshowe between 15 and 31 October, you can also attend a gathering of the Shembe, a religious group which gathers in the thousands at a town called Judea at this time of the year. 
On Saturdays they hold traditional prayer dances and on Sundays they observe a day of prayer with an emphasis on traditional dress, dance, singing and the blowing of the Horns of Jericho.
If you visit Zululand outside of these particular times, you can organise to visit a Zulu homestead, attend a wedding, meet a sangoma or go to a coming-of-age ceremony with Zululand Eco-Adventures, which specialises in real Zulu cultural experiences.
LIMPOPO
Limpopo has become a sought-after tourist destination for its big game, exceptional birding, untamed bush landscapes and an ancient African kingdom, the centre of which was located at Mapungubwe National Park. It is also the northern gateway to the Kruger National Park
Private game lodges in Limpopo
Limpopo offers dozens of superlative private game lodges, situated in prime wildlife areas, including the Waterberg, Welgevonden, Klaserie and Timbavati reserves. Sometimes more affordable than some of their famous Sabi Sand sisters, these reserves boast game galore, including the Big Five, scenic beauty and often fewer visitors.
Private game lodges in Limpopo offer superb game viewing, true wilderness, and accommodation that ranges from luxury bush retreats and community-conscious lodges to tree houses.
In the less-visited northern Kruger National Park, you can stay in the Pafuri area where giant baobabs rub shoulders with yellow-green fever trees, and where one of South Africa's most sought-after birds – the elusive Pel's fishing owl – haunts ancient rivers where giant crocodiles lurk, leopards hunt and hippos squelch.
The main private reserves in the Lowveld region of Limpopo are the Timbavati, Klaserie and Thornybush game reserves – about a five-hour drive from Johannesburg. As one of only 16 guests at the Timbavati family-owned Umlani Bushcamp, credited as one of South Africa's Fair Trade Tourism lodges, you'll stay in a traditional African thatch-and-reed dwelling, go on tailor-made bush walks, or sleep out in an exclusive tree house.
Also in the Timbavati Private Nature Reserve is the five-star Kings Camp, another community-conscious private lodge. If you need a break from game watching, pamper yourself at the in-house spa, or take a helicopter trip over the awesome Blyde River Canyon in neighbouring Mpumalanga.
At Pezulu Tree House Lodge you can stay in one of eight tree houses, all of which have been built to blend in with the environment without compromising your comfort and safety.
The malaria-free Waterberg region of Limpopo – a UNESCO Biosphere Reserve – has ancient mountains, superb rock art and a site of critical archaeological and palaeontological importance, as well as rolling savannahs and great views. Stay at any one of the private lodges such as Mabula Game Lodge, or Shibula Lodge in the 37 500ha Welgevonden Game Reserve, and enjoy a classic safari experience.
Lapalala Wilderness reserve in the Waterberg mountains has affordable self-catering accommodation and is famous for its guided walks, on which you won't encounter a lion or an elephant, but could well come across rhino, leopard and buffalo.
When you start planning your safari, bear in mind the dozens of private game lodges in Limpopo – you're guaranteed a fabulous experience.
Ancient Mapungubwe
South African history goes further back than you think. Around the time of the Dark Ages of Europe, the royal court at Mapungubwe in Limpopo, was welcoming traders and men of influence from Arabia and the Far East. But it's only in recent decades that the fascinating detail of this ancient city have been uncovered.
The UNESCO World Heritage Site of Mapungubwe was once the capital of a country as large as Swaziland surrounded by over 200 small villages.
Today the stones, bones and Baobab Trees of Mapungubwe are all that are left of this ancient civilization in the Limpopo valleys.
Archaeologists have been carefully picking over the ruins for decades that tell us the rule of the Kingdom of Mapungubwe extended from about 1050 AD to 1270 AD, just as Europe was struggling through the Dark Ages and dealing with a rampant Genghis Khan.
There is evidence that indicates that a mini Ice Age stripped the area of its resources, effectively bringing the kingdom down. Not long after the demise of Mapungubwe the fortified city of Zimbabwe (capital of the Monomotapa Empire) rose in the East.
Mapungubwe Hill lost many of its treasures over the years but enough remained for archaeologists at the University of Pretoria to slowly piece together its story. They found human skeletons lying in seated or foetal positions, often with artifacts like beads, ivory, animal bones and pots next to them. Burials on the hill were likely to be those of royalty as vast quantities of gold were found with their remains.
Thanks to a specially curated museum, you can experience this amazing story with your own eyes.
Meanwhile the most intact gold artifact, a small figurine of a rhino, is still under safekeeping at the University of Pretoria.
Sian Tiley, author of Mapungubwe - South Africa's Crown Jewels , says, "The beads found at Mapungubwe are thought to originate from India, Egypt, Southeast Asia and the Middle East." Proving that this was indeed a commercial network that would truly make today's globalised traders envious.
While coming to Mapungubwe National Park to discover this fascinating ancient history for yourself is something that should feature on everyone's bucket list, there's so much more to Limpopo than just her history. The massive Limpopo River, the sandstone hills and the wonderful scenery are also just waiting to reveal their secrets.
MPUMALANGA
The Panorama Route
When you're exploring a country there are few things better than stopping your car at a viewpoint and being rewarded with the kind of scenery that brightens your day and broadens your horizons. On the Panorama Route in Mpumalanga, every viewpoint gives you that opportunity.
Breathtaking views, plunging waterfalls, eagles flying above you and a rich history, quite literally, as it includes the gold rush years, are the kinds of things you better get used to when you visit the Panorama Route.
'Guarded' by the small town of Graskop, this famous route is home to mountains, forests and canyons, most notably, the Blyde River Canyon which is also world's largest 'green canyon'.
The awe-inspiring Lisbon Falls, Berlin Falls and Mac Mac Falls are just a short drive away. As are scenic landmarks such as Wonder View, the Pinnacle, Bourke's Luck Potholes, the Three Rondavels and God's Widndow, where you can walk in the thick, indigenous mist forest that stands amongst the clouds some 800m above Blyde River Canyon.
Bourke's Luck Potholes are an unusual geological formation and well worth the visit. These giant potholes formed at the confluence of the Blyde and Treur rivers and mark the beginning of the Blyde River Canyon.
While you're there, why not add some historical romance to the mix? A short 30-minute drive from Graskop will take you to the gold rush town of Pilgrim's Rest where you can relive the 1873 gold rush in surroundings of unparalleled beauty. You can even try your hand at panning for gold.
On top of the scenic beauty and historical learnings found on the Panorama Route, you will also experience a wealth of plant and animal life in the region, including Klipspringers, Dassies, Grey Rhebuck, Oribi, Kudu, bushbuck, bushpigs, monkeys, bushbabies, Chacma baboons, Black-Backed jackals and many specied of birdlife, including resident pairs of nesting eagles that might well look you in the eye.
Some of the Panorama Route's lesser-known, but no less fascinating attractions, are clustered around Ohrigstad where the Echo Caves extend 40km into the limestone rock. At Ohrigstad Dam Reserve, you can fish for yellowtail or carp in tranquil waters surrounded by mountains, an ideal refuge from the crowds in peak season.
Sabi Sand Private Game Reserve
The Sabi Sand Private Game Reserve is renowned as a haven for the Big Five and for luxury game lodges of international standing. The reserve's lush vegetation adjoins the Kruger National Park, and fences have been dropped. The wild animals cross back and forth, following ancient migration paths parallel to the Sabie River.
A lioness has just finished weaning her cubs, and because she is alone for once, she is clearly relishing her own company. The sun is setting over the Sabi Sand Private Game Reserve as she washes her face like a giant tabby cat, yawns, stretches and goes to look for her cubs and the rest of her pride.
A group of tourists sits enthralled in an open game-viewing vehicle, breathing in the lioness' rank scent, mingled with that of wild sage crushed beneath the wheels, listening to the ranger explaining lion behaviour in a quiet undertone. Meanwhile, the tracker scans the ground for other big-game spoor.
Perhaps they'll be lucky enough to find a leopard stashing her kill in a tree tonight; or see jackals bounce through the high grass as they pursue invisible rodents, oblivious to the ranger's spotlight.
What is certain is that later they'll find themselves around a sheltered campfire being served a delectable dinner, with some of South Africa's best wines to hand. At night they'll lie down on the finest linen, hearing the eerie whoop of hyena in the distance, perhaps the child-like cry of a bush baby, and almost certainly, the roaring of lions.
This is the allure of the south-western boundary of the Kruger National Park, and is therefore also part of the Great Limpopo Transfrontier Park. The 50km fence that once divided the Sabi Sand from the Kruger is long gone, and wild animals, including the Big Five, move back and forth along their old migration routes.
The origins of the reserve (now about 65 000ha) date back to the 1920s, when a number of people held hunting concessions there in the dry winter months. Later on, this became an association of freehold landowners.
The fact that two perennial rivers (after which the reserve is named) flow through it means that the area offers excellent wildlife viewing all year round. Some of South Africa's finest luxury game lodges are found here – some of the the best known include Sabi Sabi, Mala Mala, Singita, Londolozi, Ulusaba, Chitwa Chitwa, Idube, Lion Sands, Exeter and Djuma.
They all offer individual attention, privacy, outstanding cuisine and luxurious accommodation, while the décor is often breathtaking. Some of the lodges offer spas with masseurs, aromatherapy and reflexology.
In addition, the guides at the lodges know every inch of their areas. They can often take you right to rare leopard sightings or to where wild dogs have hidden their pups in dens.
Incidentally, the only hunting these days is done with a camera...
Lion Sands Private Game Reserve
Lion Sands Private Game Reserve forms part of the greater Kruger National Park and game traverses freely between the two. Guests can share in the joys of this unspoilt wilderness and walk away restored, revived and richer for the experience.
The family-owned Lion Sands Private Game Reserve in the famous Sabi Sand Reserve, is the only lodge in the area that is located on the banks of the Sabie River, a favourite drinking spot for elephants, impalas, baboons and many other animals − and a favourite stalking ground for leopard.
The river lodge is positioned in a pristine riverine forest amongst ancient trees. The area is well known for excellent game viewing and has a lower concentration of lodges compared to other areas of Sabi Sands.
With only the river separating the lodge from the world famous Kruger Park, Lion Sands provides a great diversity of fauna and flora. The unique location makes it a perfect place in the African bush for a wedding − the reserve will help you organise the biggest day in your life from scratch.
The award-winning Ivory Lodge is an ultra luxurious getaway in the bush frequented by celebs and stars wanting exclusivity and privacy with spacious suites, personal dining areas and completely private viewing decks.
If you need a break from the excitement of game-viewing then try one of the relaxing spa treatments at Lalamuka Spa. 'Lalamuka' means 'unwind' in Shangaan and this is exactly what Lion Sands is all about. A range of body and facial treatments are available to help rid you of urban stresses.
You'll not only see lots of game wandering along the river banks, but also on game drives and bush walks which are excellent opportunities to get close up with Africa's wildlife, including that most formidable predator, the lion.
You'll also encounter other members of the Big Five (buffalo, elephant, rhinoceros and leopard). The staff will also happily arrange a breakfast or dinner in the bush for a true African experience. The already delicious food tastes even better under the stars or in the warm morning sun.
The Lisbon Falls
No visit to Mpumalanga is complete without visiting some of its lovely waterfalls. On the famous Panorama Route you'll find more falls clustered in a small area than anywhere else in southern Africa. Lisbon Falls is one of Mpumalanga's most dramatic waterfalls.
You'll find the dramatic Lisbon Falls north of the little town of Graskop in Mpumalanga, just outside the Blyde River Canyon Nature Reserve. It's situated in a very rich waterfall area - in fact, there are more waterfalls here than in any other part of southern Africa.
The Lisbon Falls lie within the popular Panorama Route, where you can visit some of the very best natural attractions in the region, including the Pinnacle, God's Window, Bourke's Luck Potholes, and some of the other waterfalls in the area including the Mac Mac Falls and Berlin Falls.
They're named after the Portugese capital of Lisbon, which is also the name of a large farm in the area. Nearby, you'll also find the Berlin Falls, which are just as spectacular. The names mark the provenance of some of the gold miners who flocked to this area in the late 1800s after gold was discovered at nearby Barbeton and Pilgrim's Rest: miners rushed from all over the world in the hope of striking it rich.
Set in a bowl of hills, the Lisbon Falls is a great place to start your sightseeing on the Panorama Route, or to unwind after a day's hectic sightseeing in the area. Pack a picnic and relax under shady trees in one of the most scenic picnic places in the area. Watch out for some fascinating birdlife including tiny colourful sunbirds.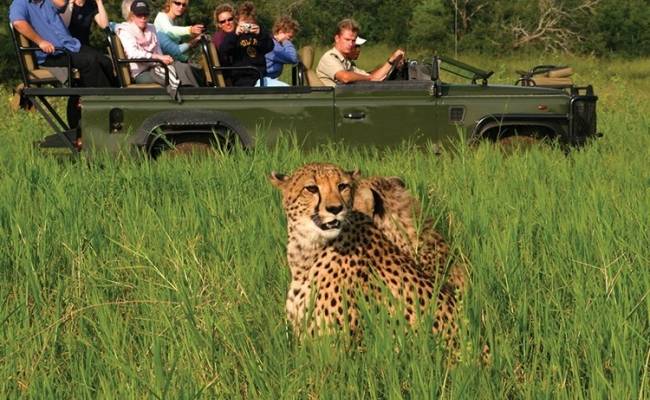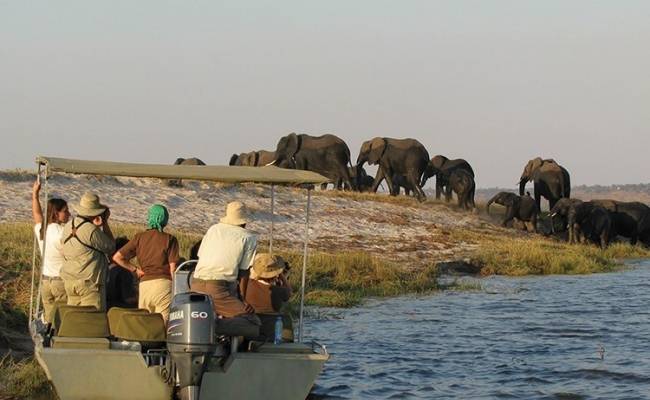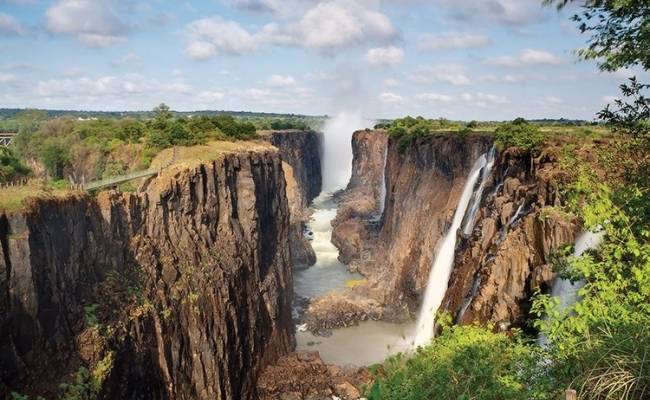 Cape Town is often considered one of the world's most beautiful, romantic and intriguing cities – between its historical importance, stunning coastline and its landmark sights (including Table Mountain and Cape of Good Hope). Of course, like any bustling metropolitan city, it's also a mecca for culture, shopping and cuisine. A few favorites to explore:
The dramatic backdrop of flat-topped Table Mountain is one of the most iconic (and photographed) sights in South Africa. It is featured on the city's official flag and other local government insignia. Its cable car has taken more than 24 million visitors and locals to the top, over 3500 feet above sea level! Along with the stunning views, find roughly 2,200 species of plants and 1,470 floral species, many of which are endemic to the mountain. Legend attributes the usual cloud cover of the flat top of the mountain (colloquially called the 'tablecloth') to a smoking contest between the Devil and a local Dutch pirate named Van Hunks.
Highlights
Table Mountain
Table Mountain is South Africa's best-known landmark, but what many don't know is that it is also a hiker's paradise with numerous trails, amazing views and plenty of interesting facts to learn. Oh, and it's part of a national park. And all this in the heart of the Mother City.
South Africa's most famous landmark, Table Mountain, is more than just a pile of rock in the bay. A protected national park, it has some remarkable features that make it a great destination for nature-lovers, deserving of more than just a quick cable car ride to see the view from the top.
The mountain forms part of Table Mountain National Park, which is globally recognised for its biodiversity, and contains truly unique fauna and flora. The park encompasses the Table Mountain chain stretching from Signal Hill in the north to Cape Point in the south and the seas and coastline of the peninsula.
It is primarily an open-access park with only a few points where conservation fees are payable including Cape Point, Boulders (where you'll see penguins), the Kirstenbosch National Botanical Garden and Silvermine.
The Table Mountain Aerial Cableway was the solution to the arduous walk and climb to the top. Since its opening in 1929, more than 22 million people have taken the trip to the top of Table Mountain. The new cableway was upgraded and officially reopened on 4 October 1997.
At the upper cable station you will find a restaurant and a curio shop as well as a network of footpaths to explore the table top.
There are plenty of hiking trails from the Camps Bay side of the mountain, as well as from the Kirstenbosch National Botanical Garden, and even from the city centre itself.
You can walk or climb the mountain, or even abseil down it, depending on your expertise and fitness levels, but be warned. Although the mountain may look tame on any given day, each year it claims lives as people set off under-prepared for a sudden change in weather. Always hike in a group and carry water and warm clothing with you. Better still, hire a guide or ask an experienced hiker to take you along.
Boulders Beach Penguins
South Africa's penguins are under threat from the loss of habitat, declining fish and their ever-encroaching human neighbours. But not to worry, by making a visit to see these unique locals you are helping them. Every year over 60 000 visitors flock to Simon's Town to photograph and watch the famous Boulders Beach Penguins. This leads to more money to help boost our penguin conservation efforts through South African National Parks (SANParks).
Don't laugh but African Penguins used to be known as Jackass Penguins due to the braying sounds they make. Although they breed in colonies stretching from southern Namibia to Port Elizabeth, the story of how they came to call Boulders Beach home is one of remarkable urban colonisation. The whole species though, both at Boulders Beach and elsewhere, face many threats and these aquatic flightless birds are actually listed as endangered.
Boulders Beach remains the only place in the world where one can get up close to African Penguins. Penguin viewing is made easier by boardwalks that lead vistors across the beaches as well as to an information centre, which is managed by SANParks.
To help stop the loss of chicks, and provide a safe breeding environment, Boulders Coastal Park management has introduced artificial nesting boxes, which you will see when you walk through the area. Thanks to conservation initiatives by the Southern African Foundation for the Conservation of Coastal Birds (SANCCOB), the Dyer Island Conservation Trust, and SANParks, these precious penguins may yet survive to swim, and waddle, another day.
To understand our penguins is to understand their history. The story of this penguin colony in Cape Town started in 1983 when a pair was spotted on Foxy Beach at Boulders. The birds came to False Bay from Dyer Island. At the time, False Bay was closed to commercial fishing. For the newcomers, abundant food and breeding sites meant the African Penguin population at Boulders soared.
However, almost three decades later, Boulders Beach penguins are in trouble. Cars, people and competition for breeding sites has seen the penguins trying to nest in unsafe environments, leaving their nests exposed to both predators and the elements. Climate change has also affected fish stocks and increased severe weather incidences have depleted penguin chick numbers.
But thanks to tourism, there is hope. Every time you visit these little guys at Boulders Beach, you help spark a lifelong commitment to saving their future.  
The V&A Waterfront
Many factors contribute to the extraordinary appeal of the V&A Waterfront. High on this list is the fact that it is one of South Africa's top shopping destinations.
Situated in the heart of Cape Town, where the mountain meets the sea, it has been a working harbour since about 1860, when trade routes to the East transformed the seafront into a lucrative trading post.
In 1988, the redevelopment of the historic docklands built on this legacy, transforming the harbour into an exciting 21st-century 'trading post', complete with a comprehensive array of shops, entertainment venues, prime office locations, world-class hotels, luxury apartments and restaurants (from fast food to fine dining).
The Victorian architecture of the waterfront pulses with African energy, and there are more than 400 retail outlets offering both local and international brands.
There is also an impressive array of accommodation, ranging from budget to five-star luxury, placing you within close proximity to the stores, restaurants and entertainment.
And if the shopping becomes too much, you can enjoy some of the many other activities on offer. These include seal watching; a visit to the Two Oceans Aquarium or the Maritime Museum; boat trips around the harbour and along the coast; or an exciting helicopter tour!
Cape Town's beaches
On Cape Town's Atlantic seaboard, wide sandy stretches, dramatic views and blazing sunsets make up for the bracing sea temperatures that these beaches of Cape Town are known for. While the water might be chilly, Clifton's four beaches are among Cape Town's most popular, attracting a trendier set that like to sunbathe, play volleyball and hang out with friends.
Nearby Camps Bay beach is a Cape Town weekend favourite, edged by trendy eateries and characterised by large crowds. A little further on you'll find Llandudno, a surfers' paradise rimmed by some of the city's most expensive real estate, and Sandy Bay, where not even a swimming costume is required.
The warmer Indian Ocean waters of the False Bay seaboard are better suited to swimming. Best known among these beaches is Muizenberg, where multi-coloured Victorian-style beach boxes hark back to a more genteel time.
There are some good Cape Town beaches in nearby Simon's Town, one of the oldest Cape settlements with a strong naval tradition, reflected in the number of naval museums and monuments in the town.
When the wind is up at the beaches in Cape Town, people head to Boulders Beach, which is sheltered by large, rounded rocks and is home to a protected colony of endangered African penguins.
Other popular Cape Town beaches are Noordhoek Beach, which is good for long walks and popular with surfers and kite fliers; Kommetjie Beach, another popular surfers' hangout; and Bloubergstrand, which offers the famous view of Table Mountain across the bay.
Long Street
London has SoHo; New Orleans, the French Quarter; and Cape Town has Long Street.
By day, most of Long Street is abuzz with coffee bars, exotic restaurants, legendary bookshops, African craft markets and backpackers' lodges. You'll see a fun mix of travellers, breakfasting locals, shoppers and morning joggers all absorbing the vibe of this brilliant social centre.
In the early afternoon, you'll see the bars start to fill up with a mishmash of regulars and young adventurers coming out of their backpackers' for a stroll down the street. But don't worry, the police are always around to keep you safe. That's why there's such a relaxed feel to walking Long Street.
If you're a fan of old architecture, Long Street will keep you busy for days. Let's take the Victorian-styled Carnival Court for instance, this used to be where the young toffs of Cape Town would keep their apartments. From the wrought-iron balcony, you can watch the world go by up and down Long Street.
Long Street's buildings, its Victorian follies and intricate ironwork, have been mostly well-kept, because a number of preservation societies, heritage groups and architects constantly protect these structures from the wrecking ball. In fact, many of the buildings have been restored over the years.
The evening vibe of Long Street is, and always has been, a party you'll never forget. From sundowner time until the early AM, the restaurants, bars and late-night clubs are all about keeping the party going!
The street has all kinds of private decks, balconies, rooftop lounges and other vantage points where exclusive parties are held. On street level, pavement dining in summer (October to April) is what it's all about. And the barmen of Long Street have become famous for their skills with exotic cocktails.
In fact, when Cape Town wants to celebrate something… anything, Long Street is always the first thought.
Canopy walkway, Kirstenbosch National Botanical Garden
Tucked away between some 430 trees, visitors to the Kirstenbosch National Botanical Garden should not forego the opportunity to traverse the Boomslang, an arboreal 'bridge' that offers stunning views over the garden and the mountain.
The Kirstenbosch National Botanical Garden is often described as 'the most beautiful garden in Africa' for its magnificent views, showcasing the exceptional biodiversity of the Cape's flora. It is also home to many birds and animals, and the walkway offers the opportunity to enjoy birdlife at tree level.
The walkway was built to commemorate Kirstenbosch's 100 th year in 2013 but, due to construction delays, only opened to the public in May 2014.
It is a steel-and-timber structure of 130m, starting at ground level and rising to some 12m above the ground. Because it's crescent-shaped, the walkway ends a short distance from the start. It is also suitable for wheelchair users.
Its ingenious design makes it a sinuous structure that winds its way through the trees – like the indigenous tree snake it is named after that is rarely seen on the ground.
In an act of 'bio-mimicry', the outer steel frame resembles the rib cage of a snake enclosing the wooden bridge and looks a bit like a roller-coaster ride for pedestrians.
Construction had to take account of the sensitivity of the site; every tree in the arboretum was surveyed and drawn on a 3D map so that the path of the walkway could be plotted without causing any harm to the trees.
In fact, one tree was accommodated by cutting a hole through the bridge's timber – and it is now known as the 'hugging tree', which is sure to be a hit with children.
During assembly, the contractors brought in 6m lengths of the prefabricated steel structure to be bolted in situ, while the foundations were hand dug and filled in with reinforced concrete pads.
Throughout, the contractors were under strict instructions to keep the site squeaky clean so as to prevent harm to this mature part of the garden.
The walkway is located in the arboretum area of the garden, close to the cycad garden on the one end, and the concert lawn at the other.
Visitors to the garden do not have to pay an additional fee to use the Boomslang, but those who do not have a head for heights, or who might be put off by the slight sway of the curved steel bridge, might decide to sit this one out. 
Kirstenbosch National Botanical Garden
If you are visiting Cape Town, make sure you include a trip to the Kirstenbosch National Botanical Garden, not only for the spectacular view of nearby Table Mountain, but also because the garden is a splendid showcase for South Africa's indigenous flora.
These botanical gardens are located only 13km from the Cape Town city centre and boast over 7 000 plant species, including many rare and threatened species.
Here you will experience Cape flora in all its diversity, something for which the garden is renowned. You'll also see a host of other indigenous plants, including rich collections of bulbs, alpines and ferns. All these species grow naturally in southern Africa and can be found in the main section, along with a massive baobab tree.
At the Fragrance Garden, you will be exposed to familiar and unfamiliar smells, while the Medicinal Garden will fascinate you with some of the diverse medicinal plants found in South Africa.
Don't miss the Water-wise Garden, where you can learn how to grow and maintain a garden with less water than is conventionally required. In the Botanical Society Conservatory you will see species from the arid areas of South Africa.
Also featured at the Kirstenbosch National Botanical Garden is the Peninsula Garden, which contains many of the 2 500 plant species found on the Cape Peninsula. For an unforgettable experience of the king protea, South Africa's national flower, you must visit the Protea Garden, especially in spring when the proteas are flowering.
With this wealth of biodiversity, it's not surprising the Kirstenbosch National Botanical Garden is are admired as one of the great botanical gardens of the world, helped by the fact that it is part of the Cape Floral Kingdom, a UNESCO World Heritage Site.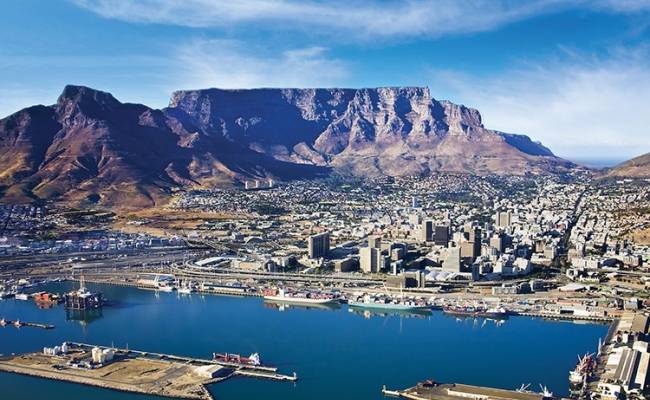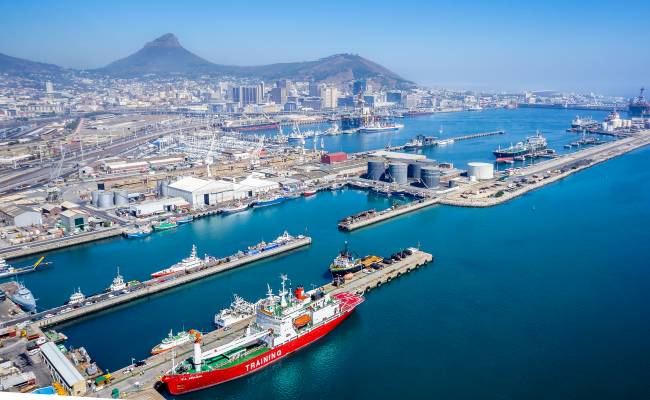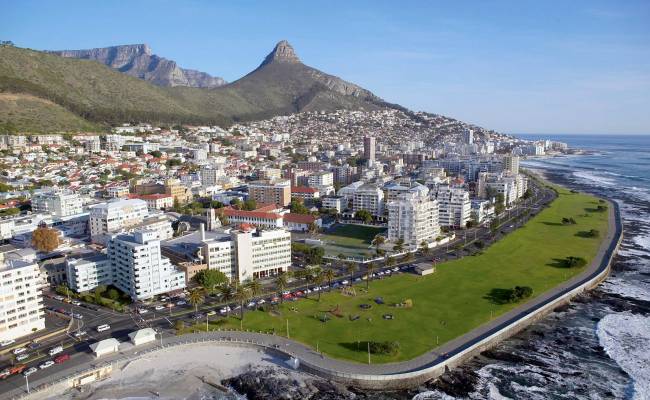 Upon seeing Victoria Falls for the first time, 19th century Scottish missionary and explorer Dr. David Livingstone exclaimed...
"No one can imagine the beauty of the view from anything witnessed in England. It had never been seen before by European eyes; but scenes so lovely they must have been gazed upon by angels in their flight."
Now why settle for just 'imagining' such beauty when you too can enjoy it for yourself? Recognized as one of the seven natural wonders of the world, the combined height and width of Victoria Falls makes it the largest waterfall in the world. At twice the height of Niagara Falls, the spray and mists rise upwards to about 260 miles and can be seen from over 30 miles. Millions of cubic liters of water crash upon the ground every minute. These thunderous echoes give the UNESCO World Heritage Site its local name – Mosi-oa-Tunya, which literally translates as "The Smoke That Thunders." The roars can be heard for many more miles.
South Africa and Victoria Falls, Zambia
The Zambian Victoria Falls Trans-border experience includes a bungee jump off the bridge, microlighting over the falls, white-water rafting, horseback riding, sundowner cruising and game driving.
'Creeping with awe to the verge, I peered down into a large rent which had been made from bank to bank of the broad Zambezi, and saw that a stream of a thousand yards broad leaped down a hundred feet and then suddenly became compressed into a space of fifteen yards ... the most wonderful sight I had witnessed in Africa.'
This was the first impression explorer-missionary David Livingstone had back in 1857, when he first saw the Victoria Falls. Hundreds of thousands of tourists have seen them since, to similar acclaim. The Vic Falls, as they are affectionately known, are simply stupendous.
Zambia's Victoria Falls trans-border experience generally starts at the town of Livingstone. One of the advantages of the 'Zambian approach' is you get to swim in a natural pool just before the edge of the upper falls - which must rank as one of the really exclusive 'must-do's' of a trip to Africa.
Zambia's Vic Falls trans-border experience has expanded over the years to include a bungee jump off the bridge, microlighting over the falls, white-water rafting, horseback riding, sundowner cruising and game drives. Although there is a longer bungee jump on South Africa's Garden Route, the Vic Falls jump is still regarded as a classic in this category.
Zambia's Victoria Falls trans-border also offers a plenty for the extreme adventurist, with kayaking, abseiling and riverboarding on offer for the young and restless.
Otherwise, once you've had the trans-border experience on the Zambian side of the Vic Falls, get a day pass and cross over the border into Zimbabwe for another viewing angle of this wondrous onrush of water. You can even stay over for a night – just remember, always take a light raincoat to avoid getting drenched by the spectacular spray.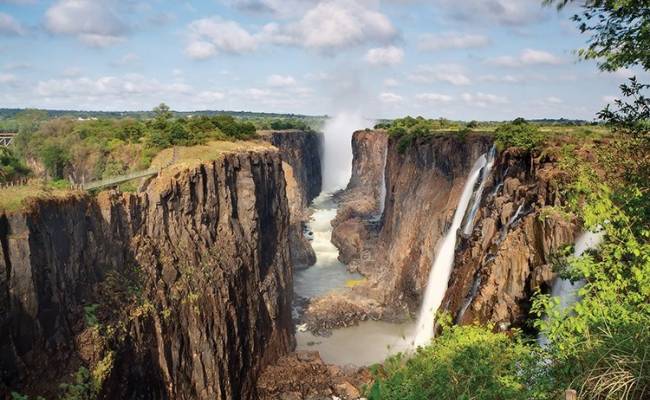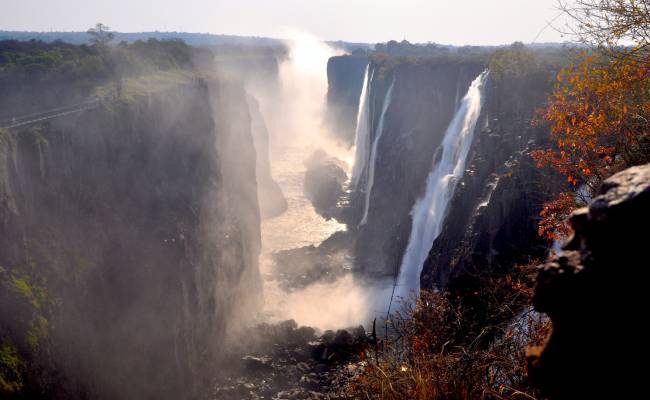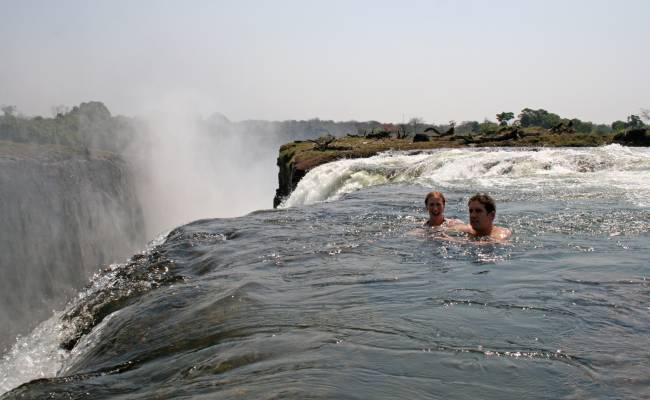 The mighty roar of the lion, the powerful call of the elephant, the thunderous clap of a herd of rhinoceros...
The wild things are certainly to be found within South Africa's massive Kruger National Park Area. One of Africa's largest reserves, it stretches through 7,500 square miles in northeastern South Africa and borders Zimbabwe and Mozambique.
Becoming South Africa's first National Park in 1926, Kruger National Park Area has several private game reserves in which to explore. With over 270 animal species, 517 types of birds, 90 varieties of fish and amphibians, 2000 kinds of plants and even bushman rock paintings, there is much to see and explore.
AmaWaterways travels to the area's private Manyeleti game reserve, which means "place of the stars" in the local Shangaan language. While there are no fences between the national park and the bordering reserve, allowing wildlife to roam freely – Manyeleti is not accessible for day visitors and is home to only three lodges in the area, meaning you have the bush more to yourself for a more luxurious, true 'safari' feeling. Because of this, it has been called the Kruger's 'best kept-secret.'
The Big Five jewel in South Africa's crown
The Kruger National Park is South Africa's premier Big Five national park and is exceptionally well set up for tourists. You can expect good roads and an excellent choice of accommodation to suit all pockets. Winter months (May to September) are best for game viewing while the summer months (October to April) are best for birding.
Thulamela, Kruger National Park
The erstwhile city of Thulamela provides ancient clues to a technologically sophisticated heritage, and the bedrock for a southern African cultural renaissance.
The discovery of the stone citadel of Thulamela, which means 'place of birth' in the VhaVenda language, is regarded as one of the most important archaeological sites in South Africa.
Lying west of Pafuri in the Kruger National Park, Thulamela was a stone-walled city atop a plateau in the Soutpansberg, and archaeological digs there revealed a well-organised mountain kingdom, ruled by an African monarch that flourished between 1200 and 1600 AD.
Its inhabitants were highly industrialised, and included skilled goldsmiths and iron workers. The findings at Thulamela, coupled with the discovery of numerous pre-colonial mines in the region, show that the local people extracted iron ore, converted it into iron and traded with it long before the arrival of Europeans in southern Africa.
Thulamela's citizens also bartered gold objects and glass beads from India, and shards of Chinese Ming Dynasty porcelain have been unearthed. Iron gongs suggest trade links with West Africa. A royal enclosure perched on the steep cliffs overlooking the Luvuvhu River was excavated, and the bodies of both the queen and king'were found ornamented with gold, indicating their royal status.
Extensive community consultation took place during the course of reconstruction and both local VhaVenda and Shangaan ChiTsonga cultures claim links to this site. The implications of Thulamela are profound, providing clues to a technologically sophisticated heritage, whilst underpinning a renewed southern African cultural renaissance.
The northern Kruger National Park
The Kruger National Park is not just about big game. In the north is the Pafuri region, a wilderness area of great natural beauty where you can discover ancient forests, brilliant birding and traces of early humankind.
The northern section of the Kruger National Park is an area of unique biodiversity. It's one of the few places where fever tree forests grow side by side with forests of giant baobabs. The trees line the banks of the Limpopo and Luvuvhu rivers: the slim, pale, luminescent green trunks of the fever trees glimmering between the massive dark brown trunks of the baobabs.
When you stay at Pafuri Wilderness Camp, one of the Kruger National Park's private lodges, you're in the ancestral lands of the Makuleke people, who, in partnership with Wilderness Safaris, act as custodians of this wildly beautiful area. Local staff are trained and encouraged by experienced rangers and service staff from all over South Africa.
Your birding guide will spot a fleeting feather as easily as you can find your way around your home town. If you're looking for that special bird, they'll find it, entice it nearer with its own individual call, and then all you have to do is tick it off on your list.
The crowned eagle, the wattle-eyed flycatcher, Bohm's spinetail and, of course, the elusive and highly sought-after Pels fishing owl, are some of the specials. The Big Five – lion, elephant, leopard, rhino and buffalo – are present, and you will encounter elephants everywhere.
Well over a million years ago, Homo erectus walked and lived here. You'll be shown Stone-Age hand-axes and unexcavated dinosaur fossils.
Crooks' Corner, which links South Africa, Mozambique and Zimbabwe, is where the villains of yesteryear hung out. In winter, when the Limpopo is dry, they could easily move from one country to another, dodging the herds of elephants which take mud baths along the banks.
The Kruger National Park
When you think of South Africa and iconic the Kruger National Park most certainly comes to mind. Not only can you catch a glimpse of the famous Big Five here but you will find yourself surrounded by hundreds of species of birds, ancient trees, winding rivers and so much more. Basically, it's your one-stop shop for all of your wildlife dreams.
Imagine rising with the South African sun. Driving out of your camp, filled with anticpation as you keep your eyes peeled for an overnight lion kill, a leopard casually draped over the branch of a big tree or a herd of elephants taking a morning stroll. Then ask yourself, is there anywhere else in the world you'd rather be?
The Kruger National Park is home to thousands of animals. From giraffes browsing for Acacia leaves to chew on and a herd of buffalo crossing the road right in front of you, to elusive big cats enjoying a spot of shade and fish eagles letting out their distinctive call – it's the Lion King in live action.
It's hard to believe your eyes when you see the herds of hundreds of antelope or crocodiles basking in the afternoon sun while the hippos keep cool under water. Not to mention the things you'll hear, they are just as unbelievable – hyenas cackling the night away as male lions roar for dominance, and if you're lucky, the almost silent footsteps of a pack of wild dogs on the prowl.
This is just a small taste of all the things you can see, hear and do in one of the world's most-loved game parks.
The Kruger National Park enjoys a great year-round sunny climate and offers all kinds of activities, from guided game drives and bush walks with an armed ranger to three-night walking trails in deep wilderness areas.
With so much to see and do, it's hardly surprising that the Kruger National Park gets over 1.4 million visitors a year. However, because it's so big – 352km from north to south, and covering over 1.9 million hectares with 2500km of tar and dirt roads – you will be amazed at how often you find yourself being treated to a private sighting. Don't be fooled though, with so many expertly-camouflaged animals calling the park home, you're never really alone.
Kruger National Park's bushveld camps
The Kruger National Park has accommodation to suit all budgets, from camping sites to luxury lodges, but if you're looking for somewhere more remote and less busy than the big main camps, tuck yourself away in one of the Kruger Park's bushveld camps. Game still abounds but there are fewer people.
ou'll find the Kruger National Park's bushveld camps hidden away in some of the most remote wilderness areas of the park. There are only five of them. The remotest is Sirheni in the far north, and the southernmost is the beautiful little Biyamiti camp.
Between these two extremes is Bateleur, the oldest bushveld camp; Shimuwini, with its massive baobab trees; and Talamati, situated in a big open valley.
But all of these fenced bushveld camps offer something a little different, and all are individually memorable.
The camps are much smaller – usually about 15 cottages – than the busy main camps, more intimate and more expensive. But what you're paying for is peace and exclusivity when you arrive home from your exciting game drives. You won't find a camp shop, a pool or a restaurant, but what you will find is much more bush and far fewer people, because all these bushveld camps are strictly off-limits unless you are staying there.
Bateleur, named after the majestic eagle of the same name, is in the north, 40km southwest of Shingwedzi. Two small dams and a hide overlooking a waterhole will keep you ticking off your mammal and bird lists all day.
Biyamiti, in the south near Crocodile Bridge Gate, is noted for its abundance of game, including lion, rhino and elephant. Wild dog and cheetah sightings are also possible.
If you're a birder, head for Shimuwini, situated on a dam on the Letaba River. Giant baobab trees march along the banks. Look out for the dramatically handsome sable and roan antelopes, and the resident leopard.
There's also a resident leopard that prowls the dam in front of Sirheni camp, whilst at Talamati in the Kruger's central region, big herds of plains game roam the open grasslands, usually with predators in their wake.
Overnight hides in the Kruger National Park
Maybe you've already stayed at one of the Kruger National Park's many camps, but have you considered sleeping out in one of their overnight hides? The two hides – Sabie, near Phalaborwa Gate, and Shipandani, near Mopani Camp – are very basic but you'll have a thrilling African bush experience.
If you don't mind roughing it – and can handle the cold in winter and the heat and mosquitos of summer – then stay in one of two overnight hides in the Kruger National Park.
The Kruger National Park has accommodation suitable for all budgets, from camping to extreme luxury, but now there's the wonderful opportunity to camp out in one of the park's overnight hides.
You can only book the hide for one night (they may be basic, but they're very popular). Collect the keys from the relevant gate or camp to unlock your beds from the interior hide wall. Be sure you are equipped with food, drinking water, wood, cutlery and plenty of insect repellant (very important!). When you book in you'll pick up bedding, a lamp (there's no electricity), a braai grid and water bottle.
You can fold down your beds 30 minutes before gate-closing time in the afternoon, and you must be out of the hide 30 minutes before the camp gates open in the morning.
The beds are at the exact height of the hide windows, so you can snooze or read, but at the same time keep an eye on any activity at the waterhole.
The experience is not for people who are afraid of insects, bats or lions roaring outside the window, but if these don't bother you, then a night in a bush hide in one of the greatest game parks in the world is an unforgettable experience.
The Sabie Hide, which sleeps nine people, is near the Phalaborwa Gate next to Sabie Dam. Expect to hear hippos snorting and splashing, with a backing chorus of frogs and nocturnal birds, elephants, crocodiles and who knows what else.
Shipandani Hide, which sleeps six, lies south of the Mopani Camp and is excellent for birding. However, because of the steep bank on the other side of the waterhole, it isn't as reliable for game spotting as the Sabie Hide.
But, in the bush, always expect the unexpected, so keep your ears and eyes open.