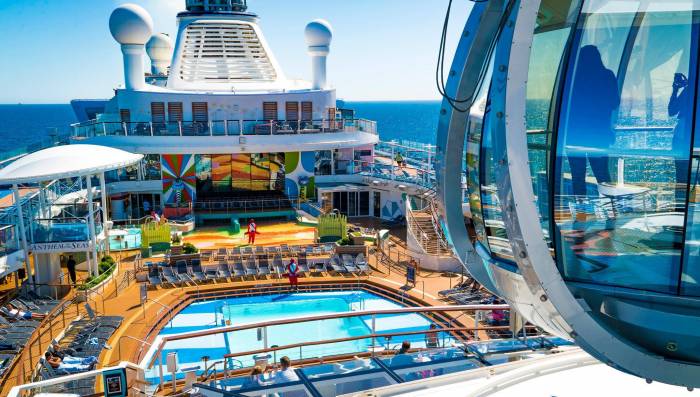 Anthem of the Seas
Anthem of the Seas® isn't the same old song. It's a Tri-State rally cry for all the thrill seekers, gourmet globetrotters and adventure aficionados. With spaces that transform on the fly, no other ship packs in more cutting edge experiences in one single day.
Every day onboard Anthem of the Seas® is like embarking on a whole new adventure. Yesterday's roller skating at SeaPlex® is today's bumper cars — or circus school. And tonight's mesmerizing roboshow at Two70® is completely different from tomorrow's Vistarama® experience. Throw in a culinary scene to rival most metropolitan cities, and you've got a game changing vacation that transforms every day into the best yet
NORTH STAR
THE SKY'S THE LIMIT
Leave it to Royal Caribbean International to literally and figuratively take you to a higher place. The exclusive North Star® promises to elevate you both physically and emotionally, revealing 360-degree views of a world you've truly never seen before! Simply step into the intimate, jewel-shaped capsule, and gently ascend over 300 feet above sea level, where you can take in breathtaking views of the ocean, the ship, and the exciting destinations that we visit.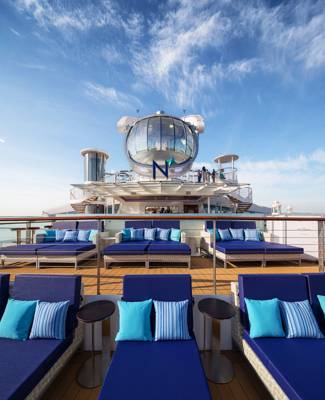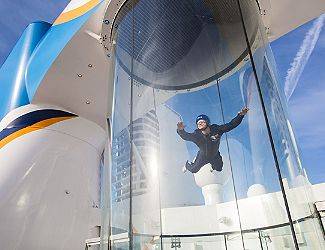 RIPCORD® BY IFLY
GRAVITY-DEFYING FUN
Experience the exhilaration of skydiving without ever leaving the deck, courtesy of RipCord® by iFLY®. Feel what it's like to fly, as you float on air within the safe confines of this groundbreaking simulator. It's a whole new thrill for thrill seekers of all kinds.
There are some puzzles you solve and there are some puzzles you ESCAPE! In the new and exclusive Puzzle Break: Escape The Rubicon, you will be transported to another world and another time. Collaborate with friends, old and new, as you attempt to find the hidden clues needed to solve a collection of puzzles that will eventually unravel the mystery of the Rubicon! With only 60 minutes of life-support, the suspense builds with every tick of the clock. The final seconds will decide your fate. Question: Will you escape? And if not, what then?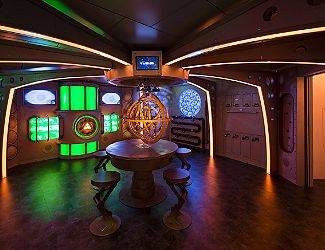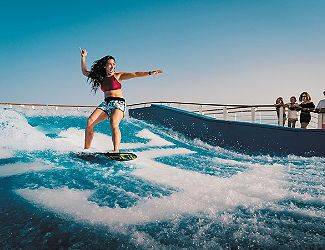 FLOWRIDER
Only Royal Caribbean gives you the chance to catch a wave right onboard. Grab a board and hang ten on our 40-foot-long surf simulator, or cheer on friends from stadium seating with prime wipeout views. Give it a go— it's included in the cost of your cruise, no reservation required. Want to refine your FlowRider® skills? Try a private lesson for a nominal charge.
SEAPLEX
The largest indoor active space at sea is also the most revolutionary. There's never been a venue like SeaPlex® before— offering a circus school, full-size basketball court, and the first-ever roller rink and bumper cars at sea. Not to mention delicious bites provided by the first food truck to ever set sail and music from a floating DJ booth suspended overhead. This is going to change the way you play.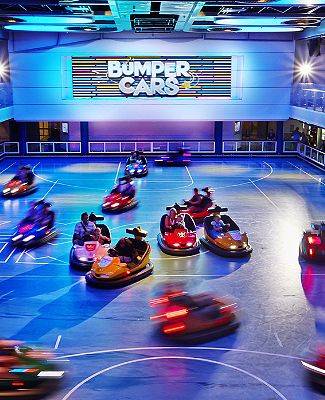 CHEF'S TABLE
If you enjoy gourmet fare paired with the finest of wines, then dining at Chef's Table is an absolute must. Located in an intimate, exclusive enclave throughout various spots onboard, this private epicurean experience for a limited number of guests treats you to a five-course, upgraded menu and wine tasting. Dinner at Chef's Table is both experiential and educational, as the Chef de Cuisine specially prepares and presents each course, while explaining its cooking techniques, ingredients and flavors. Then a sommelier pairs every course with wine chosen to enhance your enjoyment of the dish.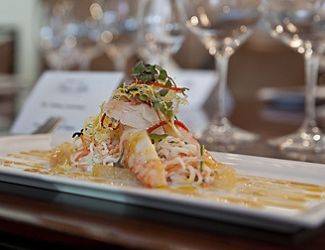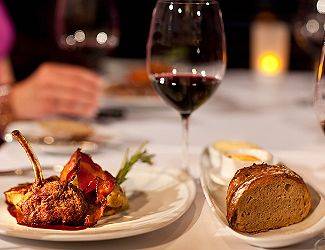 CHOPS GRILLE
For more than a decade, the chefs of Chops Grille have proudly presented quality, hand cut steaks at this hallmark Royal Caribbean restaurant. Now, they give you a fresh twist on a favorite, with a revamped menu that brings contemporary flair to traditional steakhouse offerings. Most intriguing: our exceptional prime meat. This prime beef is joined by Maine lobster, veal parmesan, grilled branzino and other succulent dishes paired with addictive sides and irresistible desserts.
BROADWAY AT SEA
Only Royal Caribbean offers Tony Award® winning musicals at sea. As an official sponsor of Broadway's brightest award, we've got the shows that you can't stop singing. See your favorites again or discover great shows you missed. We've got your seat for full-scale productions of exciting musicals, including the moving story of CATS, the uplifting Mamma Mia!, the killer Queen tunes of West End hit We Will Rock You, and the poodle skirt love story of the Broadway musical smash, Grease.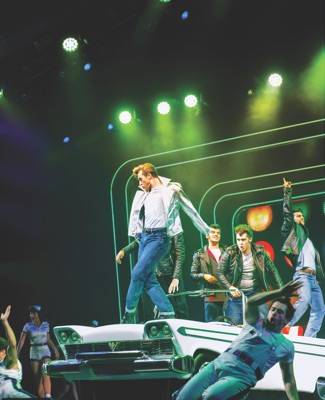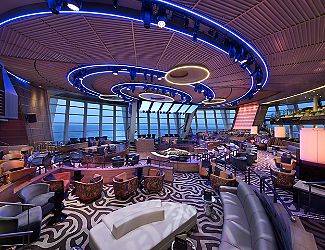 TWO70 
This is one venue you have to see to believe. Day to night, Two70® presents immersive scenery on a 270°, floor-to-ceiling wall of windows. From ocean views to a lively undersea scene to surreal vistas, grab a drink and start gazing because you never know what you'll see. In the evening, it's a place that can take you anyplace, where live entertainment pairs with an amazing multimedia event. When evening turns to night, Two70 transforms turns into a nightclub like no other. And during it all the hand-crafted cocktails are flowing at Two70 Bar.
BIONIC BAR®
Meet two robotic bartenders who know how to shake up your night out. They can mix, muddle, and stir it up too. With moves as fluid as the Pimm's in your cup, they can create an almost endless combination of cocktails, whether it's a classic Manhattan or a custom order of your own design. Just order by app on the nearby tablets and watch your bionic mixologist do its thing. Designed and powered by the minds at Makr Shakr, the Bionic Bar® is making history at sea.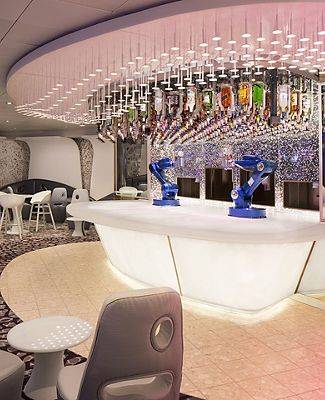 *****************************************************************************************